Let's face it. There are two reasons you'd want to use a vibrator: because you are a gadget-lover who can't imagine anything, including sex, without a little technology involved; or because you just want to have an orgasm, and fast. But with the Crave Vesper, there is a third possibility.
Fancy San Francisco vibrator maker Crave has created what I believe is the first-ever vibrator that doubles as a piece of jewellery. Yes, we've seen decorative sex toys before. There are fancy dildos made from blown glass and beautiful, non-representational vibes. But these are not wearable items. The Vesper is. It's fashioned to resemble a slim, 8.9cm-long stainless steel nail, and it looked great matched with a plain black dress I wore out to dinner the other night.
So, first of all, the Vesper works as jewellery. The power button is tiny and subtle. It also requires a firm push to turn on, so it won't accidentally start vibrating – even if you're out dancing and it's flopping around. So nobody is going to figure out that anyone's wearing a sex toy unless you tell them. Which, come to think of it, is actually a great idea if you're trying to get some and want to figure out whether your date likes vibrators. Or if you're at a naughty party and want an excuse to wave your vibrator around.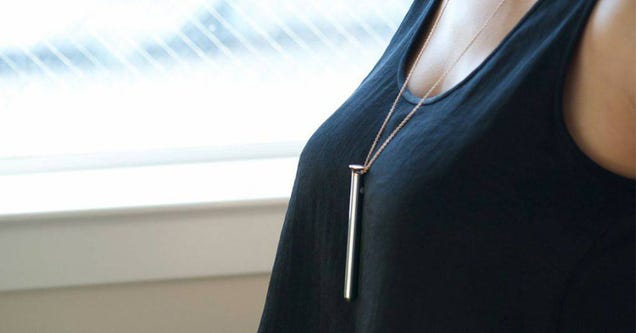 I have to admit I was pretty dubious that a tiny, slim vibe like the Vesper could be anything other than a novelty item. But it actually delivers nice, strong vibrations, with three speeds and a pulsating option, and its shape is perfect for localised vibrational transfer, if you know what I mean. You can recharge the batteries via USB (using a proprietary cable), and the small form factor means that the motor actually heats up the entire vibe, which is a nice feature.
I tested out the Vesper in a variety of situations, and I'd say it's more of a "share with your pal to enhance sexytime" toy rather than a "Just give me an orgasm in five seconds because I have like ten minutes between meetings and ... whew" type. For the latter, you've always got your trusty Magic Wand or Silver Bullet.
But if you want to bring some beautiful tech into an already-sexy situation, there is nothing better than this. Plus, tiny motors make everything better. It is a known fact.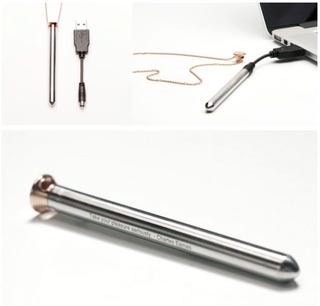 The battery life on the Vesper is great. It will definitely last you through at least two play sessions, even if you are taking your time.
At £65, the Vesper isn't cheap — but that's a fairly reasonable price for a high-end vibrator, especially one that actually works as advertised (a rarity among stunt toys like this). It comes in three colours: gold, rose gold and silver, each with matching necklaces. I wasn't thrilled with the quality of the  chain that came with mine, but that's easily swapped out.
Also, a word of warning: the Vesper is what's known to aficionados as a "clitoral vibrator". That means it's for using on the outside, not the inside. It's way too slim to do much good internally, plus a) it's tiny and easily lost and b) it heats up – all of which are Very Bad Things and will land you in A&E.
Like
- It works really well as a necklace, and is subtle enough that nobody will know you're wearing a sex toy unless you want them to.
- Three speeds plus pulse make this a fully-functioning vibrator.
- Localises sensation in a pleasing way.
- Stainless steel is easily cleaned and sterilised.
No Like
- The necklace chain is flimsy, so you'll want to replace it with something nicer.
- The Vesper is advertised as completely quiet, but it's still possible to hear it buzzing across a medium-sized room. Of course, if it's being used in the bathroom at a nightclub, it will seem completely quiet. So carry on.
Should You Buy It?
This is the kind of vibrator that's perfect for adventurers who are brazen – or for ones who are subtle.
For the brazen, it's great for impromptu public sex (just us?), naughty parties and showing off. It's not really designed for speed and efficiency, so buy it for fun and delight, not to keep in your side-table drawer for everyday use.
And for the subtle, wearing it can be a way to signal to your partner that this nice dinner will end with a very special kind of gadget benchmarking. Wearing it without anyone but your partner knowing can also be its own kind of delicious reward.
It's also the kind of vibrator that would make for a fun present to share with your toy-loving partner of a certain persuasion for Valentine's (this Saturday, write it down), especially if you want to surprise them with the extra powers hidden in the cool necklace you bought them. [Crave]
For more Valentine's Day gift ideas, head to Tech Radar's updating deals hub