Today's BitStream has the drama of a failing technology giant, the suspense of mobile payments getting serious, and an unexplainable Kickstarter of weirdness. Come get all the small news and rumours you might have missed in the last 24 hours.
Weird Kickstarter Turns Child Care Into Boozing Affair
Kickstarter is responsible for a lot of weird things. But this one is just...I don't even know.
So, it's basically a fake baby that's a giant boozy bottle that will make you seem like a responsible parent? I mean you're still taking your "infant" to tailgate so maybe not. Let's also not ignore the fact that the way you drink out of this thing is through the top of the fake baby's head. Just the concept is super weird...and kind of gross, but that's the point, I guess.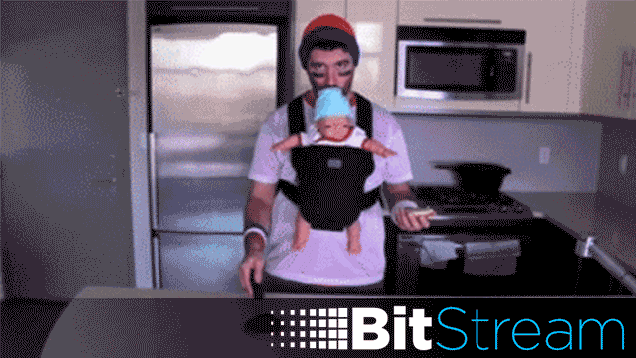 Unfortunately, as The Cool Baby team points out, this first batch of fake babies will be racially monolithic due to lack of resources – bummer.
Obviously, the Kickstarter isn't taking itself seriously. At all. But it is asking for some serious money — $70,000 at least. But with only 8 days left, it's unlikely that it's going to make up a $60,000 gap. Part of me wants to believe that this is well-crafted satire that not only reflects on the occasional lunacy of startup culture but also the deeply rooted psychological problems that alcoholism can inflict and early childhood. But I'm pretty sure it's just a dumb thing, and I still love it. [Digg]
Sony is All About the PlayStation. TVs and Smartphones? Not So Much.

The Sony Xperia smartphone lineup could be the technological Shakespearian drama of our age. The high-end Z series of this oft-neglected family of hardware have amazing battery life, displays, and waterproofing. But for whatever reason, they cannot find happy home in the hands of would-be customers, and Sony is starting to lose patience.
The company originally sold off its VAIO laptop business in an effort to focus on mobile, and under CEO Kazuo Hirai's "One Sony" mantra announced in 2012, there's been a further focus to differentiate their smartphones by including exclusive PS4 apps and the amazing Sony camera sensors, but that vision isn't working either. Dropping from its normal two-flagship-phones-a-year model to just one and with no rumoured presence of Mobile World Congress, it already seems like Sony is pumping the breaks.
Sony's next top-of-the-line smartphone, the Z4, may be the last great mobile device Sony ever makes. [Reuters]
Rumourtown
How is the Apple Watch is going to make money? Rumours say the 14k gold version could net Apple at least $5 billion(!) per quarter. [Cult of Mac]
When it comes to tablets, Samsung is still obsessed with the "thinner is better" idea as rumours suggest the new Galaxy Tab S2 will be thinner than the iPad Air 2. [Android Community]
Your Apps, Updated
Snapchat added a minor update letting you play music while recording video, which is a feature so simple it's weird it wasn't there to begin with. [The Verge]
Samsung ups its mobile pay competition by buying Apple Pay competitor, LoopPay. [Business Insider]
Microsoft brings its first major update to the wonderful Outlook app, thankfully adds IMAP support. [VentureBeat]
De(vices)
iFixit, a website famous for its gadget breakdowns, is launching an Android hub that will have detailed fixes for 252 gadgets as well as a marketplace for replacement parts. [9to5Google]
Qualcomm got a whole range of  new chips that are going to bring premium performance to the cheaper smartphones. I can get behind that. [Ars Technica]
Bucket of Random
T-Mobile CEO John Legere sums up the recent spectrum auction in one word: disaster. [T-Mobile]
DJ Patil, a Silicon Valley pro, is named chief data scientist to make sure that the US government's data standards up are up to scratch. [Wired]
What You Might Have Missed on Gizmodo
Meet the "Real Life Q" Who Builds Secret Spy Gadgets For a Living
LG G Flex 2: The Curved Smartphone That Made Me a Believer
Why You Won't be Riding a Driverless Car on Britain's Roads Anytime Soon
Microsoft is Really Killing it Right Now
Six Reasons Neill Blomkamp's Alien 5 Could be Chest-Burstingly Excellent