Curved. Adjective: A sure indicator that a phone is designed around a gimmick. Sample sentence: "Hey, I bought a curved phone yesterday," said the dumb gadget enthusiast. At least, that's how it's been for the past couple years. LG's new G Flex 2 redefines the word.
This phone has been in my pocket for about five days now, and honestly it just feels like pure future. At one point I had to switch to my daily driver, an Xperia Z3, to access some interviews, and it felt like I just Deloreaned back in time. What is this boring, uncurved slab of a phone?
The G Flex 2, especially at 5.5-inches, does almost everything better. Simply using the screen is more comfortable since your thumb naturally arcs outward when scrolling, and the slight curve draws your attention inward instead of just being a blank slate. Netflix? More immersive. Games? Easier to play, especially titles with software thumbsticks. You can even slide this guy into your pocket pretty comfortably, with the screen towards your leg (or bum if in back pocket).
Yeah, you'll run into a few annoyances after years of using flat phones. I tend to do hunt-and-peck typing on my desk when I'm working, and because of the curve, the phone kind of bounces all over the place. Also, getting a grip on the phone can be a little strange when pulling it out of your pocket. But these are minor annoyances overshadowed by big improvements.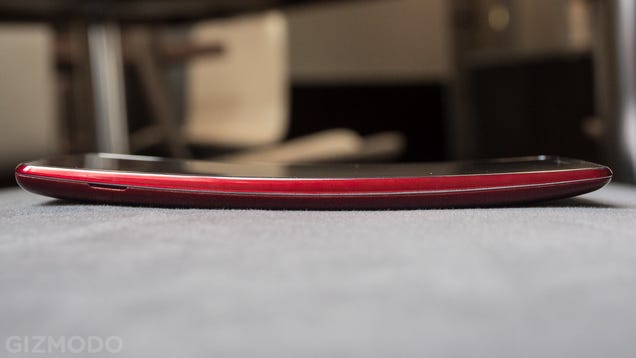 The original G Flex was a thought experiment. LG was curious if it could make something different, and at scale. But the original's 6-inch display made it an unwieldy monster, and the 720p resolution felt pretty lacklustre when top-tier phones were generally 1080p. It also predated LG's major UI redesign with the G3, so even the software had a painful 2012 vibe.
Now, all of that is gone. In a rare move for any smartphone, let alone one that's curved, LG scaled down the screen to a more reasonable 5.5-inch, 1080p OLED display, and baked its UI directly into Android Lollipop. Oh, and it's one of the first phones available with Qualcomm's beefy new Snapdragon 810 processor.
But this phone isn't about predictable specs that you'll find on any upgrade. This phone is about dat curve, and it's the best curve on a smartphone you can buy. Sure, Samsung's got its Galaxy Note Edge (and possibly Deafheaven Spotify sessions, the software feels even more cohesive here than on the G3, mainly because LG's approach to flat icons with Optimus UI mixes well with Google's own Material Design in Android Lollipop. In some instances, LG even adds some functionality. For example, the drop-down notification menu is much more simple and better designed than stock Android. But there are a few mis-steps, like LG's Health and Tips menu instead of the always wonderful Google Now utility. You win some and you lose some, but at least the Flex 2 looks good doing it.
But more so than its software or screen resolution or awesome battery life, the LG G Flex 2's greatest contribution is just making a curved smartphone a thing, pulling it up from its experimental, quirky, gimmicky, prototype bootstrap of a definition, and making it something worthy of your attention.
---
LG G Flex 2 Specs
• OS: Lollipop 5.0 with Optimus UI
• CPU: Snapdragon 810
• Screen: 5.5-inch Full HD Super OLED (408ppi)
• RAM: 2/3GB
• Storage: 16GB or 32GB plus micro SD up to 128GB
• Camera: 13MP rear (with laser autofocus and OIS+) / 32.1 MP front
• Battery: 3000 mAh (non-removable)
• Price: Not announced.