BitStream is like a knowledge chef serving up a tech news entrees and tasty rumours for dessert, all to help satiate your brain's desire to be "in the know." Dig in.
NASA's Building a Better Rocket
If humanity has any hope of exploring our solar system — specifically Mars and far flung asteroids in the short term — we're going to need insanely powerful rockets that have never existed. That is until now.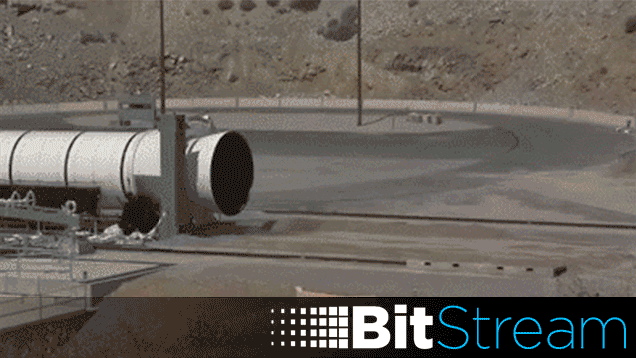 Last month, NASA in partnership with Orbital ATK contractor in the US state of Utah installed for testing the powerful solid rocket boosters that will help propel NASA's new Space Launch System to Mars and beyond (and will look something like this.) The SLS is designed to increase the speeds of spacecraft leaving Earth's orbit and cut the time needed to travel to the red planet significantly.
NASA will be officially testing the rocket boosters on March 11 with media on hand, but it looks like they're doing a few preliminary tests in the meantime as shown by this new video posted by NASA.
We're going to Mars people. It's happening.
Google is Looking a Life Beyond Google Wallet
Over in the States, Apple's push into mobile payments with Apple Pay is making Google and payment service Square scramble for other solutions beyond Apple's tap-to-pay way of buying things. For Google, that's a new service called "Plaso," according to The Information. The way it works sounds almost deceptively simple. If someone is carrying an Android phone, all they have to tell a cashier is their initials—and that's it.
Square Wallet had a similar feature but was ultimately discontinued in preference to its new app, Square Order. Google apparently thinks it may have solved any problems and is already testing Plaso with some retailers.
Square also isn't standing still. With the rising popularity of Apple Pay, Square is reportedly transitioning from being heavily dependent on iPads with Android tablets. This would avoid the scary scenario of Apple would deciding to block usability with Square Register in an effort to focus people into the Apple Pay funnel. A pretty shitty move, but one that's ultimately possible. [The Information via The Verge]
Rumourtown
HTC's rumoured Petra wearable may be OS agnostic and run on Android or iOS [

Gigaom

]

Here's a rumour we've heard again and again and again. Apple is making a car! But this time, there's a little bit more evidence than just hunches. [

Mac Observer

]

Google has a patent for a wearable that will make you smell better. What are you trying to say, Google? [Quartz]
Your Apps, Updated
Microsoft confirms its Sunrise app purchase, all signs point to a partnership with Microsoft's "new" Outlook app. [

Engadget

]

Twitch acquired a service named Niche that connects celebrities with brands, which kind of sounds like a terrible nightmare. [

The Next Web

]
De(vices)
Nvidia announced a game-centric event from March 3 titled "made for gaming."

Dell's XPS 13 is the

current Windows laptop to beat

, and iFixit's teardown adds that's in easy to fix. Bonus. [

iFixit

]

Speaking of Dell, they also have a new Chromebook 11 primarily built for education but also available to consumers. It's plastic-y and robust, but the v.1 looks much nicer.

2014 was the year of the Android Wear smartwatch, and 720,000 of you decided you needed one, but that's not exactly revolution status. [

Canalys

]
Bucket of Random
What You Might Have Missed on Gizmodo UK
Will.i.am's Puls Smartcuff Review: Like a Prison Sentence on Your Wrist
Sony SmartWatch 3 Review: The Best-Performing Android Watch Yet
This is the Perfect Dating Website for Meeting Men Called Brandon Scott Wolf
UK Tower Blocks are Getting Their Own Digital Domesday Book
The Ten Best Sex Scenes in Movie History Compiled in One Video [NSFW]