You may have heard of the Dell Chromebook 11. It's one of the very best Chromebooks you can buy. In fact, we think it is the best – a perfect compromise of product and price. So it'd certainly be exciting to hear that Dell has a new Chromebook 11. Version 2.0, as it were. Well, don't jump for joy just yet because this isn't the Chromebook 11 you're looking for.
Dell has one specific audience clearly in mind for this piece of ChromeOS hardware, and that's students. See, what was so wonderful about Dell's original Chromebook was its wonderful build quality. But it was so popular that the company had trouble keeping it in stock – and the new Chromebook 11 is nothing like that. It's plastic, through and through. We're not talking soft-touch polycarbonate or some or classy matte finish, either. No. Plastic.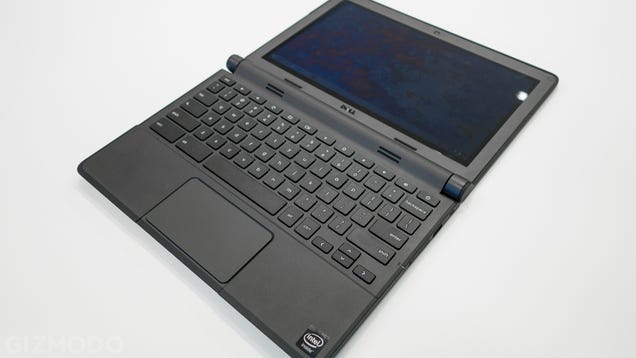 And hey, for negotiating classrooms and playgrounds, it makes perfect sense. Plastic can withstand the punishment of drops, scrapes and the occasional spill better than other materials. Dell also outfitted the new 11 with a 180-degree hinge so you can lay the device completely flat and has a few extra school-specific features too, like a light on the back that changes colour when, say, a child has question or is "raising" their hand. Yes, tech has eliminated the need for children to raise their hands in class now, turning every lesson into a game of Blockbusters. Welcome to the future.
From a spec perspective, nothing here is blowing our mind. You have a bunch of options to choose from: anti-glare or touchscreen, HD or Full HD, 2GB or 4GB of RAM, etc, and each successive is a bump up from a $250 base price (£163 converted but no UK price confirmed as yet).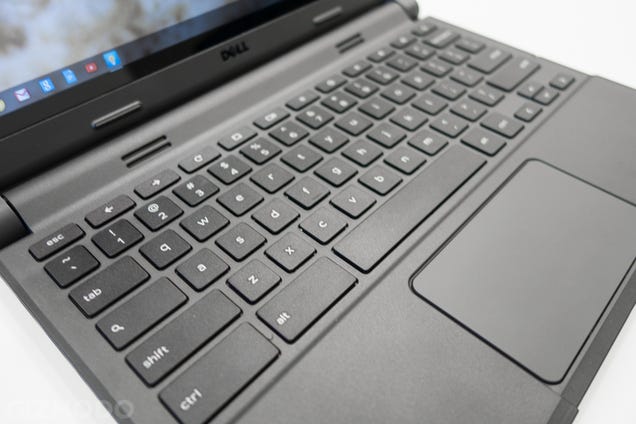 Dell reckons it will be selling the new Chromebook 11 for non-academic types, too, basically replacing the old version's lower-powered Intel Celeron models (this new one is running a dual-core Bay Trail chip) and also removing all of the classroom-specific stuff, so no worries there. It also told us that they will continue to offer the old configuration with a Core i3 chip but do have plans to expand the lineup later in 2015. If you're looking for a new Chromebook, it might be best to practice a little patience.