By Sean Buckley
Wouldn't it be nice if you could have it all: a thin, attractive laptop powerful enough to play any game you throw at it? Razer's Blade laptops keep narrowly missing the mark — but this time may be different.
Anyone keeping up with Razer will know that their first laptops were gorgeous, but too big. The next version was smaller, but had a shitty screen. Then came a laptop with a screen so good, the graphics chip couldn't quite keep up with the super high-res display. The new Razer Blade, however, seems perfectly balanced: not only does it have a more reasonable 1080p panel, it sports notably more powerful graphics than last year's model. The combination should be excellent. It's just a shame that for us in the UK, we are unlikely to see Razer's products sold directly to us; importation is costly and sometimes prohibited by region. Still, let's look at this thing and see what we're missing.
With a handsome 14-inch aluminium chassis, a quad-core 2.6GHz Intel Core i7 processor, 8GB of RAM, a 256GB SSD, and that Nvidia GTX 970M GPU, it's not too big, it's not under-powered, and it's not even as expensive as you might think. The US price is being set at $2,000, which equates to around £1,250. Of course if we ever did get this thing come over it would probably be closer to £2,000.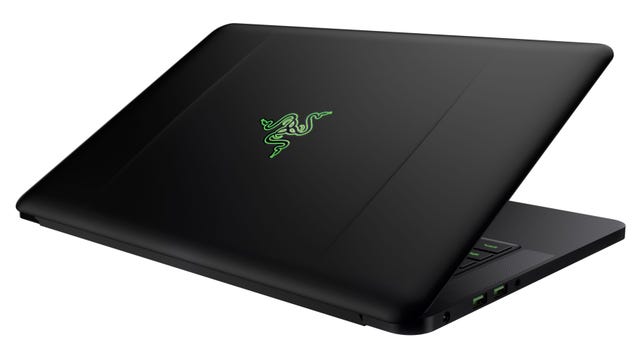 Not that you're stuck with those specs if you disagree. For $2,200 (£1,456) and up, Razer's flagship Blade comes with twice as much RAM and a large 3200 x 1800 touchscreen. Gorgeous, I'm sure, but it's hard to say if the GeForce 970M's extra oomph is enough to play the latest games at high resolution this time around.
Anyone out there gone to lengths of importing a Razer into the UK? Would be interesting to hear the relative costs of making it happen.