Biomass cogeneration doesn't ooze excitement to most of us, but the city of Uppsala, Sweden, is hoping it might in future. Its plans involve a geodesic dome, stained glass, and a zany Danish architect.
Last year, the city invited architect Bjarke Ingels to design a new power plant that will use biomass cogeneration to generate electricity and heat in the winter. Cogeneration burns biomass (excess plant matter and agricultural products as well as waste wood) to generate both electricity and steam, hence the name cogeneration. It's been around for a century, but it's gained new popularity in Europe and even the US over the past few years, since it's an incredibly efficient way of generating energy.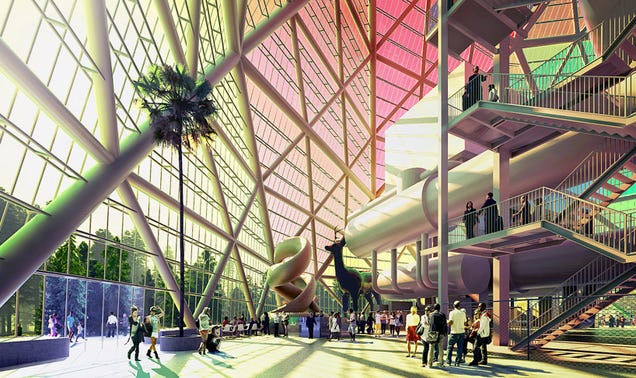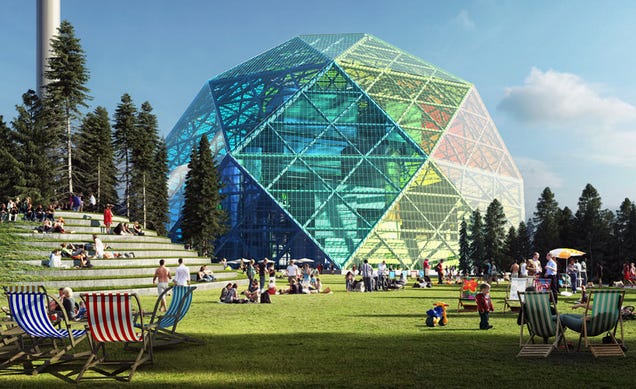 The thing about Uppsala's cogeneration plant is that it will only operate in the winter, when it's really needed. So, as DesignBoom reports, the city asked Ingels to find a way to turn the power plant into an attraction during the summer. What resulted is, essentially, a giant rainbow-hued greenhouse, where every summer Uppsala can stage shows, festivals, and music events. The deformed geodesic facade will contain PV panels to generate electricity for the off-season use, when cogeneration stops or slows and public access revs up.
Oddly enough, this isn't Ingels' first power plant. Back home, in Denmark, the architect is in the process of building a hybrid power plant and ski slope on the Copenhagen-adjacent neighbourhood of Amager. The waste-to-power plant will burn rubbish to harvest energy, and on top of its tall stacks, a public ski slop will loop down to ground level: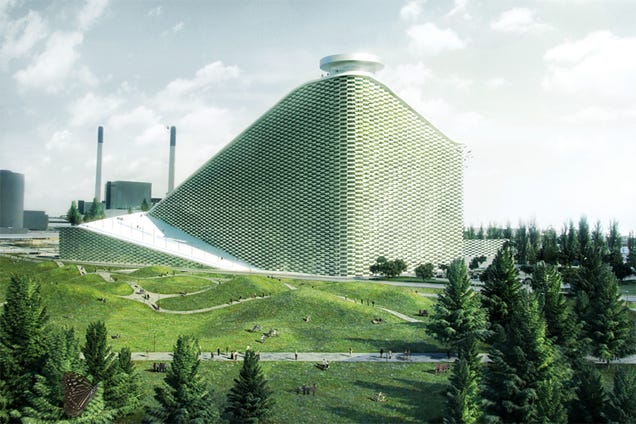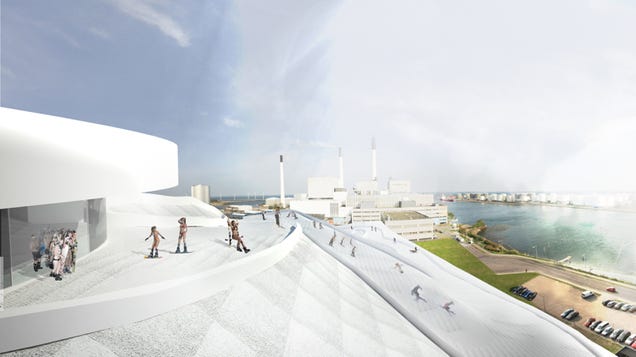 It's not a coincidence that Ingels, who is really better known for residential and cultural projects, has been asked to design two of the same highly specialised energy infrastructure projects. Over the past few years, he's been promoting his vision for the future of sustainable architecture: he calls it "hedonistic sustainability," a clever oxymoron that describes a kind of sustainable design that's as luxurious and excitement-driven as it is efficient.
At its core, it's Ingels' best effort at making sustainable design cool, and it's been a relative hit. Conversely, his ski-slope/rubbish-incinerator has been sharply criticised as anything but green.
Whether or not sexed-up power plants are our future, they're an interesting experiment. [DesignBoom]