Many have criticised Apple for trying to cram too much functionality into a wearable device with a tiny touchscreen and short battery life. Breitling's first smartwatch is simpler: the B55 Connected will wirelessly communicate with your smartphone too, but only to make the watch's core functionality easier to use.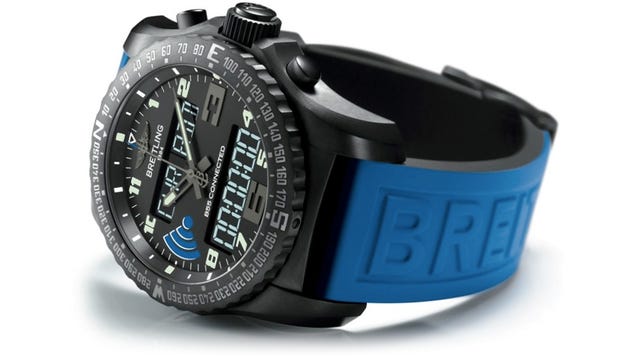 First and foremost, the B55 Connected is still a genuine Swiss-made timepiece for enthusiasts and collectors who are sticklers about where their watches come from. However, since it's packed full of accurate timekeeping functionality and targeted at pilots—Breitling's bread and butter—the B55 features the company's B50 calibre superquartz movement instead of being purely mechanical. So you get your Swiss pedigree plus modern reliability, we'd presume.
In terms of smart features, the B55 wirelessly connects to a new Breitling smartphone app that shares the majority of the watch's timekeeping and timing functionality. Want to adjust the time when you land in a new time zone? Just tweak it on the app and the watch's digital display and analogue hands will automatically adjust themselves.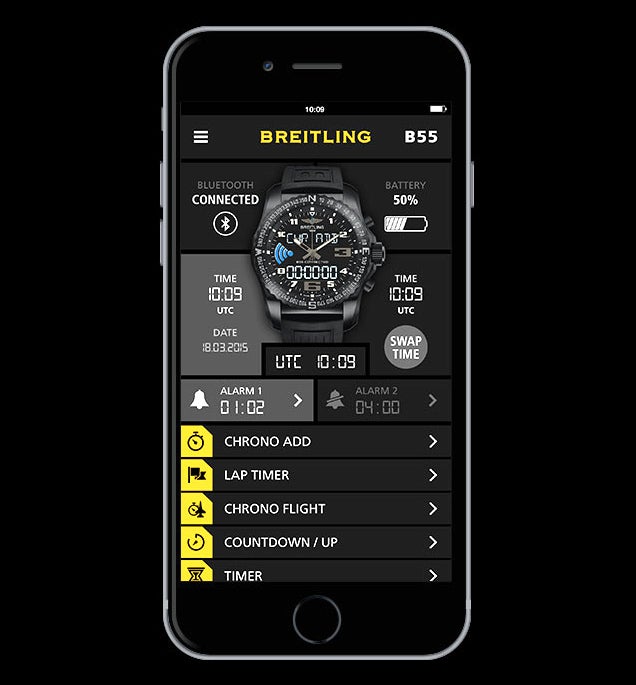 The same goes for other functionality like alarms, which can be set using the app and automatically synced to the phone. Timing flights or denoting the exact minute when a plane left the ground can all be done using the B55's minimal buttons, but the app backs up that data, making it easier to log when you land and share it with other people.
Missing are most of the things you'd expect a smartwatch to do: no text messages, social media updates, health monitoring, or superfluous apps like games to drain the watch's battery. But perhaps that makes sense: when it comes to companies like Breitling, Rolex, and even Swatch, this is the kind of 'smart' functionality we'll be seeing. Instead of turning timepieces into over-burdened personal assistants, apps will simply make them easier to use and maintain.

Pricing and availability for Breitling's new B55 Connected will most likely be revealed at next week's Baselworld show in Switzerland, but don't expect it to compete with Apple Watch on price either. The B55 will surely be as expensive as every other Breitling timepiece, because that's part of the appeal. And don't expect a gold model. [Breitling via Perpetuelle]