Ello, that exclusive, stripped down social network you vaguely remember hearing someone you kind of knew talking about last year is now an exclusive, stripped down ghost town. So in a desperate plea to re-attract the masses it once swore were coming, Ello has announced that March is officially NSFW month. Because if it's getting down on its knees anyway, it might as well — you know.
Ello is touting the smut-centric month as a win for free speech in general. Writing on its new invitation page that "if you're afraid you may someday get kicked off your social network or blogging platform because you post NSFW content, don't sweat it. You're always welcome on Ello." Nice.
There is plenty of room at the inn. I decided to mosey on over to Ello for the first time in a few months to see how things were going. Apparently, not great.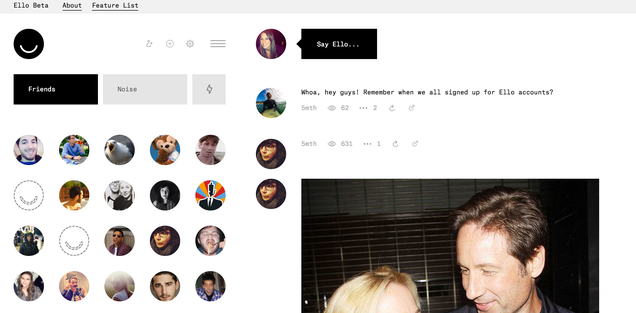 But what does NSFW month actually mean? For the next 30 days, any post labelled as NSFW will be promoted. So if you have any filthy content you'd like the founders of Ello to see and probably no one else, now's your chance. Go get 'em, tiger. [Ello]