Microsoft launches its Band fitness tracker in the UK on April 15, with pre-orders starting today for the £170 wearable, making ol' Blighty the second country that the Windows maker has turned its new fitness fascination to. And posh gym purveyor Nuffield Health will be the local hook-up for all its custom workout needs.
"The UK is at the leading edge of the wearables market, across a variety of sports, so will offer us some great insights," Leila Martine, Microsoft UK's director of new devices, told me about why we're getting the nascent wearable next after the US, where it launched last autumn. "It's an athletic country with, importantly, very high smartphone adoption."
So we're the latest digital fitness guinea pigs in Microsoft's Health platform expansion, a very considered cross-platform strategy to try and fill the big gap between all-style-no-substance fitness trackers and single-purpose pro smartwatches one territory at a time. With apps for iOS (7.1+), Android (4.3-5.0) and, of course, Windows Phone (8.1), and already connecting up to the likes of RunKeeper and MyFitnessPal, the Band's UK launch will see it integrated into Nuffield's HealthScore, too, as well as adding its workouts to the 100-odd Microsoft offers itself.
We reviewed the Microsoft Band back in November when it launched in the US and a Roy Walker verdict of "good but not right" was very much the order of the day. While impressed with the genuinely useful metrics and deep reading possibilities of its sensors, its clunky design and jack-of-all-trades approach held it back and Mario advised to wait to see what came in the updates.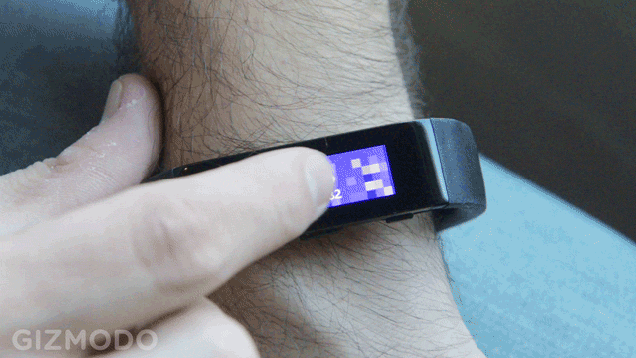 Well, the cycling app came in February, with compatibility with Wattbikes, which adds to its usefulness immensely, plus the slightly random/useful ability to pay for Starbucks coffees with it suggests some truly useful smartwatch capabilities for the future (how about Oyster card payments if you're too knackered to get back from wherever in hell you've run to?).
That said, this seems to be the only commercial app that's porting over to the UK at launch, and while the Nuffield tie-up makes sense (it's Gold's Gym in the US), we expect to see more partnerships to broaden this out (Men's Fitness magazine is one of the better US collaborations).
We've been trying it for a couple of days and concur with much of Mario's verdict. It's a smart-looking thing but its fairly large, flat-one-side-round-the-other design can feel a bit "in-mate on day release". That said, I haven't found it overly intrusive and its structured approach to data means its readings make for fascinating viewing, particularly on sleep tracking (despite excellent sleep efficiency, I wake up briefly at 3am every day for some reason, and now I have to know why).
As someone who prefers swimming to running, its lack of waterproofing is a pain, as is the fact that not all the apps are live yet, so I'm using a loaner Lumia (it's a handsome app on all fronts, to be fair). At £170, it isn't offensively priced next to the competition, but as ever it kind of stings when you convert the US price of $199 to £125. Ah, the hard knock life of being a UK tech buyer.
Once we've had more time with it, and the UK services are all present and correct, we'll update our review to reflect how it operates here. In the meantime, if you're already sold, you can pre-order the Band at Microsoft Store, O2, Amazon, Currys PC World, Dixons Travel and Harrods (ooh get you), like, now.