DARPA is making a next-gen GPS, Valve's Vive VR headset will be free for devs, and Windows 10 arrives for more phones. Come in, sit down, and be newsified.
---
We already knew that Apple was completely redesigning its retail stores to prepare for the Apple Watch, including specially designed safes to keep their wrist wearables protected. But details have emerged on exactly how the £8,000 Apple Watch Edition, that golden waste of money piece of tech jewellery, will be sold. From 9to5Mac:
When a customer interested in the Apple Watch Edition enters the store, he or she will be given no-wait access to a dedicated Expert, who will provide a personalized "journey" from the beginning of the appointment until the end, as much as one hour later.
Apple also has special instructions on handling gold Apple Watches, and customers can even video conference from home rather than coming in at all. At what point does "elegant" turn into overdoing it? [9to5Mac]
DARPA is working on the next generation of GPS that will be more reliable in combat zones and poorly covered areas. [

PCWorld

]

GitHub spent a majority of its Sunday defending against a massive DDoS attack. WSJ says all signs point to China. [

WSJ

]
Apps and Devices
HTC and Valve will offer its wonderfully awesome Vive VR headset for free

 to all developers. I think I may have developed a thing or two in my time. [

Ars Technica

]

OxygenOS, OnePlus's new ROM after ditching Cyanogen, hits another delay: it won't be available until April. [

The Next Web

]

Windows 10 preview for phones has been out and in the wild nearly two months. But the amount of Lumia phones that could actually download it was pretty limited. Now that's all changing. [

Windows Blog

]

Sony finally ditched its half-baked Music Unlimited service for a Spotify-powered music app. And the feature goes live today. [Engadget]
Rumours!
Rumours start detailing the architecture of Qualcomm's upcoming 815 chipset but may be delayed so the 810 has some room to breathe. [Trusted Reviews]

What the Galaxy S6 gained in design, it gave up in utility. But the all-but-confirmed S6 Active may see the return of one much-missed feature — a microSD slot. [

Android Community

]

For some reason, I feel like this drone concept is in our future (including a $50,000 Apple Drone Edition).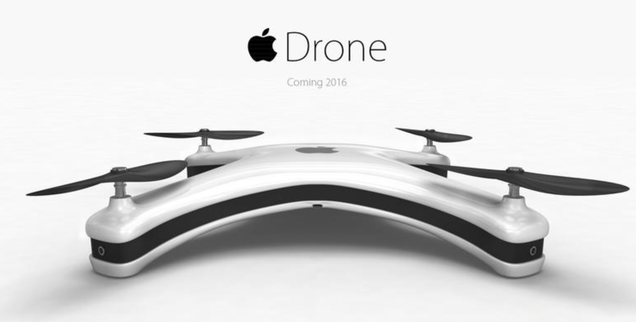 via Eric Huismann
What You Might Have Missed on Gizmodo
Pebble Time Shows Us Just How Much Crowdfunding Has Changed
Headteachers May Call Police if Your Child is Playing Grand Theft Auto
Meet the Guy Who Makes Apps for Ghost Hunters 
Pin-Sized Book Reminds Us of Life's Little Pleasures
This Galaxy S6 Edge Drop Test Looks Too Good to Be True