Sony's PlayStation Vue, the gaming firm's subscription TV streaming service that begins its trial in the US today, is looking to take internet TV to the next level. Starting at $50 (£34) a month for some 50 channels, we're talking Sky-level prices for what you get, but trust me, you've never seen TV quite like this.
PlayStation Vue takes a little bit of explaining, mind you, not to mention the different machinations of US TV compared to the UK's, so bear with me a sec. What we're talking about is a service, launching today in New York, Chicago, and Philadelphia, that streams both live and pre-recorded TV programming over the internet. It includes most major US broadcasters – including their local affiliates, so viewers will get local news and weather – and a good number of the cable channels. It streams at 720p resolution, too, so it only requires a stable 5Mbps internet connection or better.
As of today, though, you need to live in one of those three cities and have a PlayStation 4 or PlayStation 3 game console. More platforms (including iPad) and markets (Sony says it's targeting large cities first) and countries (content-deal dependent, of course) are coming later on. It's a no-contract service with no promo prices, so you can pay your monthly fee as long as you like and quit anytime you want.
But that's not what makes PlayStation Vue special. It's just how easy Sony makes it to watch what you want to watch.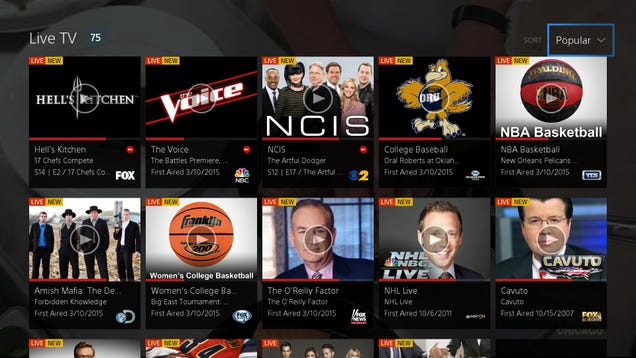 If you just want to pick a channel and gorge yourself on live television, you can totally do that. You can even see a nice big grid with helpful red progress indicators that let you know how much time is left in any given show.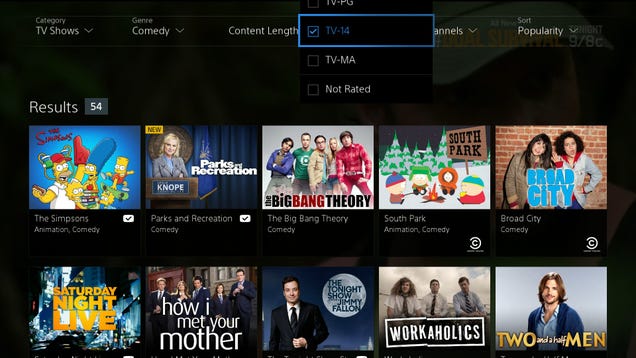 And if you don't know what to watch, but know you're in the mood for some particular genres, or that you only have 30 minutes to kill, PlayStation Vue has an "Explore" tool that'll find some winners for you.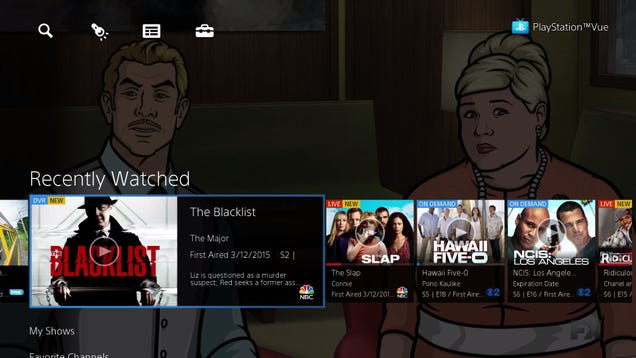 But the real meat and potatoes of PlayStation Vue is that once you know what you want to watch, Sony's streamlined interface will show it to you regardless of whether it's live, pre-recorded, or on-demand content.
You press a single button – R1 on your DualShock – to "favourite" any show, and from that point on Sony will give you access to any episode broadcast in the last 28 days just as if you were recording it yourself. If Sony has access to on-demand episodes, they'll appear right next to the live and recorded content: just scroll left and right to see them all.
You can "favourite" as many shows as you want – no worrying whether you've got space on your hard drive or how many shows you can record at once. And yes, you'll be able to fast-forward right through the ads as long as you've favourited a programme.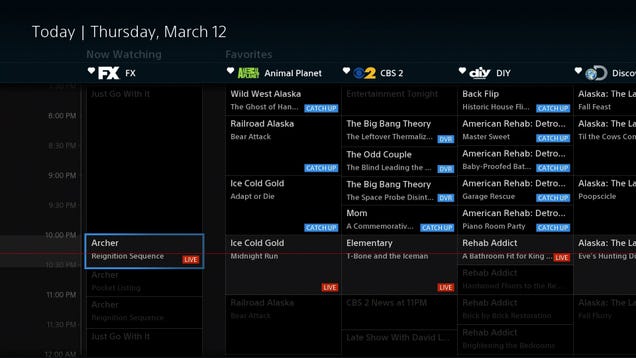 Depending on Sony's network negotiations, there may not even be the need to "favourite" some shows in order to go back and watch episodes broadcast within the last three days. As you can see in the screenshot above, Entertainment Tonight and Just Go With It are greyed out, but you can "catch up" with some shows on Animal Planet and DIY without opting in first.
What's the catch? First off, access to "every episode broadcast within the last 28 days" means Americans won't necessarily be able to binge on any given show. Take a look at The Big Bang Theory: you can watch episodes 16 and 17 in order, but then you're back to reruns of episode 11 and 12 with no guarantee you can fill in the holes. Classic Sky.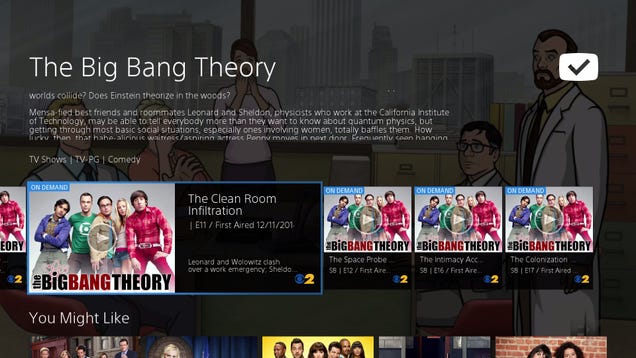 And speaking of holes, PlayStation Vue's channel lineup for the US, while pretty impressive, still has a bunch of them. No HBO, no ABC, no ESPN, no A&E or History Channel, no BBC America and no Disney to choose from. AMC is coming "very shortly after launch."
And that's really the problem with internet TV in the US so far. No one service ever lets you completely cut the cord. You always need a combination that'll cost you as much, if not more, than you were already for cable. That part's not that dissimilar to the UK, where while Sky dominates, the likes of BT, Virgin, Netflix and Amazon put us in the age of multiple subscriptions.
There are also some lingering questions, like how long Sony will hold on to shows and networks before its deals expire, whether prices might rise and how intrusive advertising might be. Sony told us that there aren't any current plans to show pre-roll ads or raise the monthly rate, but there's nothing guaranteeing they won't.
We also haven't actually tried Vue at home ourselves yet, so we can't say if there's some hidden deal breaker that only appears when you're surfing channels in the comfort of your own sofa. Sony gave us a lengthy walkthrough, but wouldn't let us pick up the controller. What we will say is that PlayStation Vue sure looks swell.