Apple Watch pre-orders, a whole new look for OnePlus, and the return of the LHC. This is all the news and rumours you missed this weekend, and it's all on BitStream.
After a two-year hiatus (I wish I got that kind of holiday package), the Large Hadron Collider is ready for work. The European Organisation for Nuclear Research (CERN) live blogged the startup process over the weekend until finally, on April 5, the organisation confirmed that LHC was, once again, up and running.
Beam 1, the second to circulate, is successfully through all sectors of the LHC! Startup complete! #RestartLHC pic.twitter.com/ZgI0E1J8k6

— CERN (@CERN) April 5, 2015
The LHC's largest scientific contribution to date is the discovery of the Higgs-Boson particle, a huge +1 for evidence supporting the Standard Model of physics. The last time LHC was working, it fundamentally changed the physics field. Who knows what could happen next. [NPR]
Image via Luis Davilla/Getty Images
Apps and Devices
Apple Watch pre-orders will be available starting at 08:01am BST on April 10th. Prepare for an early morning. [9to5Mac]
LG is showing off its brand-new QHD IPS smartphone display that will make its way into the upcoming G4. [Android Community]
Rumours!
The next-gen Apple TV may not support 4K video. Considering how slowly Apple updates its set-top box, that could be a big problem. [Buzzfeed News]
OnePlus finally has an all-new look with the heavily Lollipop-influenced Oxygen OS, a custom ROM that will replace Cyanogen on the popular One series smartphones. [OnePlus]
As you'd expect, a $164,000/£109,618 Apple Watch is completely hideous. [Luxury Launches]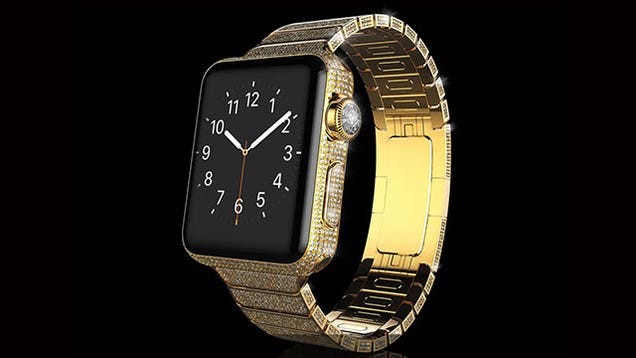 What You Might Have Missed on Gizmodo
This Lego Case Holds a Fully Customisable Computer
For 50 Years Now, the US Has Had a Nuclear Reactor Orbiting the Earth
Your Best Apple Watch Glimpse Yet in Four Official Videos
Inside Morgellon's, the Internet's Disease
How We Underestimated the iPad