DARPA announces another (crazy) project, Apple Watch sales reach a million sold, and Google continues its war against the password. All the news and rumours you missed, all on BitStream.
Google isn't a huge fan of the smartphone password. That's why they've done everything imaginable to provide new ways of security that doesn't require pins, patterns, or any other cumbersome methods. Trusted Places and Trusted Face options were a start, and even more recently, an "on-body detection" mode. Now, Google wants you to log in with just your voice. A new security option called, you guessed it, Trusted Voice will now let users unlock their smartphone using that familiar passphrase, "Ok Google." Android Police first spotted the new feature, and posted this screenshot: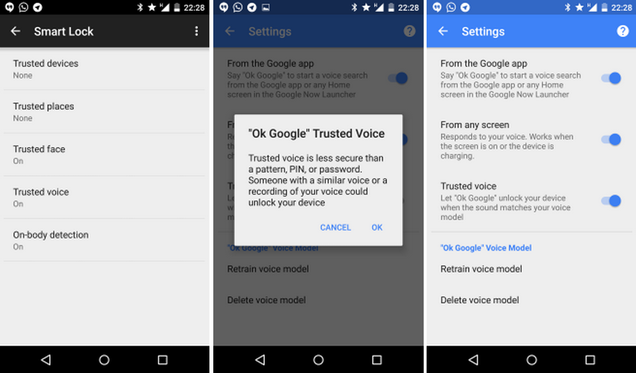 Clearly, Google isn't super confident that voice passwords can stand up to older methods. For example, it can't quite distinguish between similar voices or even a recording of your voice, but unless you're fearing spy-level sleuthing from your nosy friends or significant other, Trusted Voice will probably do the trick. Or hell, turn 'em all on. Why not?
This feature is slowly rolling out to Android devices, so it may still be awhile until it shows up. [Android Police]
Apps and Devices
PCs may be in trouble again. Only this time, blame the company you work for. [Engadget]
Photographers everywhere: get on this guy's level. [PetaPixel]
DARPA is investigating how to create a computer system that won't need any type of upgrade for a century. Ambitious or impossible? [DARPA]
Rumours!
Nokia may be looking to sell of its wonderful app, HERE Maps. That's weird...it's literally the best thing Nokia is even making right now. [Bloomberg]
One research firm says Apple scored near one million pre-orders for the Apple Watch just on launched day with users spending an average of $500/£350 per watch. What was that about Apple's wearable being a flop? [Forbes]
What You Might Have Missed on Gizmodo
The Six Steps to Mastering Any Sport or Fitness Hobby
Kanye West Jumped Into a Lake and Fell Over
I Built My First Computer in Four Hours, Watch it in Three Minutes
How To Tie The Only Five Knots You'll Ever Need