A magnetic power connector didn't seem that revolutionary when first revealed, but over the years the Apple MacBook's MagSafe connector has proven itself to be an invaluable feature. And as the Znaps magnetic adaptor shows, it would be just as useful for your mobile devices too.
Using a pair of simple adaptors (one that plugs into the Lightning or microUSB port on the bottom of your mobile device, and one that connects to the end of a Lightning or microUSB cable) the Znaps makes it much easier to plug your mobile devices in for charging at night when it's dark, or when you've only got one hand free. It's also just as easy to unplug a cable from your device with the Znaps adapter, as a simple tug easily breaks the magnetic connection.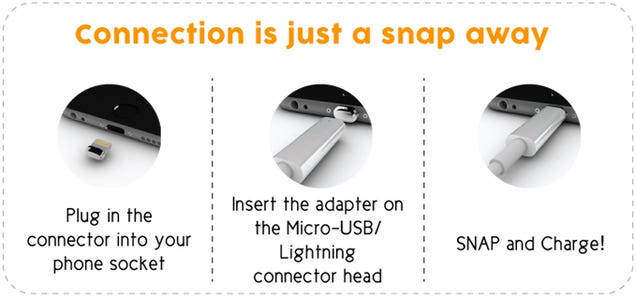 It's an almost perfect upgrade for your mobile devices, but only 'almost perfect' because the Znaps aren't actually available for sale yet. Their creators have turned to Kickstarter to raise $120,000 (£77k) to help put them into production, and to date the crowdfunding campaign has raised almost four times its target amount. That doesn't mean the Znaps are guaranteed to make it into consumers' hands, but it will certainly help the product overcome unforeseen roadblocks and hiccups as it moves into production.
You can pre-order the Znaps for as cheap as just $9 (£5.78) for a single pair of the charging port and charging cable adaptors, but the Kickstarter campaign also allows you to order custom numbers of either if you're using a single cable for multiple devices. As with any Kickstarter product, the waiting will be the hardest part here as delivery of the Znaps aren't expected until November of later this year. [Kickstarter - Znaps via Ubergizmo]