Robotic surgery has become a relatively commonplace, with 1.7 million robotic procedures occurring between 2007 and 2013. This new tiny robotic wrist, however, will take the procedure into the head, face and neck.
The Engineer reports that this flexible wrist is the latest advance in needlescopic surgery, which uses tiny robotic components (typically needle-sized, hence the name) to carry out surgery with minimum patient impact. All the devices required to perform such surgery are inserted through an incision just 5-10 millimetres long, causing less pain and ultimately only requiring surgical tape to fasten back up.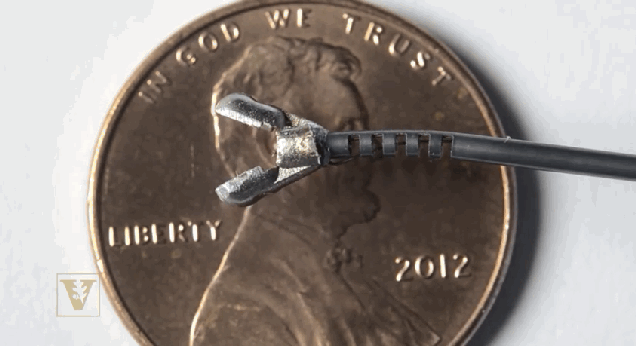 Sadly, needlescopic surgery has so far lacked devices with articulation, making it hard to cut or remove tissue. Instead, a sharp ring or heated wire (along with some back-and-forth motion, like a saw) has been used to remove tissue. This new mechanical wrist, developed by researchers from Vanderbilt University in Nashville, Tennessee, solves that problem. The Engineer explains how it was made:
Cutting minute slots down the side of the rigid nitinol tube made it more flexible; running a slender wire down the middle of the tube and attaching it to the tip beyond the slits gave a mechanism to bend it, by just pulling the wire. This will bend the tip by up to 90°, and because of nitinol's memory properties, it spring back when tension is released.
The advance should allow needlescopic surgery to enter as-yet uncharted territory in the neck, face and head, as well as helping surgeons "perform operations that are not feasible at present," according to surgeon Duke Herrell, who's helped to develop the tool. Fancy having this creep up your neck in an operating theatre? [The Engineer]