If Las Vegas has taught us anything, it's that you can't open a new casino without some kind of gimmick. Be it a fancy exclusive restaurant, an amazing waterworks show, or the world's first ferris wheel shaped like a figure-8, one which also happens to be perched 130 metres above the city of Cotai in Macau.
The Golden Reel, as Studio City Macau calls it, is smaller than both the London Eye and the High Roller ferris wheel in Vegas, but will provide similarly impressive views of the city below since it's being installed so high up on the casino resort.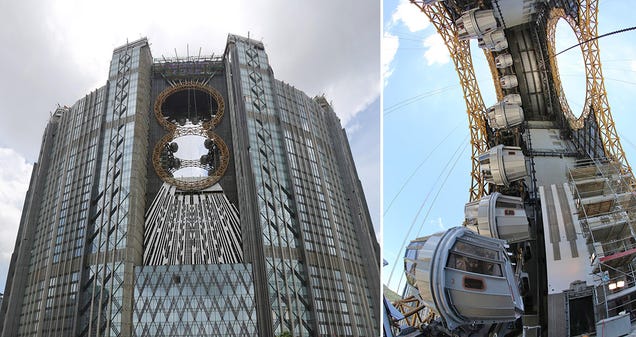 Guests board one of the ferris wheel's 17 steampunk-themed cars on the resort's 23rd floor, which can each accommodate up to ten passengers at once. The cars travel on the inside of the ferris wheel's outline, and do actually follow a figure-8 pattern during their 15-minute trip, but without the crossover in the middle.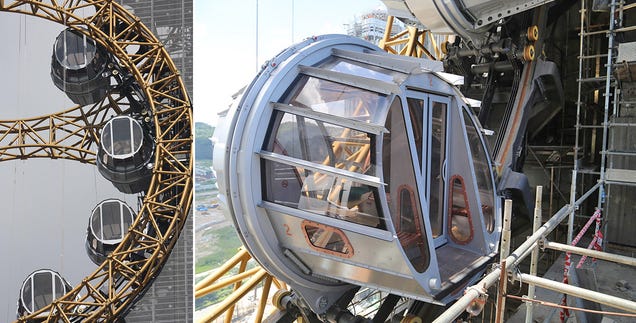 Designed by Liechtenstein-based Intamin Amusement Rides, the Golden Reel is claimed to be the first of its kind in the world, and investors are hoping it will help lure tourists to the £2 billion Studio City resort in Macau. The ferris wheel is currently undergoing rigorous mechanical tests, but the entire facility should be open later this year if you're already bored of Vegas and are looking for a new weekend escape. [Studio City Macau via Gizmag]