What's the biggest explosion you've ever seen? Unless you are (or were) in the military, I'm assuming it pales in comparison to the one that hit the Chinese port of Tianjin a few hours ago.
The initial explosion happened at around midnight local time (5pm BST), and was caused by a shipment of explosives going up in flames. The resulting inferno then set off secondary explosions and fires in the surrounding area. This was a big explosion, and I mean seriously big, and footage has already hit video sites across the world.
Just in case you can't appreciate how large those explosions were, the two blasts were apparently detected by a nearby earthquake monitoring centre.
Three to four hundred people have already been taken to Tianjin harbour hospital following the two main blasts, according to an unnamed medic quoted by Beijing News, and emergency services are apparently overwhelmed with calls. The paper also quoted a doctor who reportedly said that they cannot be sure how many patients have arrived, only that many of them are suffering from burn injuries.
As for the ensuing blaze, Chinese state TV claims that six firefighting teams were send in to control the fire. Authorities have apparently lost contact with two fire fighters, and six more are being treated for minor injuries.
At the moment we don't know how large the blast radius was, or how many casualties there are, but what we do know is that the blast ripped homes and offices apart and was big enough to be seen from space. [The Guardian]
Update 8:55 13/8/16: The BBC reports that at least 44 people died from the blast, with the death toll rising, and more than 500 have been injured. Twelve firefighters were among the dead. Buildings within a 2km radius had their windows blasted away, cars were burnt out and office blocks destroyed. Chinese state TV has suggested that a shipment of explosives had detonated, causing the blast, but this has not been fully confirmed.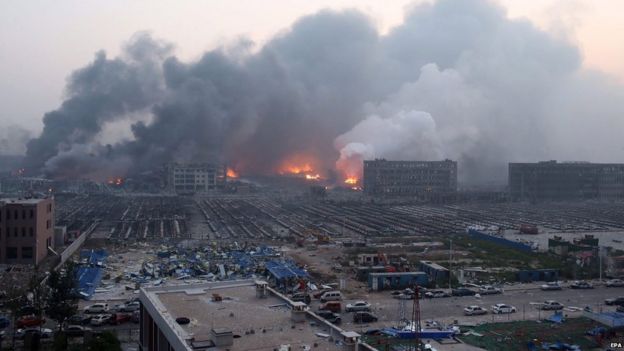 Morning sheds light on the damage. Image via BBC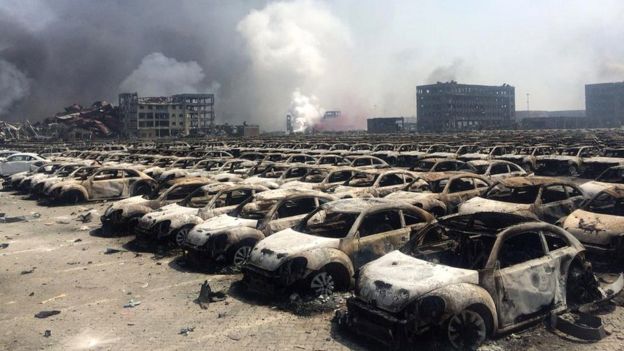 Cars in the nearby port area are destroyed. Image via BBC
Featured image via @L0gg0l/Twitter