Chelsea Manning, the US army soldier who leaked classified documents to Wikileaks, is looking at "indefinite" solitary confinement for infractions that include possessing a copy of the Caitlyn Jenner Vanity Fair magazine and using an expired tube of toothpaste.
Former intelligence analyst Manning is serving out a 35-year prison sentence at Fort Leavenworth for espionage and is back in hot water with authorities, according to her lawyer Nancy Hollander. The New York Times reports:
The prison charges include possession of prohibited property in the form of books and magazines while under administrative segregation; medicine misuse over the toothpaste; disorderly conduct for sweeping food onto the floor; and disrespect. All relate to alleged conduct on July 2 and 9. The maximum penalty Manning could face is indefinite solitary confinement.
Of particular concern to Hollander is the confiscation of Manning's reading material. Literature included the highly touted Jenner cover story in Vanity Fair, a novel about transgender issues, a book on the hacker collective Anonymous, a book about young Pakastani activist Malala Yousafzai and a US Senate report on CIA torture. It's unclear how Manning acquired the material that has now been deemed "prohibited", or how these determinations were made. The "medicine misuse" charge emerged from the discovery of an expired tube of toothpaste in Manning's cell.
She is also charged with "disrespect", for having been "contemptuous" and "sweeping food onto the floor" during dinner. On the Chelsea Manning website, we can see the exact charges that were sent to Manning, according to the prisoner herself: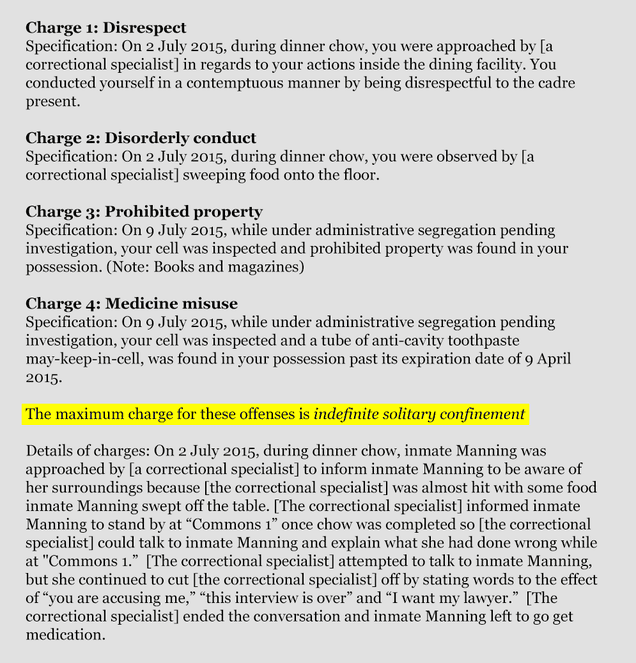 Over at the Guardian, where Manning is a columnist on global affairs, ACLU lawyers attached to Manning's case believe that she is being targeted for her notoriety and identity:
Chase Strangio, a staff attorney with the ACLU who is handling Manning's legal dispute with the US military over her health treatment in prison as a transgender woman, said the charges were very concerning. "They could chill her activities or even silence her altogether."

Strangio said it seemed that Manning was being unfairly targeted. "Chelsea has a growing voice in the public discussion and it would not surprise me were these charges connected to who she is."
The Christian Science Monitor has experts discussing the staggering rise of the use of solitary confinement in the US and why Manning's case may be skewing in this direction:
Christopher Epps, the former Mississippi prison chief told The New York Times in 2012 that while prison wardens start out isolating prisoners who scare them, they eventually start using it for inmates they're "mad at."
As an outspoken figure in the fight for government transparency and a prisoner who still has a global platform, it's hard not to see Manning's possible infractions as trumped up and the potential repercussions as overly severe. A closed-door disciplinary meeting is scheduled for August 18, though Manning has petitioned it be made public. [NY Times; Guardian; Christian Science Monitor]