Parallels, the virtual machine go-to for Macs alongside Apple's own Boot Camp, has another annual update, bringing Windows 10 to your Mac. However, this year Parallels adds one feature previously unknown to common Mac users: a virtual assistant.
As far as updates go, it's all-around better software: it boots 50 per cent faster, with a quarter better battery life, and speed bumps in moving files and tasks in Windows 10. But one of its coolest tricks (aside from smashing Windows and Mac into an almost seamless OS) is the inclusion of an always-on Cortana. Just like in Windows 10, a Mac equipped with Parallels 11 will be able to summon Cortana with the familiar phrase, "Hey Cortana." Once summoned it looks a little something like this: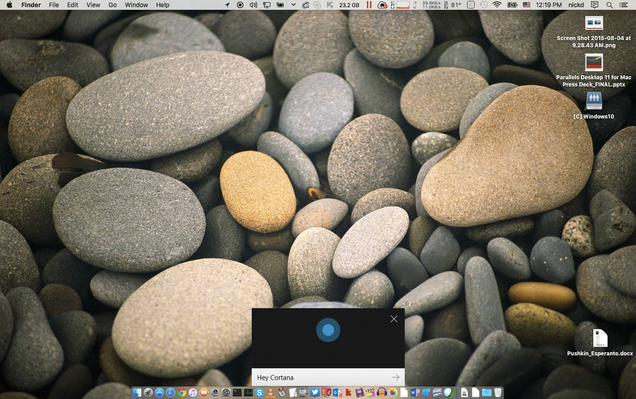 However, when you're working away like usual, Cortana hides out of sight. Add Cortana to the fact that Microsoft recently added its new Edge browser to Windows Virtual Machine and you're getting all the Windows 10 goodies without having to completely abandon your fruit-branded laptop.
Of course, Parallels isn't the only program that can run Cortana on your Mac. We recently used Apple's Boot Camp to pull off a similar tech endeavour, and it worked pretty well, too.
Aside from Windows 10-centric features, Parallels has also focused on battery efficiency because simultaneously running two operating systems has never been known for being energy friendly. The Parallels team has introduced a travel mode, basically an "engines critical" mode for when you need more juice out of your computation device. You can set travel mode to automatically turn on at a certain battery percentage threshold or just set manually.
As usual, the new Parallels will cost £65 but only £35 for those with Parallels 9 and 10. There is also a "Pro" edition for £70.
Can't choose between a Mac and new fancy features on Windows 10? In the words of one immortal meme, why not both?