Popping open an app (and ensuring your mobile device is connected to your home's Wi-Fi network) isn't always the most convenient way to control Philips' wireless lighting system. So the company is introducing another physical remote that lets you dim up to 10 of its bulbs at once.
Unlike the Hue Tap, Philips' first physical remote that was actually powered by pressing its individual buttons, the new dimmer controller is slightly more complicated since it allows you to adjust the brightness of the bulbs in your home, not just turn them on or off. As a result, it instead relies on a small replaceable battery that should be good for about three years of use.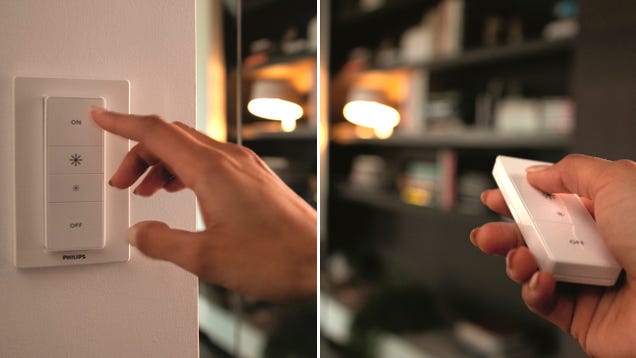 The dimmer controller can be configured using the Philips' app which allows you to specify which of the bulbs in your home it can control, up to ten all at the same time. Or it can be programmed individually by simply holding the dimmer near a bulb you want to control and pressing the 'ON' button for 10 seconds.
Available this September in a $40 (localised prices TBC) kit which includes a Philips Hue white bulb, the dimmer can be attached to a wall like a traditional light switch using an included mounting kit. But since the actual remote is held in place on the mount using magnets, it can be easily removed when you're feeling lazy and would prefer to keep it close by. [Philips Hue]