WhatsApp recently unveiled a web client that now works with apps on both Android and iOS devices (we published a quick setup guide), and that opens up a whole new set of possibilities for the platform, including desktop notifications.
With the help of Chrome's notification system and a free extension you can get WhatsApp alerts on the desktop. Here's how.
When you sync your WhatsApp chats to the web, you'll be asked straight away if you want to enable desktop notifications using Chrome's own features, so choose to allow them—you can change this setting at any time (or mute it temporarily) from the Notifications entry in the app menu.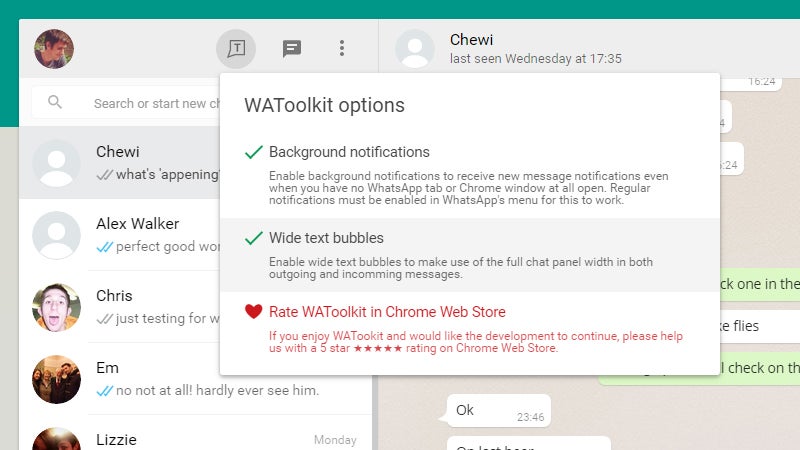 That's all well and good but the free extension WAToolkit adds something extra. Not only does it let you expand the speech bubbles inside the web app (handy in itself), it also enables background notifications so you can get alerts even when the WhatsApp tab is closed or Chrome itself isn't running. It's useful for staying in touch without having to keep WhatsApp open in your browser all the time.
You'll see a new icon on your browser toolbar (click to see the latest messages) and a new icon in the WhatsApp web interface (click to change the extension options). For WhatsApp lovers who want to break free from their phones it can prove a great alternative to the smartphone apps.
---
This article originally appeared on Field Guide, Gizmodo's blog on how to get the best out of your tech