Tease much? We've known Tesla's SUV was coming since 2012, back before the Mayan apocalypse. It has finally arrived, and we were at the grand unveiling outside of the Tesla factory in California. A lot of information has already been released in the lead-up, but we wanted to find out the things we didn't already know and to attempt to rub my face on this sweet-looking vehicle.
But first, here's a quick recap on the stuff we already know. It's an all-electric SUV with seating for up to seven passengers. It has that dual-motor setup that enabled one version of the Model S to go to Ludicrous Speed. With Ludicrous mode enabled, the Model X could go from 0-60MPH in 3.2 seconds.
In case you're not familiar with car specs: that's stupidly fast, for any car, let alone an SUV. That's the 0.1 seconds faster than a Ferrari Spider 458 4.5 V8, a Lamborghini Gallardo LP570-4, or a McLaren MP4-12C. It makes the Model X the quickest SUV (or crossover) by a significant margin.
It also has those DeLorean-style falcon wing doors in the rear (but they're hinged so they can open in tight spaces), and an estimated range of more than 250 miles (up to 257). Pre-orderers are getting the specced-out Signature Edition, and they're long sold-out, which means that a whole lot of people were willing to pay upwards of $130,000 (over £85,000) to be an early adopter.
That's the stuff we already know; here's all the new things Elon is announcing. Regardless of the version of Model X you buy, Tesla is playing up the safety specs: the Model X scores five stars in "every category". According to Elon's pretty graphs, this means you've got a 6.5 per cent chance of being injured in a high-speed accident.
The safety smarts come from the design of the thing: not having an engine allows Tesla to re-engineer the car, making a much larger front-impact crumple zone, and great strength for side-on impacts. A low centre of gravity (thanks, batteries!) means that you probably won't roll the Model X over, and even if you do, it will "land on its feet".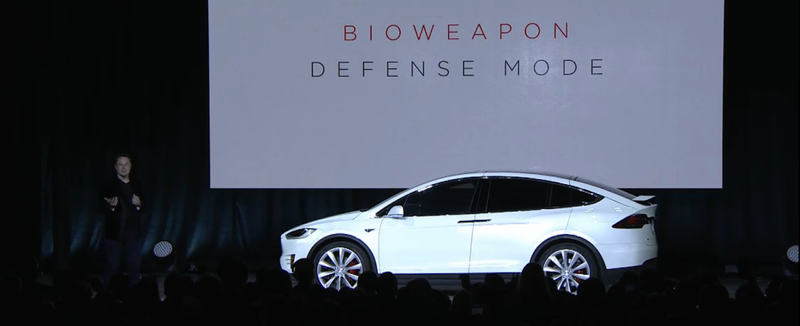 Oh, and as for air safety? There's no need for clever software to defeat emissions, but there is a giant HEPA air filter, which should make that dirty city air cleaner to breathe. Oh, and because Musk is a borderline supervillain, the Model X has a "bioweapon defense mode". Yes, that's a real button. Musk said that "if there's ever an apocalyptic scenario of some kind" involving biological warfare, that the car will be able to keep you safe. We will believe it when we (hopefully don't) see it, Elon.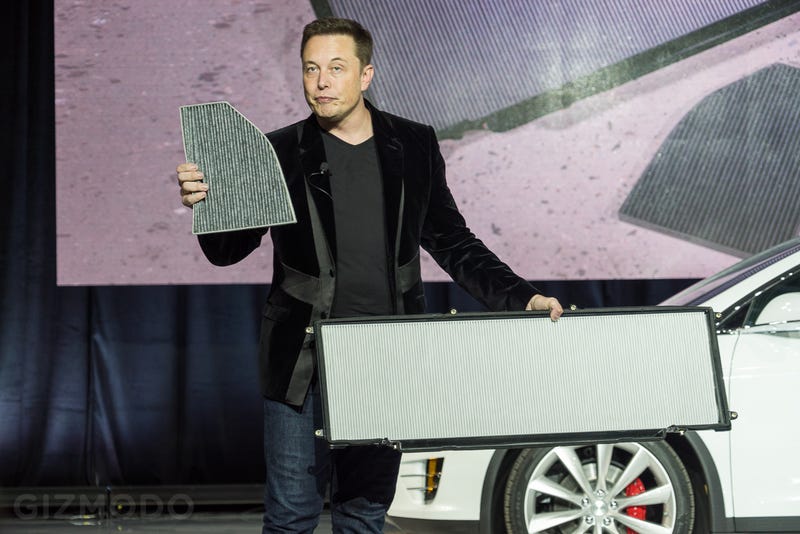 The interior of the car is about as smart as you'd expect. The doors will "auto-present," or in other words, open for you; the windshield is gigantic, so it feels like "sitting in a helicopter cockpit"; and the middle row of seats moves around automatically, so you can get your children in when your hands are full.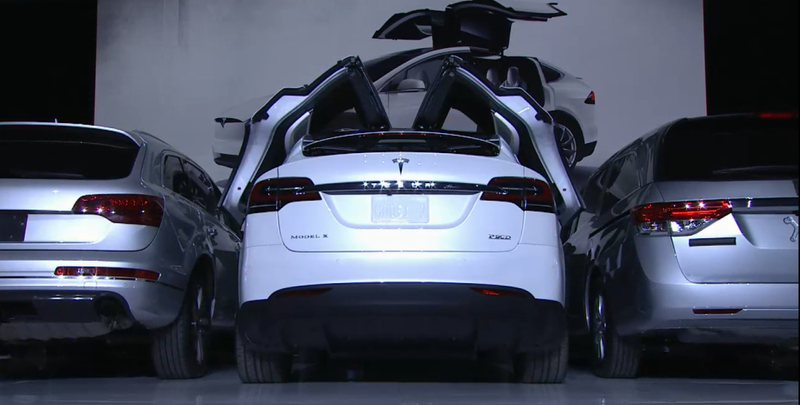 Speaking of seats, and doors: the rear doors are "falcon-wing," so they open upwards, like a DeLorean. They're different to those doors in one crucial respect: they have two sets of hinges, so they can open in an absurdly small space. Yes, Tesla is selling fancy doors as being practical.
More practicality: the doors have ultrasonic sensors in the side, so they know how much room they have to open. These aren't normal ultrasonic sensors, though: there's no black plastic dots, which are normally needed for those sensors. Instead, Tesla has used black magic (and, fine, physics) to make sensors that can see through metal.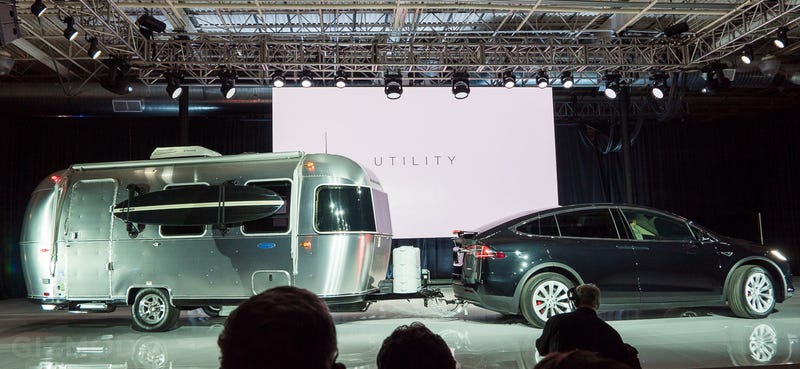 Like towing and carrying things? You can tow 5,000 pounds (2.3 tonnes), while carrying seven people and a bunch of luggage. Don't expect to get that 250-mile range while hauling around all that crap, though. There's also a custom-made hitch that quick installs and can carry four bikes or six sets of skis/snowboards.
There will two versions: the Model X 90D starts at $132,000 in the US, with a range of 257 miles and 0-60 of about 3.7 seconds; the P90D has a Stateside starter price of $142,000, 250 miles and that 3.2-second acceleration (those prices convert to £87k at £95k respectively, but that is just for indication – UK market prices have not yet been revealed).
Either way, you'll have to get in line: the first six customers got their keys yesterday, but if you order one now, you'll be waiting months or years for delivery.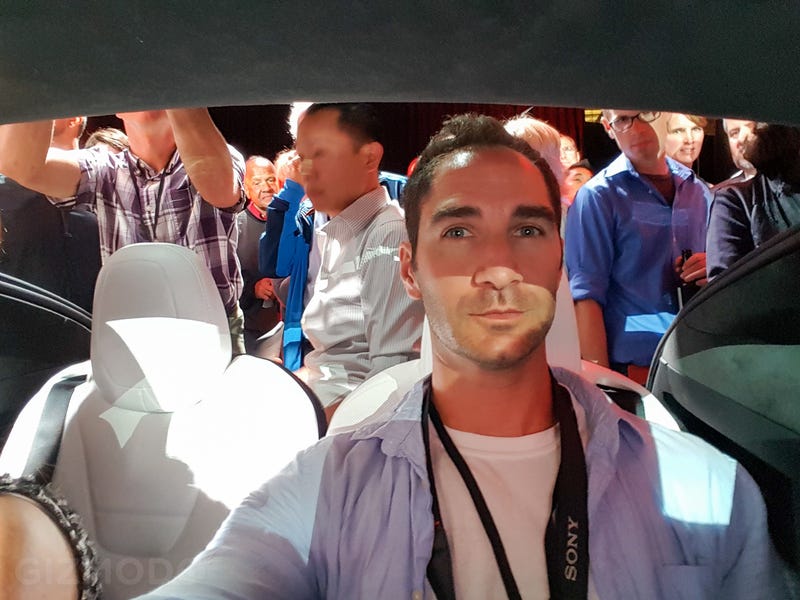 UPDATE: After the event I got to get inside Elon's own Model X (supposedly), which had been left on stage. It was a total mob scene and I didn't get to drive it, but here are a couple of hands-on observations.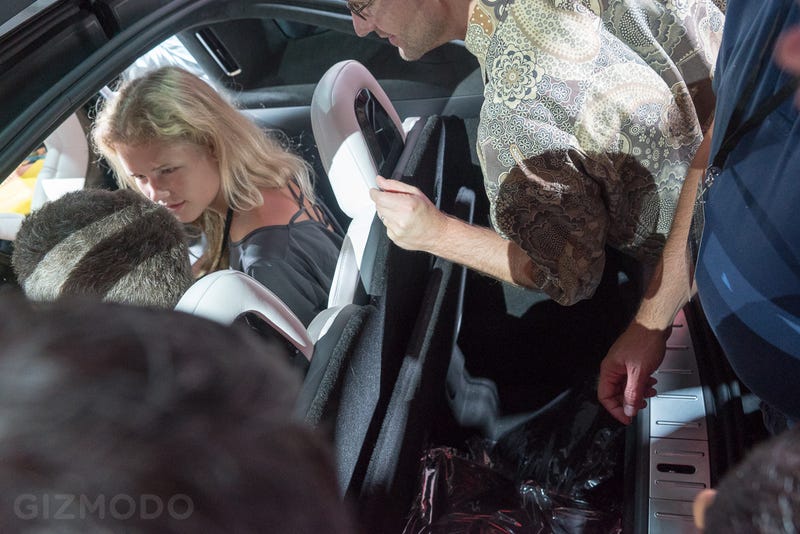 The storage space in this SUV is massive. The boot goes deep into the floor and can fit a ton of stuff even with the two far-back seats up. Put those down and there's even more. There's also loads of room under the hood in front, and under the seats in the passenger rows.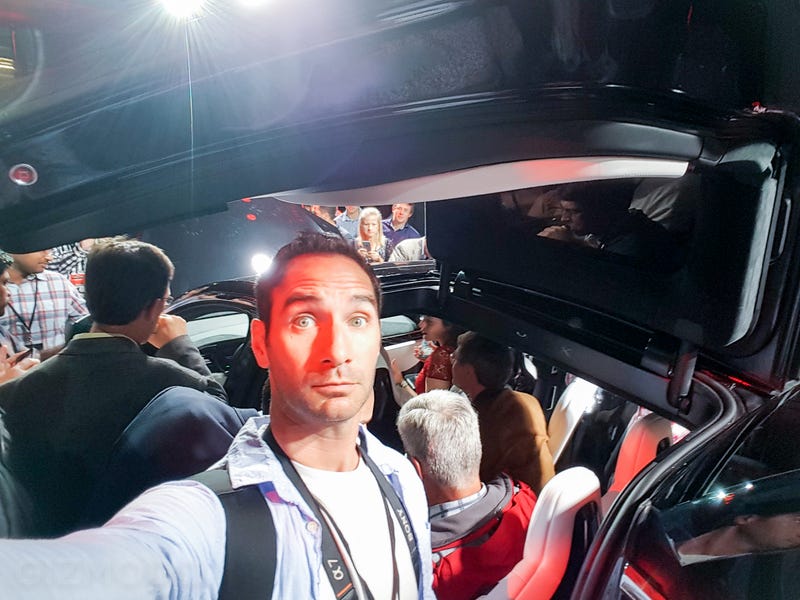 I was worried that the falcon wing doors would be a potential eye-blackener, but they're actually a lot higher than they look. I'm 6'1" and I had no problem standing up under them. The far back seat is another story however.
In the far back the back of my head was pressed against the rear glass unless I slumped down in the chair. There's also a bar a few inches in front of my forehead that I would definitely hit it on if we were in an accident, or if the driver braked hard. Shorties in the way back only.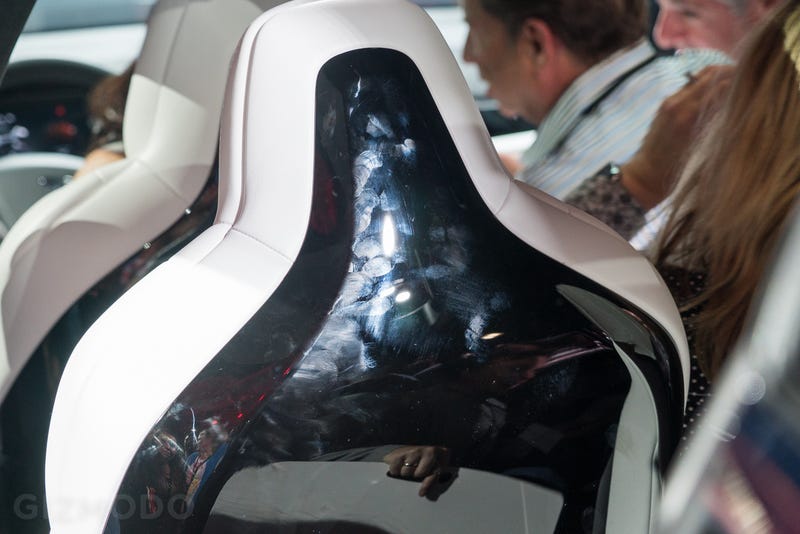 That aside, the seats were quite comfortable. I had enough legroom in both the far back and middle rows. One choice I'd question, though, is the plastic back to the seats. It's hard, which makes it less pleasant should you hit your knee on it. It doesn't have a pocket for storing a magazine or what have you, and arguably worst? It's a fingerprint magnet.
In general, though, this thing is incredibly impressive. I also loved that basically the whole top of the car is glass, giving it kind of a spaceship feel. I definitely want one. I definitely can't afford one, but I definitely want one.