There are two types of people in this world: those who appreciate puns, and those who do not. Actually there's a third type of person: The person who laughs uncontrollably at said pun, talks about the pun relentlessly, then texts you the pun again later along with alternate puns. That person is me.
Atlas Obscura and Digg have collaborated on a project that has had me writhing on the floor for about an hour now: A crowdsourced map of over 3,000 pun-named businesses across the USA, with very funny user-contributed captions.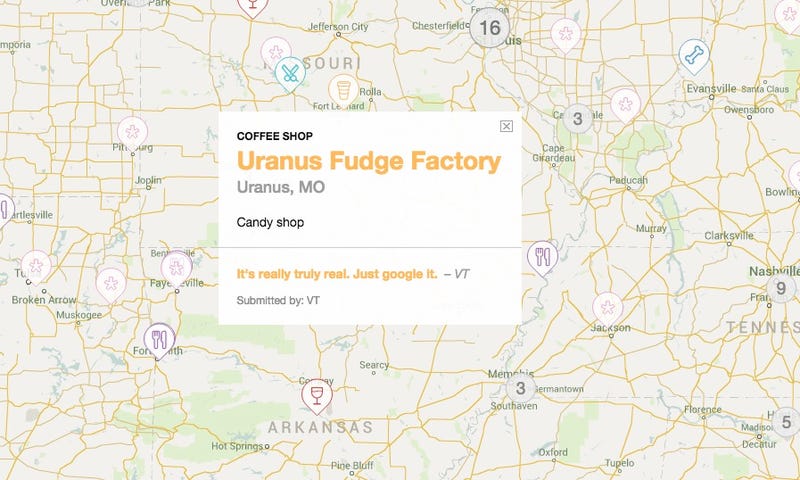 What's striking is not how awesomely awful all these names are, but the fact that so many of them are the same. Every single pet store owner thinks of the same bad doggie style pun whether it's in Maine or Milwaukee or Maui. The list includes 30 — yes 30! — hair salons named Curl Up And Dye. CURL UP AND DYE. It works on at least four levels. I want to meet all 30 of these small business owners.
Please, I beg of you, take a few minutes to peruse this trove of wonder. Where else can a chimney sweeping company name itself Ash Wipe? Where else??? Even the accompanying articles are puntastic — "Hair They Are, the Punniest Salon Names in America." — and include a list of editor's picks. I dare you not to smile at Unbeweaveable. [Atlas Obscura]
Photos: Jacob Haller (Sunny and Shears, From Hair 2 E-Tan-ity); Jeannie O (Intl. Hairport); Kirsten Ruud (I Kneaded This); Jane Nagle (Jack of all Fades); Todd Tracy (Grateful Head); Emily C Hughes (Unbeweavable); Andrew Cafourek (Curl up & Dye)