Well September is over, which means that we can pull out our best Green Day jokes that weren't even funny 11 years ago when that song came out. It's been a big month though, hasn't it?
We saw two new iPhones, the long rumoured Apple Surface iPad Pro, the even longer rumoured update to Apple TV, a whole bunch of new gadgets at IFA, more Nexus phones from Google, hockey-puck shaped Chromecasts, and all those new Star Wars toys.
You know what else September had plenty of? If you said 'apps', you guessed correctly. Let's take a look at the best ones you should download now that October has arrived.
iOS Apps
---
AmpMe: You don't need to buy expensive sound systems to enjoy music all over your hours, all you need is this app that turns all your devices into speakers in their own right. AmpMe lets you sync devices together and play the same audio across every single one of them. It's cross platform, too, letting you sync up Android, iOS, and Bluetooth devices. [Free]
---
DAEMON Sync: This one is a backup server designed to let you transfer files between devices without issues with space and privacy that crop up far too often with cloud storage. Everything connects together over your local Wi-Fi network and syncs automatically – simple. [Free]
---
AdBlock Browser: Adverts are divisive, and while it's not always easy to block all adverts from your device you can rest assured that there won't be any in your browser. Or at least their won't be with AdBlock Browser, from AdBlock Plus. It's just arrived on iOS, so those pesky full-screen video adverts should be a thing of the past for you! [Free]
---
CitiesTalking Guide: You know how museums have audio tours that let tell you all the stuff you need to know about the exhibits? Why can't we have that for real life? Oh, well it looks like we do now. CitiesTalking Guide is just that, telling you all the cool things you need to know about about various European cities by tracking you with GPS and playing the relevant sections automatically. Best of all, it's all kept offline so you can use it without using up your data or accruing data charges abroad. [Free -- with in-app purchases]
Android Apps
---
Pintasking: Do you work on your Android and miss the handy little taskbar that comes on Windows and OS X? Now you can sort of make one for yourself. Pintasking lets you pin shortcuts to apps, tasks, and documents to your screen so you can quickly access them anytime and anywhere. [Free]
---
Drivemode: Phones are incredibly useful in the car, whether you're using it as a sat-nav, playing music, or just taking calls. The problem is using a phone when driving is incredibly dangerous. Drivemode takes all that away, with a no-look interface that lets you safely use your phone while driving. You control Google Maps, music players, and calling with swipes, no need for any fancy driving interfaces in your car. [Free]
---
Swivel: Screen rotation can be an annoyance, especially since Android only allows a single static position or automatic rotation. This is a bit of a pain if you have different apps you like to view in different orientations, which is where Swivel comes in. It lets you set the rotation of specific apps for the one you like best, but without messing up the rotation of all your other apps. [£0.77]
---
Instadict: Don't know the meaning of words you come across, but don't want to deal with stopping whatever you're doing and googling it? Instadict there to help you out, delivering words' meanings quickly and easily. All you have to do is copy the word, shake your phone, and it'll deliver the meaning to you. The best part? It works offline as well. [Free]
Windows Phone Apps
---
Video 360: Earlier this year Video 360 let Windows Phone users watch the 360 VR-style videos that have started popping up on YouTube. Now the latest update helps you out with the immersion factor by bringing in headset compatibility. Because what good is 360-degree video without a headset? [£1.49]
---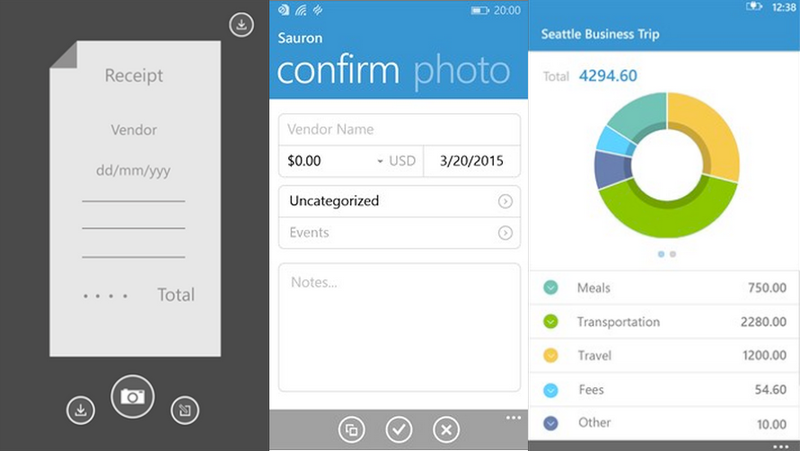 Receipt Tracker: This is one is one of Microsoft's Garage projects, and used OCR (optical character recognition) to extract information from your receipts so that you're not just saving pictures of receipts. This means you can categorise and visualise your receipts for easy tracking. [Free]
---
Outlook Groups: With this app Microsoft is getting into the business of, well, business. Outlook Groups is an app designed for the workplace so that colleagues can collaborate with one another more easily. It's got group conversations, photo sharing, the ability to view and collaborate on Office documents, and work together with a shared OneNote notebook. It all sounds pretty good, but there is one downside: all users need an Office 365 subscription. [Free -- requires Office 365]
---
Total Commander: There are a lot of file managing apps out there, but this one actually comes from a 22-year old line of Windows file managers. Total Commander is just the latest version of Windows Commander, which launched back in 1993, and it's got everything to help you explore your phone's storage. See details, move things around, transfer to cloud, zip, unzip, and a heck of a lot more. You couldn't ask for anything better. [Free]