Most of the imported goods Americans possess find their home through the Port of Los Angeles, one of the largest ports in the world, and now, one of the biggest environmental success stories on the planet. A new study shows that due to major upgrades started a decade ago, the port is almost 10 years ahead of its emissions goals.
Ports are responsible for some of the nastiest air pollution in major cities, and LA was no exception. The air was so bad from diesel-burning container ships, as well as the trucks required to move the containers away from the port, that the surrounding neighbourhood of San Pedro sued LA, launching a highly publicised public health battle. In 2005 a series of strict environmental reforms planned to cap emissions at 2001 levels, something that was called impossible at the time. But ten years later, LA did it, reports the Daily Breeze:
In addition to the 85 percent drop in particulate matter since 2005, sulphur oxides have plummeted 97 percent and nitrogen oxides emissions were down 52 percent in the same period, the port said in a news release.
That 85 per cent drop in particulate matter is extremely notable because that's a measurement which is directly in response to that lawsuit. As you can see here, the reduction in health risks for those who live around the port are already hitting the 2020 goals.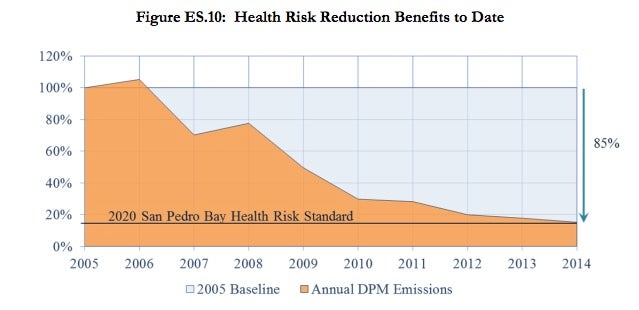 One of the biggest changes at the Port of LA I got to see in person during my trip there last autumn: the construction of what are essentially giant charging stations so container ships could "plug in" to electrical power instead of burning more diesel in the port. There's also an e-highway being planned which would remove more of the emissions from tractor-trailers.
But not all of the changes required complex infrastructure upgrades. Some of the largest impacts came from changes that cost almost nothing, like asking ships to slow down to 12 knots within 20 nautical miles out of port. It's a small change that really adds up when it comes to emissions—and improving public health. [Port of Los Angeles Inventory of Air Emissions via Daily Breeze]