A new poll by the Pew Research Center shows that Americans are spending an increasing amount of time on the internet: and 21 per cent of US citizens polled report being online pretty much all the time.
The Pew Research Center says this is the first time that the response "almost constantly" was included when asking American adults about their internet habits. This means there's no way to know how this particular group has grown over time, but it's clear this is now a "demographic" worth tracking. Thanks to the rise of smartphones and other mobile devices, it's never been easier — or more tempting — to stay online.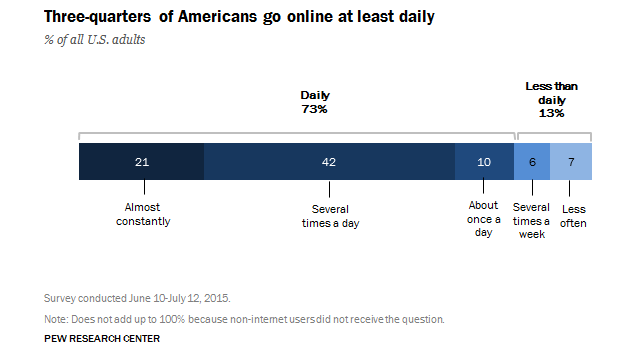 The survey, conducted by the PRC between June 10 to July 12, 2015, found that 21 per cent of Americans go online "almost constantly", a figure that applies to both women and men. This means one-fifth of Americans are practically mind-melded to the internet through their computers and mobile devices, doing work, connecting with friends, playing online games, streaming videos, obsessively checking Facebook newsfeeds, and engaging in any other manner of online activity.
Some 42 per cent say they're online several times a day, and 1 in 10 report being online at least once a day. Nearly three-quarters of Americans go online on a daily basis. Perhaps surprisingly, as many as 13 per cent of adults say they do not use the internet at all.
Age obviously plays an important factor. Of those between 18 and 29, around 36 per cent report being online almost constantly, while half say they're online multiple times per day. As a comparison, 6 per cent Americans aged 65+ report being online almost constantly, and just 24 per cent say they're online multiple times a day.
Access to mobile connectivity is another important factor: about 75 per cent of Americans use a smartphone, tablet, or other mobile device to access the internet on an occasional basis.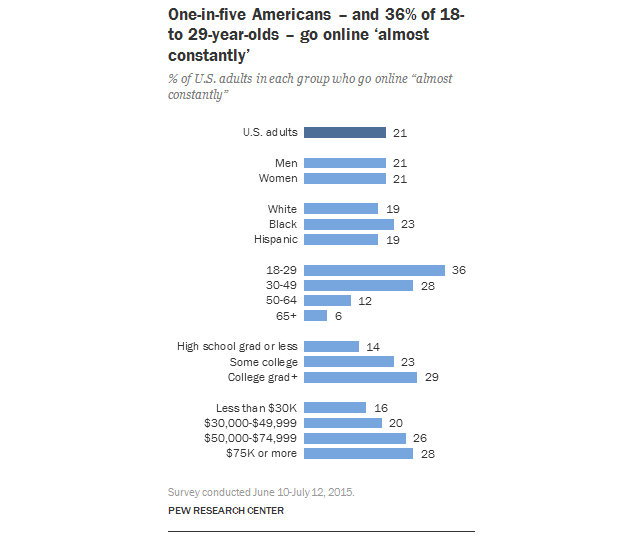 Finally, there are socioeconomic factors to consider. Writing for the PRC, Andrew Perrin summarises the survey results:
Along with younger adults, some demographic groups that report going online frequently include college-educated adults, adults who live in higher-income households, and non-rural residents. Some 29% of adults with a college education or more go online almost constantly (and 89% go online daily), compared with 14% of adults with a high school education or less. And 28% of adults who have an annual household income of $75,000 or more use the internet almost constantly (91% use it daily), compared with 16% of those whose household makes less than $30,000. Adults who live in urban and suburban areas are more likely to go online almost constantly than those who live in rural areas: 23% of adults living in urban and suburban areas use the internet almost constantly, compared with 14% of rural residents.
Taken together, these results are interesting, but hardly surprising. So, how does this tally with your internet usage? Always on or occasional connection? Talk in out in the comments. [Pew Research Center]
Top image by David Roseborough/Flickr/CC BY-2.0
---
Want more updates from Gizmodo UK? Make sure to check out our @GizmodoUK Twitter feed, and our Facebook page.