Earlier this year, a maintenance worker found a golden scepter in a Jerusalem cemetery. Antiquity experts were stumped, prompting a six-month long investigation into its origin. A Facebook user has now correctly identified the object — and well, let's just say it's not what they thought it was.
"To tell you the truth, I've never seen anything like this before," noted Amir Ganor, head of Israel's Antiquities Authority robbery prevention unit, in a Telegraph article, adding that the burial ground the object was discovered in was an "important archaeology site where remains were found dating to the Roman, Byzantine and Crusader periods."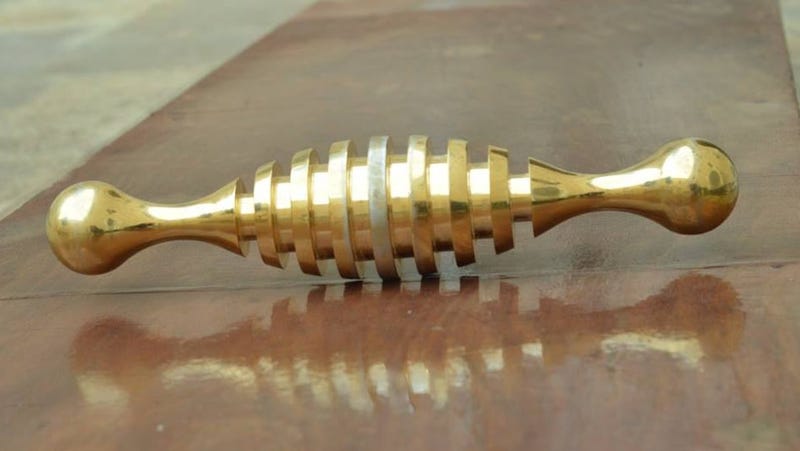 (Credit: Israel Antiquities Authority)
Antiquities experts at the IAA figured that the 8kg, 24-carat gold sceptre may have been used in biblical Jewish temples, but they weren't entirely sure. Stumped, they decided to post photos on Facebook asking the public for help.
Turns out it's not an ancient relic at all, but rather a New Age energy "healing device" called a Weber Isis Beamer. The object, which ranges in price from USD$75 (£50.50) to USD$1,220 (£823) depending on the model, is supposed to create a "harmonised" protective field against "electromagnetic and geopathic radiation."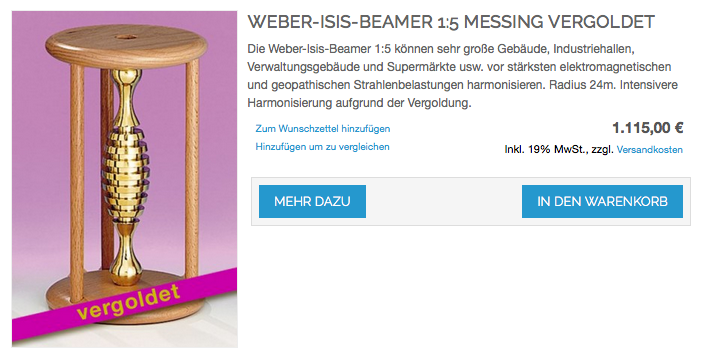 The Isis Beamer on display at the Weber website. The text translates to: "The Weber Isis Beamer 1:5 can be used in very large buildings, industrial buildings, office buildings and supermarkets. It will harmonise against the strongest electromagnetic and geopathic radiation exposure. 24m radius. More intensive harmonisation due to the gilding." The word "vergoldet" means "gilded" in English. (Credit: Weber)
The mystery was solved by Facebook user Micah Barak, who lives in Italy. He's quoted in The Telegraph as saying.
The object, which is produced by a German company, is called 'Isis Beamer' after the Egyptian goddess Isis. In Egyptian mythology she was the goddess of medicine, magic and nature. We hope that those responsible for hiding the object in the cemetery will contact us and inform us why it was buried in an ancient structure and to whom of the dead they wished to give positive energy.
Yikes, well that's embarrassing. To show its gratitude, the IAA has asked Barak to visit them the next time he's in Israel. [The Telegraph]