Technology is full of rumours on what might be, ranging from the highly probable to the likely impossible. Covering technology means slogging through silly press releases, scammy Kickstarters, horribly photographed leaks, and hazy speculation that often needs another level of scrutiny to figure out if its even worth my (and your) time.
When rumours fall apart, they're a disappointment for readers and a huge pain for me. But when they're right, they get you excited for what's coming. I spend a good portion of my day combing the internet, trying to figure out what is fact and what is fiction.
Every week, I'll clue you on some of the most intriguing rumours you may or may not have read this week, and talk a little bit about why they may or may not be complete bullshit.
---
Click on the headings to be taken through to the rumour sources
This one's most likely true. Samsung's smartphone went through a major overhaul for 2015, ditching removable backs for Gorilla Glass and an all-metal housing. The Korea Times report notes that Samsung is focused on saving as much money as possible, meaning a complete redesign wouldn't make sense. There's also a leaked S7 casing render making the rounds, although it's a little sketchy, and it doesn't look like much will be changing.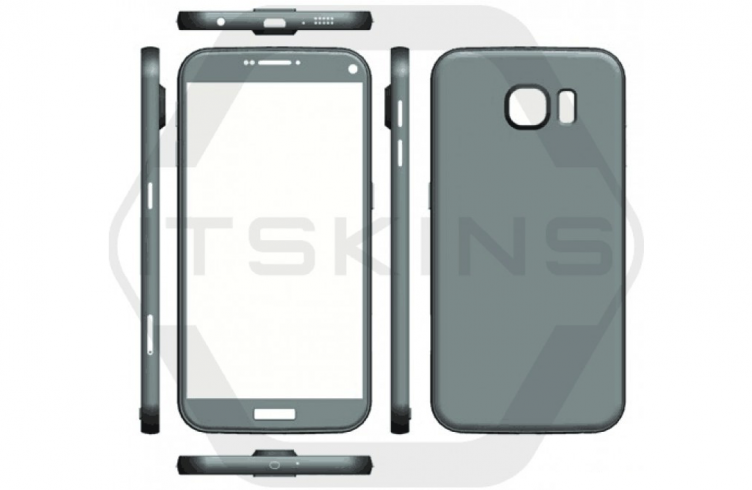 Samsung does say there will be an "increase in picture quality," which could mean the S7 will have a 4K display. Fingers crossed that this is true, because it would make Gear VR experiences even better.
Speaking of Gear VR, Sony might be making a headset much like it, most likely powered by its Z5 and Z5 Premium smartphone. Of course, Sony is already working on the release of PlayStation VR, so the company's interest in the platform is obvious. But Sony isn't directly ripping off the Gear VR, the patent shows the possibility for additional hardware, such as positional tracking (one of Gear VR's biggest limitations) and what's called shutter 3D, a technique used in current 3D TVs, according to UploadVR.
Nintendo's gaming systems are never the most powerful or push the most pixels, but they're often the most inventive. The next console, codenamed NX, looks to be no different. Rumours originally circulated around a WSJ report that Nintendo's console would have a separate handheld unit. This would make sense, especially since the 3DS, Nintendo's current-generation handheld, hasn't had a true successor for years but remains one of its most successful pieces of hardware. A patent discovered this week corroborates that report, saying a supplemental handheld unit would let you "play this console from anywhere".
Voltroning your super successful mobile unit into your fun-yet-struggling console hardware sounds like a great idea, and somewhat similar to the gaming vision that Sony failed to deliver with the PlayStation console and PS Vita.
A report by the Wall Street Journal says YouTube is looking to score streaming rights to movies and TV shows, most likely to bolster the content of its new paid currently US-only streaming service YouTube Red. YouTube already announced that it will have original content, much like Amazon and Netflix, but appears to be trying to fill in the streaming gaps.
The time might be ripe for YouTube to pick up some titles. Netflix seems completely focused on doubling down on its original content, as evidence by the very public loss of the Epix contract to Hulu. YouTube might be positioning itself to pick up similar leftovers if Netflix continues shedding content in favour of its own programming.
At the very least, YouTube Red needs to spend money to help close the gap, so in that context, this rumour makes even more sense.
Many users this week reported that their timeline was in chronological disarray, with items tweeted only minutes ago placed below tweets that were already hours old. Here's an example via Motherboard: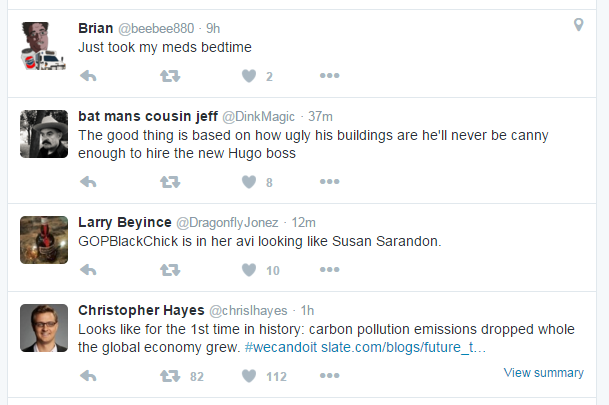 There's no doubt that Twitter is toying with the idea; the company even admitted as much. But Twitter, like all social media companies, often toys with design and functionality on a limited number of users before deciding to release features wholesale. Twitter's abandoned tests before, only to implement the same ideas in the future, so past history is a tossup.
On a mythical bullshit-meter, this rumour is inching towards the maximum. That's not to say it isn't technically possible: ZTE's Grand S3 already uses iris scanning and Samsung has a patent related to eye-based biometric ID. But for smartphones, iris scanning would be redundant security measure if you're already using fingerprint identification. Also, several payment apps and service have begun integrating fingerprint identification as a means of logging in, especially now that Android fully supports the feature.
Additionally, LG just added a fingerprint sensor on its new V10, and Samsung has only just made fingerprint scanning work on the Galaxy S6. It seems unlikely that these companies would abandon those successes so quickly.
In the world of rumours, anything is possible — but this seems insane. It took Apple three years to update Apple TV hardware, and this rumour suggests they're about to do it again...six months later. This overhaul would come with a new CPU and probably 4K functionality. But it seems incredibly unlikely, and if true, would ward me from Apple purchases until the end of time in fear that anything I buy would be made obsolete only half-a-year later.
This idea is an old one, but it also makes more and more sense, especially considering Surface's recent tablet win over Apple's iPad (maybe). Windows Central has an exhaustive list of compelling evidence though none of it is definitively verified. Either way, we supposedly won't be seeing this rumoured phone until the second half of 2016. So if it does exist, the rumours will only become more frequent from here on in.
Patents are the biggest empty promises of all tech rumours, but Amazon has quite a doozy. This proposed AR system uses a projector and beams of light for any would-be user to manipulate. It sounds feasible, but nothing remotely ready for consumers for years. Then again, this is the company that wants to deliver packages with drones and have also been curiously quiet on the AR/VR front until now. Let's just say I wouldn't put anything past them.
---
Want more updates from Gizmodo UK? Make sure to check out our @GizmodoUK Twitter feed, and our Facebook page.