The first thing people think of when they hear the name Casio is digital watches. You probably grew up with a cheap Casio on your wrist, but the company's first Android Wear offering is instead engineered to be tough enough for outdoor enthusiasts who need more than just notifications of Facebook likes.
By no means as high-end as Tag Heuer's recently revealed £1,100 Android Wear spectacle, the WSD-F10 is still part of a long line of Casio outdoors watches designed to thrive when the elements fight back. Not only is it water resistant to a depth of 50 meters, Casio has also ensured the WSD-F10 is spec'd to U.S. Department of Defense MIL-STD-810 standards. If it can survive the levels of shock and vibration it would experience on a soldier's wrist, it will almost certainly survive a week spent in the woods.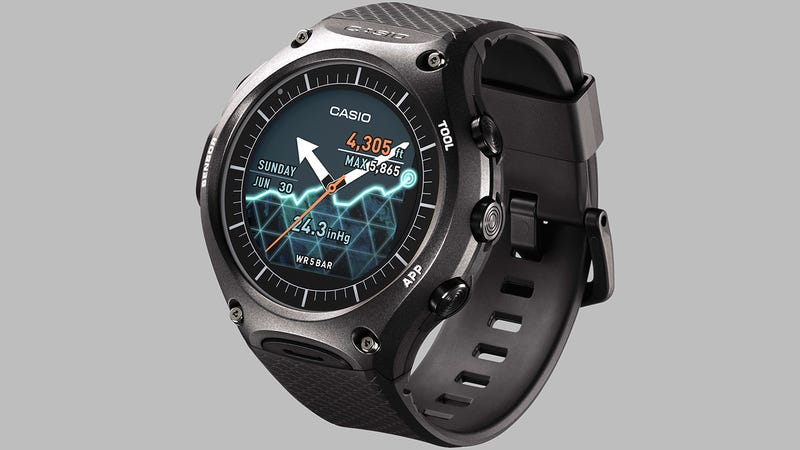 When used as a traditional Android Wear watch, including a steady stream of social media notifications and swiping away at the WSD-F10's 1.32-inch, 320x300 pixel touchscreen display, battery life is rated at around just over a day's use. But because the WSD-F10 is positioned as an accessory for outdoor types who may not be able to charge the watch for weeks, the wearable also features a dual layer display with a secondary monochrome LCD that can show a basic watch face for more than a month if used sparingly.
However, the extreme battery life of the WSD-F10's monochrome mode assumes you're no longer taking advantage of the wearable's air pressure, altitude, magnetic compass, and other sensors that help provide useful information on your progress, your level of activity, and even changing weather conditions. That extra functionality is made easy to access via the WSD-F10's dedicated 'Tool' button that immediately brings up useful information including your direction, sunrise and sunset times, and tide graphs.
Casio hasn't released pricing details for the WSD-F10 just yet, but expect it to be priced just north of the average Android Wear timepiece given the extra sensors packed inside, and the improved housing that keeps everything but your swipes and finger taps at bay.
[Casio]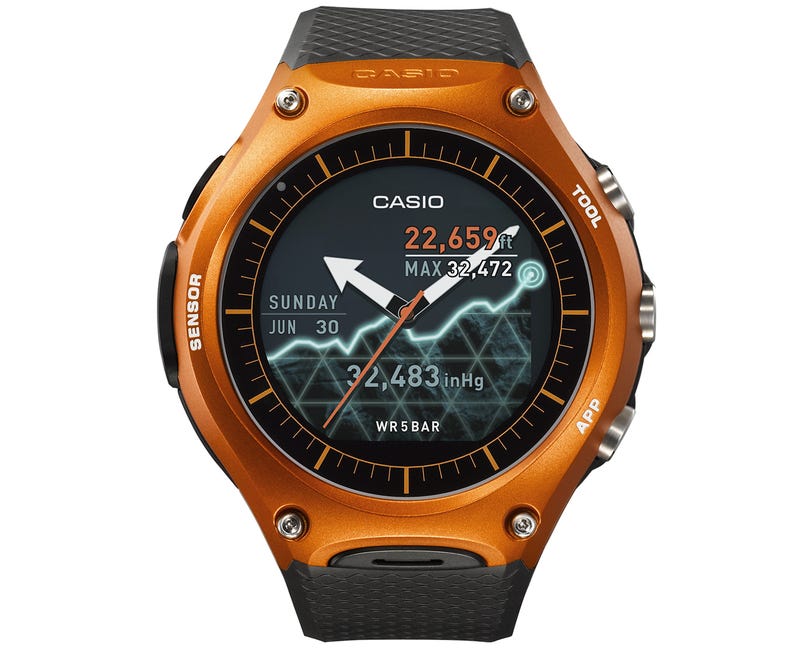 ---
Want more updates from Gizmodo UK? Make sure to check out our @GizmodoUK Twitter feed, and our Facebook page.