Mobile payments, like Apple Pay and Android Pay, is a nascent technology saddled with the ambitious goal of unseating the simple, plastic-y way of paying for things. It hasn't been going so well. Now, Android Pay is using another tactic to change people's minds—giving away free stuff.
Google's calling it Tap 10. Although the company hasn't officially launched its rewards scheme, users are already seeing the reward descriptions popping up within the app. You can also read Tap 10's terms and conditions for the complete details.
In summary, images posted at Droid Life show how it all works. For your first tap, you get a song. Second tap, song. Sixth tap? Yep, a song. But for the 10th tap... free Chromecast! Not too bad! Unfortunately, Android Pay still hasn't made it our shores. So no free Chromecast for you.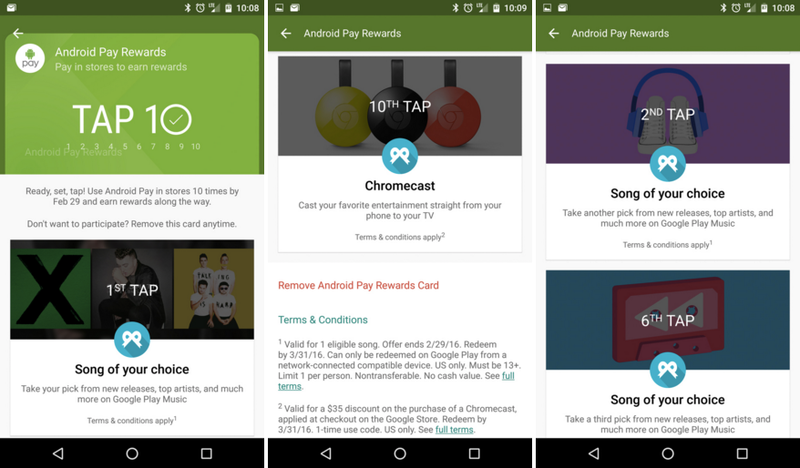 Bowie, Bowie, and Bowie, please? Via Droid Life.
Rumours back in October mentioned that Google was working on a way to entice users over to Android Pay, especially after being somewhat late to the game with its revamp of Google Wallet. Unlike Google, Apple hasn't offered direct rewards for using its mobile payment service though some companies have linked their own rewards programs with Apple Pay itself.
Absent official release, the terms and conditions says the offer ends February 29th, 2016 and Google will probably start the promotion very shortly, possibly sometime today. Who knows if it'll give a much-needed jolt to the erratic heartbeat of mobile payments.
[Android via 9to5Google]
---
Want more updates from Gizmodo UK? Make sure to check out our @GizmodoUK Twitter feed, and our Facebook page.