Unless required by your reality TV series, you don't always need to completely disconnect from civilisation when you venture into the great outdoors. And BioLite, makers of a compact stove that can keep your gadgets powered, is introducing three new ways to make camping a little more comfortable.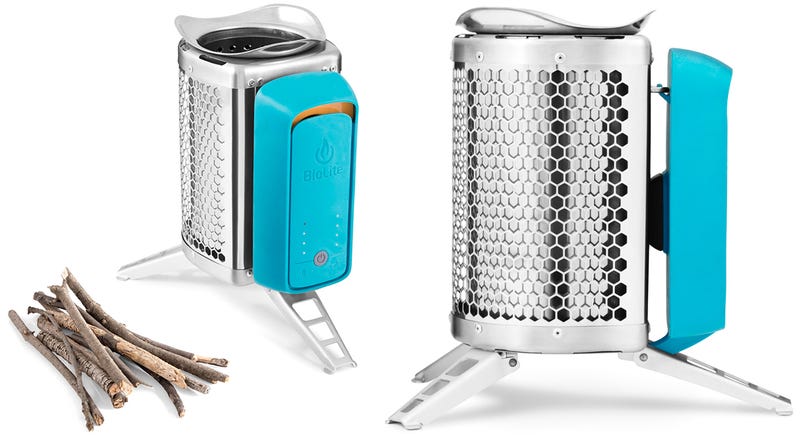 The BioLite CookStove is a simplified version of the company's popular CampStove. The original CampStove featured a large battery mounted on the side powering a fan that helped the compact stove generate enough flames and heat from just twigs to cook food with it. Campers no longer needed to carry a can of fuel in their already heavy packs, and excess heat was converted back into electricity allowing the CampStove to recharge itself, or other electronics.
From our own testing, though, we found that trying to charge a smartphone from the CampStove took a very, very long time. So with the new CookStove, BioLite has removed the ability to charge other devices, which also helps to make its battery a little smaller. It still works exactly like the original CampStove does — feed it some twigs and a fan will help boost the combustion and the heat it produces — but it no longer produces excess power to charge other devices, or itself.
On a full charge the CookStove has about 30 hours of battery life, which should be more than enough to cook breakfast, lunch, and dinner every day on a weekend excursion. But once its battery is dead, so is its ability to produce enough heat from just scavenged twigs to cook with.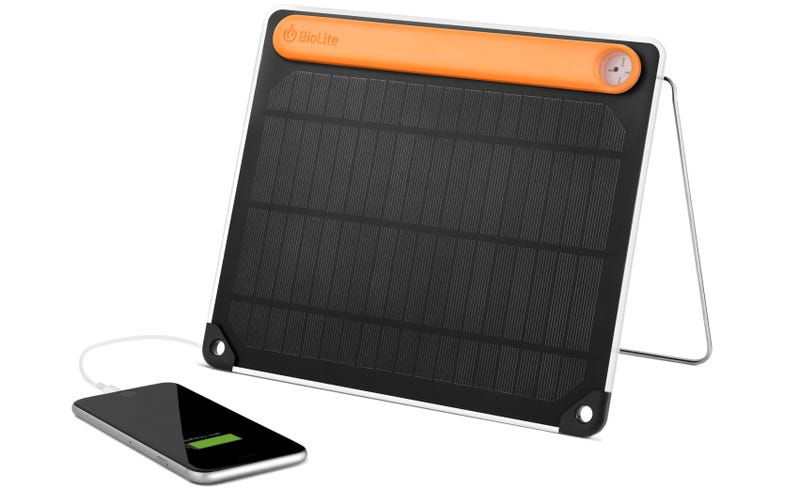 To help extend the battery life of the new CookStove, BioLite is also introducing a new solar charger, the SolarPanel 5+, featuring a built-in 2200 mAh battery that can store excess power when sunlight is abundant, or just slowly charge a connected device.
Using the SolarPanel 5+ is as easy as making sure it's exposed to sunlight for as long as possible. But to maximise the amount of power you can steal from the sun's rays, in one corner of the panel you'll find a tiny sun dial. As long as the shadow dot inside the sundial is perfectly positioned in the centre of a crosshair, you're ensured it will be harvesting sunlight and charging as efficiently as possible.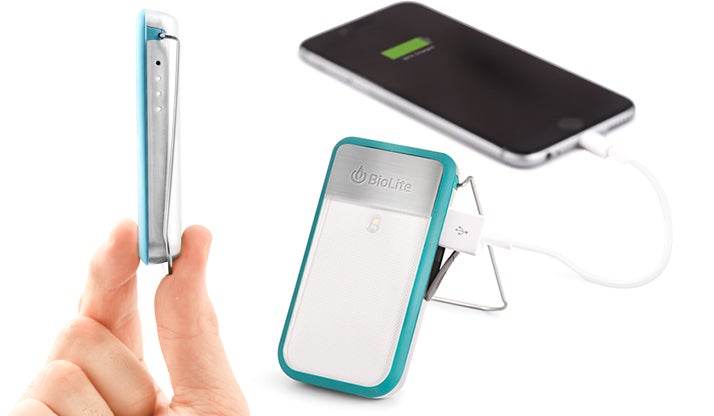 But what if the forecast shows your outdoor adventures will be spent under cloudy skies? BioLite's new PowerLight Mini features a 1350 mAh battery that can be recharged before you head out and used to keep the CookStove, or other gadgets, running for a few more hours.
The PowerLight Mini also features a bright 135-lumen LED panel that will glow for up to 52 hours, but it can also be set to flash white or red. So it's not only useful for reading maps during a night hike, it can also be clamped to a bike for some extra visibility while cycling in the dark. It includes the necessary hardware to mount it to a bike's frame, as well as a metal loop for hanging it from the roof of a tent. [BioLite]