Vultures make me think of that dopey guy from Loony Tunes or crooked-bill predators circling a poor desert rat on the brink of death. But in Peru, the carcass-eating birds will soon be outfitted with cameras so they can help map Lima's awful rubbish problem.
Authorities in Lima are attaching GoPro cameras and GPS trackers to the city's native vulture population in order to create maps of rubbish distribution in the area. "These carrion-eaters' natural affinity for dead and decaying things is being turned into a virtue," The Guardian writes. The project's called Gallinazo Avisa, or, "Vultures Warn."
Local zookeepers are recruiting 10 of their finest, most heroically named black vultures to spot common places where citizens are illegally dumping their garbage. The GPS units attached to the birds will add the coordinates of the city's grosser spots to a live map. Coordinators are also encouraging people to be "vultures on the ground" and to recycle or report illegal dumps by posting pics on Twitter and Facebook.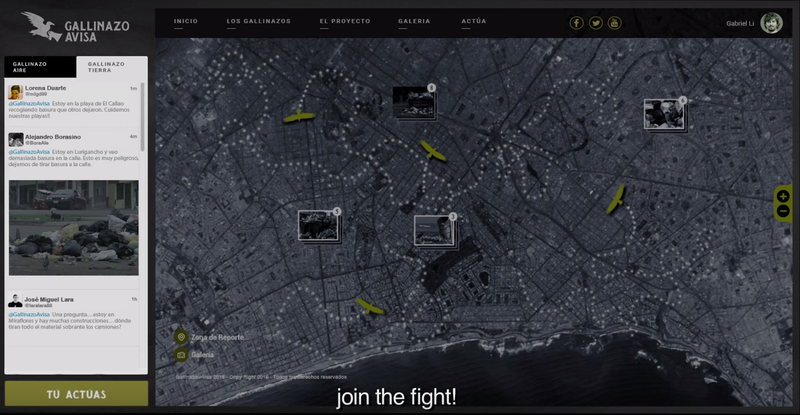 Lima, a city of 10 million, has been struggling with its garbage problem for years. There are just four landfills in the city, and officials say that a fifth of its garbage ends up in pockets of the town that some citizens have essentially be turned into illegal dumps. And so Lima's launching the Gallinazo Avisa programme very publicly to draw attention to the issue. The vivid promo video even looks like an existentialist New Wave film that escalates into a political thriller. "You don't want to acknowledge [the garbage problem]," a vulture's voice warns. "We want to help you. Yes, us."
Listen to the vultures, Lima. They want to help you.

[Gallinazo Avisa via The Guardian]
Images and GIF via Gallinazo Avisa