Matches are a great way to start a fire when you don't want to rub a bunch of sticks together, but their short burn time makes them terrible when you just need a little light. Here's a better idea: a matchbook full of tiny disposable LED torches that you can keep tucked away for when you need some emergency lighting.
MBI — or MatchBox Instruments — already has a solid expertise when it comes to making miniature illumination devices. But the company has come up with something truly unique with its new matchbook set.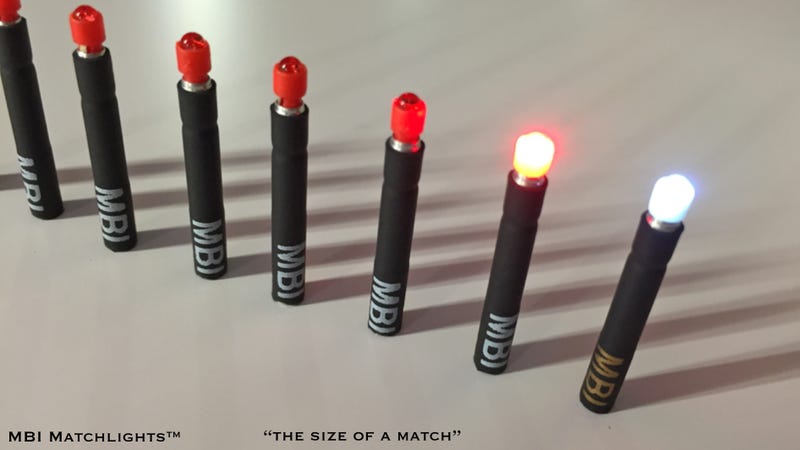 The tiny torches turn on when you press their tip against a hard surface, a bit like striking a match. Each light runs for about eight hours using their self-contained battery. So the entire book provides 64 hours of emergency lighting without ever having to fumble for a fresh set of batteries.
There's even a tiny magnet embedded in the base of each match so they can be temporarily mounted somewhere for hands-free operation. You'll be able to get multiple colours by placing simple tinted filters over the LEDs.
You can toss them in your emergency toolkit quite yet, though. The company is looking for crowdfunding right now and you can pre-order a set for $28 (just about £20) through the company's Indiegogo crowdfunding campaign that's trying to raise $10,000, and enough orders, for an initial production run.
The creators claim they expect to deliver sometime in July, and while the usual crowdfunding caveats and cautions apply here, the creator of the matchbook torches only concern about production is that the MBI logo ends up being properly aligned on the outer housing. That, and that no one accidentally swallows one of these by accident. [MatchBox Instruments via Damn Geeky]