Why is this man on the right, identified as a 26-year-old British hostage named Ben Innes, posing with Seifedeen Mustafa, the man who hijacked an EgyptAir flight on Tuesday? Nobody knows yet. But if it weren't for the fake suicide belt, this looks like it'd be a pretty funny buddy comedy.
Mustafa's "suicide belt" turned out to be a hoax, but he managed to get the Cairo-bound flight diverted to Cyprus. At this point, our best guess about the strange photo is that Innes simply does not give a fuck.
"I have no idea why he took the selfie," his roommate told the Daily Mail (though we can all agree that it definitely isn't a selfie). "But I imagine he probably volunteered to take it as he's not afraid to shy away from anything."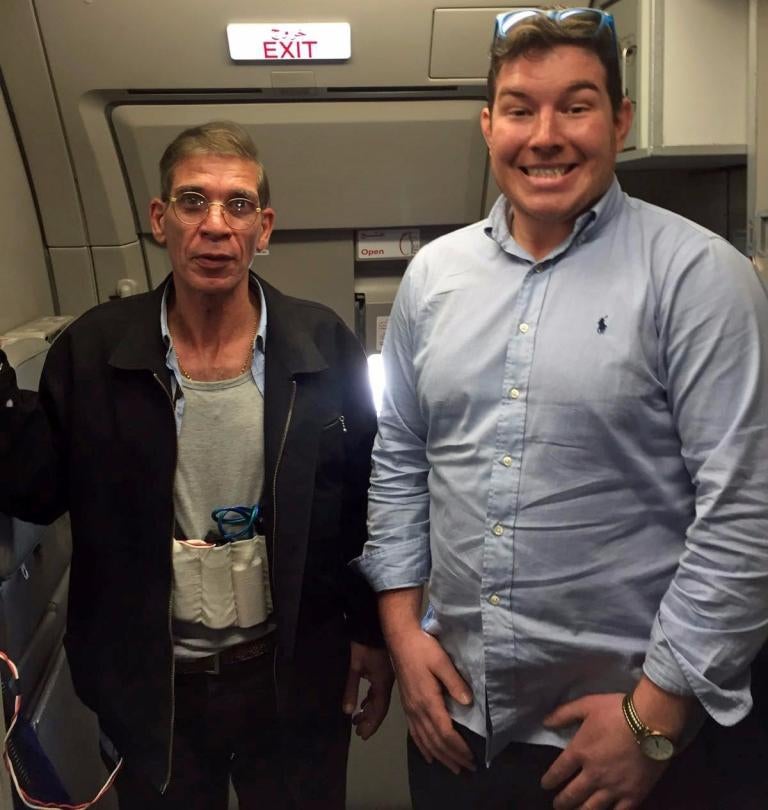 Neither man looks distressed, despite the fact that this photo was likely taken near the end of the 6-hour standoff with police in Cyprus. Mustafa held 62 passengers hostage, but it's believed that Innes was one of the last three to be released.
Innes allegedly shared the photo below with a friend via WhatsApp, though the screenshot below has yet to be independently confirmed.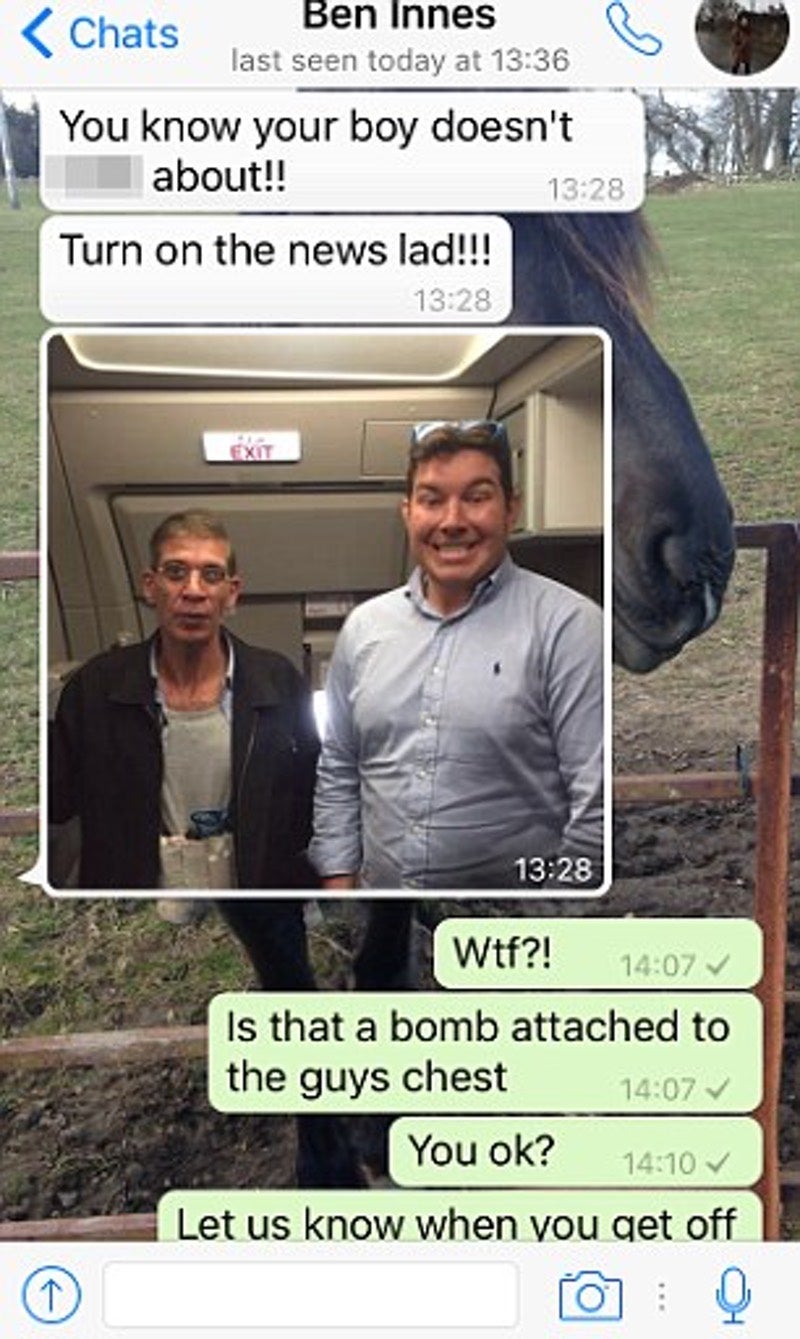 It's certainly possible that Innes knew that the bomb was fake when the photo was taken. But the photo is still a strange document for future generations.
People of the future will no doubt study this picture as the tipping point for humanity, when the last fuck was given. I suppose if you're looking to take photos of your holiday, a hijacker photo-op makes about as much sense as something like a selfie at Auschwitz or dressing up as a bad Mussolini impersonator.
Ben Innes spoke with The Sun about why he took the photo.
"I'm not sure why I did it, I just threw caution to the wind while trying to stay cheerful in the face of adversity," he told The Sun. "I figured if his bomb was real I'd nothing to lose anyway, so took a chance to get a closer look at it."
So our assumption was correct. This guy does not give a fuck. He asked someone from the cabin crew to translate for him and a flight attendant took the photo.
"We moved towards the door as he went to the back of the plane — then we ran for it, expecting the aircraft to explode," he told The Sun. "When we got to a safe distance we laughed out loud with relief."
And if you've also been taking issue with the fact that his roommate is calling it a selfie, Ben's mum agrees with you.
"All we can say is that the picture is clearly not a selfie as everyone has been describing it," she said. "You can clearly see that it is not Ben who is taking the picture."