Apple is known for its seamless and aesthetically pleasing design. As smartphone design evolves, however, the iPhone's traditional chunky bottom bezel — where the home button lives — is starting to look mighty antiquated. Though judging by a patent published yesterday, Apple might be planning to leave the bezel behind.
The concept, Patently Apple reports, is called "Man-machine interface for controlling access to electronic devices" and was first filed in March 2015.
From the patent:
The man-machine interface device comprises an electronic display apparatus that is capable of presenting graphic text, images, icons, and other data typically shown on a screen, while further including a transparent finger touch sensor region that is seated above the display apparatus.
The patent details three different kids of technologies that can work as fingerprint sensors. One of them — "the most accurate but least common" type — is called ultrasound imaging, and it would mean a fingerprint reader embedded in a display.
"In this type of sensor, two transducers are placed on the x- and y-axes of a plate of glass (one each for receiving and transmitting) for propagating ultrasound waves through a glass plate; when the finger is placed on top of the glass, the finger impedes the waves and the receiving transducer can measure the alteration in wave patterns," the patent notes. (It adds that although this kind of scanner is new and for the most part untested, "initial results show promise".)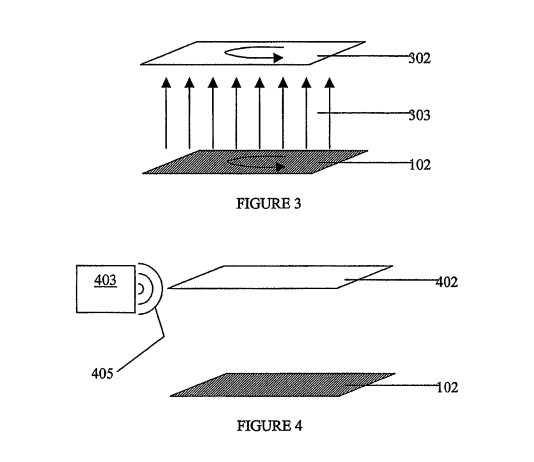 A rendering of the ultrasound technology (Image: USPTO)
Patently Apple also notes that Apple has two other patents related to bezel-less displays in the works. And its acquisition of fingerprint patents from Privaris, a fingerprint reader company, further suggests it wants to expand its design concepts.
One report recently suggested that the iPhone 7 might come without a home button, but given the timing of the patent (these things can take years to become integrated into consumer products) that seems unlikely. Still, the fact that this is now Apple's third patent relating to a fingerprint-reading display suggests the company still has some tricks up its sleeve, and it might finally quench our thirst for a beautiful, home button-less iPhone. [USPTO via Patently Apple via 9to5Mac]
Top image credit: Marek Weidlich