The burgeoning industry of biological design is in the headlines every day. Yet even science journalists have had trouble explaining concepts like CRISPR in terms that everyone can understand. A new exhibition at a Silicon Valley museum skilfully explains the technically and ethically complicated field of bio-engineering to adults—as well as the next generation of gene-editors.
San Jose's Tech Museum of Innovation (known as "The Tech") has become well-known for applying what can be very abstract technological theory to everyday life. After a recent successful show on the quantified self, graduating to synthetic biology seemed like a natural, but challenging, next step. "This is a pretty ambitious content for any museum," said Eric Mika, creative director of Local Projects, the New York-based firm that was tapped to create and design content for the exhibition. "We were looking for ways to make this topic accessible and intuitive."
Part of that accessibility meant confronting the controversy around bio-design head-on. "This is not a new idea," said Jake Barton, Local Projects' principal, noting that humans have been manipulating DNA for millennia. Yet the controversies around bio-engineering (like GMOs in food, for example) have reached a fever pitch, and the designers aimed to arm the audience with knowledge. "We wanted to give people a chance to experiment before they get into deciding when and where it's ethical, and help them understand things like how DNA works."
The BioDesign Studio is probably the only chance a regular human will get to experience what it's like to be a synthetic biologist for the day. So Local Projects worked closely with biologists and geneticists from places like NASA, Stanford, and GenSpace.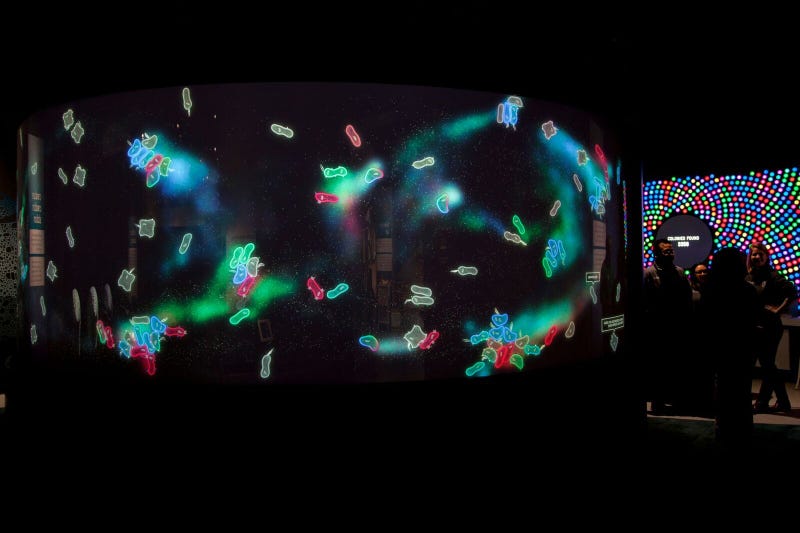 Large projections show organisms created by visitors interacting in a "bio pool," which illustrate DNA concepts. Image: Na'im Beyah
It was important for the museum and the designers not to dumb down the concepts. In the BioTinkering Lab, for example, visitors can use actual lab equipment to manipulate real samples of e. coli, which is housed in an LED-lit petri dish. In another part of the exhibition, visitors get to play God... or maybe Darwin. Using a modular system that represents the molecule-building experience—literal building blocks of life—visitors create digital lifeforms, which are then released into the wild world to interact with other people's creations. Visitors can watch live as natural selection takes its course.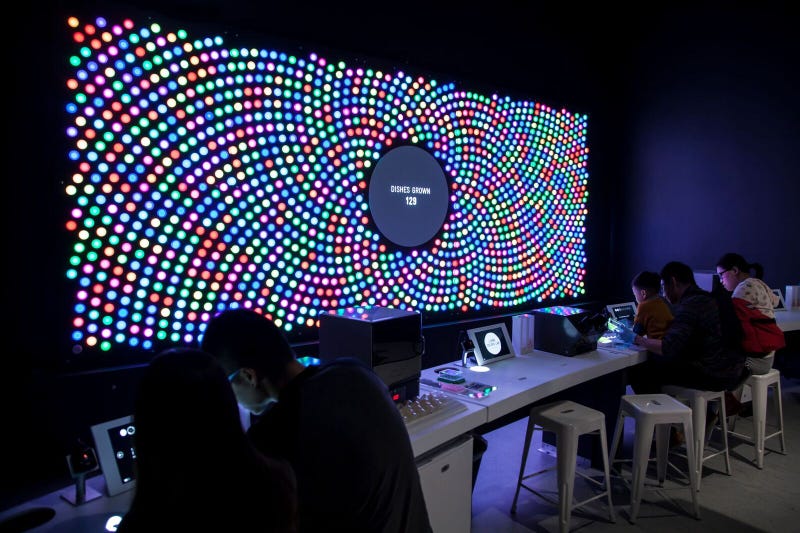 Visitors are adding vials of DNA to actual e. coli bacteria to engineer new cells, and the colored petri dishes visualize the experiment in real-time. Image: Local Projects
But the highlight of the exhibition, which will likely have bio-nerds flocking to the museum, is a room where museum goers can experiment with something called "Turing patterns." These are algorithms developed by Alan Turing in the 1950s that he believed proved how cellular behavior influenced the appearance of stripes and spots found on animal coats. Visitors control an interface showing a magnified section of an animal's coat to see how the interaction between the cells manifests in projected visualisations to actual scale.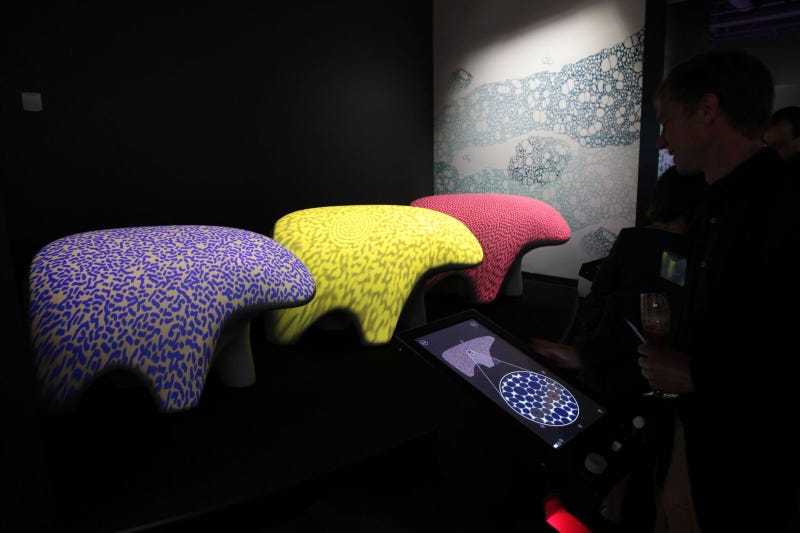 By changing the way chemicals interact between cells, visitors can bring the Turing patterns to life. Image: Local Projects
Although the patterns have been fodder for biological theory for decades—read this story on Turing patterns by Gizmodo's own Jennifer Ouellette—this was the first time they were brought to life in real-time. That's thanks to the computational power that Turing himself helped develop, said Mika. In a way, that part of the exhibition illustrates why this show is so perfectly suited for its Silicon Valley location: the same machine learning that's powering our AI neural networks is also powering radical advances in gene-editing technology.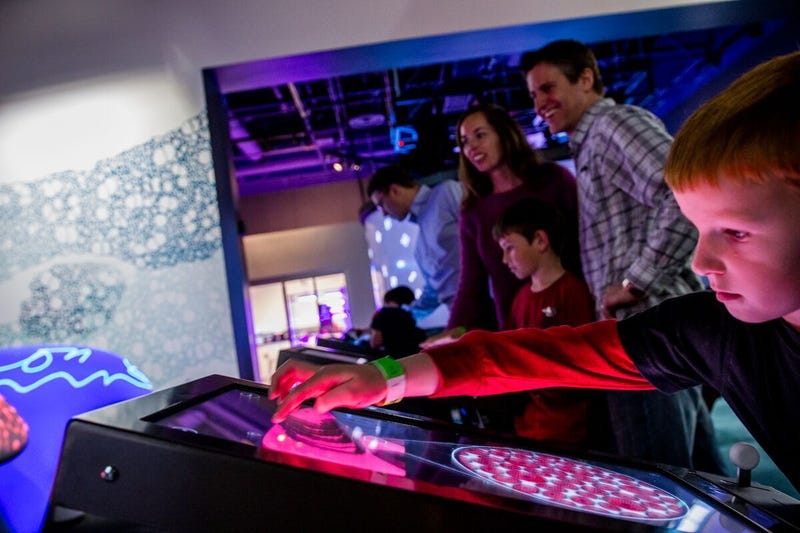 The ability to visualise these cellular processes was largely possible because of new advances in interface design. Image: Na'im Beyah
AI and biology will collide the most in future years in the field of DIY biology, something that's also discussed in the show. As gene-editing software like CRISPR becomes more widespread, these tools will almost certainly be making their way into our garages (kitchens? bathrooms? where does one do their at-home gene-tinkering?).
That's the bigger idea that the designers hope you leave with. "There was a day when you needed to be a specialist to type or needed a room full of processing power to make a flyer," said Barton. "There could soon be a day when a museum lets you custom-author an organism—which you can then take home."