Bloody mary season is nigh. Personally, I'd drink a spiked meal in a glass any time of year, but there's nothing quite like sipping a bloody mary in the warm spring sunshine. So when Few, one of my favourite distilleries, offered to send me something called "Breakfast Gin," I got a bright idea. Why not whip up a batch of refreshing bloodys to welcome the month of May?
Long story short, it was a bit of a disaster. Turns out there are a lot of steps involved in making your own bloody mary, especially if you're trying to use fresh tomatoes, herbs, and all the good stuff your favourite bar supposedly puts in its homemade mix. I managed to screw a few of them up, too. That said, tinkering with good ingredients and improvising a little is the whole point of making your own cocktails. The end result of my recent bloody mary odyssey was unexpectedly incredible thanks to three key ingredients: gin, fresh vegetables, the perfect hot sauce.
Before I get too carried away explaining the recipe let me make something very clear. I never want to do this again. The process was messy, labour-intensive, and unbelievably time-consuming. These are all reasons why you should always buy your bloody marys at bars. More on that in a second.
Why Gin?
The bloody mary is a historically magnificent vodka cocktail. Originally called a "Bucket of Blood," early recipes popped up in the 1920s as bartenders were experimenting with the bland spirit that had recently arrived in the city thanks to an influx of refugees from the Russian Revolution. In 1933, Harry's New York Bar concocted the Bucket of Blood by integrating wacky seasonings with tomato juice to add flavour to the vodka.
But a few years ago, a buddy and I were at happy hour when he asked me a weird question: "Ever had a bloody with gin?" I shook my head, and he ordered two. The nuanced flavour knocked my socks off.
This shouldn't seem like some major revelation. Gin is essentially just vodka distilled with a mix of botanicals. I think the bouquet of flavours in gin brings out some of the natural deliciousness of the other bloody mary ingredients. Few also uses a Earl Grey tea in its Breakfast Gin which goes well with the obligatory lemon juice.
Why Fresh Vegetables?
Aside from the booze, a bloody mary is pretty healthy drink. Tomatoes, celery, parsley, and horseradish to open up those sinuses—it's all good for you! But if you fill your mix with V8 and fake sauces, you're getting a lot of crap, too.
Fresh vegetables are the way to go. Not only do they offer purity but the flavour is also outstanding, like sipping a little garden. However, if you're making bloody marys at home, the process of pureeing everything is arduous. It involves chopping, blending, and running the finished product through a sieve. Some people might like these tasks. I'm on the fence.
Why Perfect Hot Sauce?
The bloody mary wasn't originally a super spicy cocktail. It had some heat from the pepper and later from the addition of horse radish. Chugging a bunch of Tabasco in there is a more modern twist.
If you have a good, flavourful hot sauce, however, it can turn a bloody mary into a real thrill. GE of all companies just sent me some insanely spicy hot sauce as part of a marketing gimmick. But if you use just a dab, the Trinidad moruga scorpion and Carolina reaper peppers are full of flavours. So I tried a drop.
Why From Scratch?
I was feeling creative and ambitious when I set out to make the perfect bloody mary. It seemed like a truly homemade would be a great idea. In retrospect, diligence and humility would've been a better approach. For the sake of fun story telling, I'm going to walk you through my hours-long process in photos.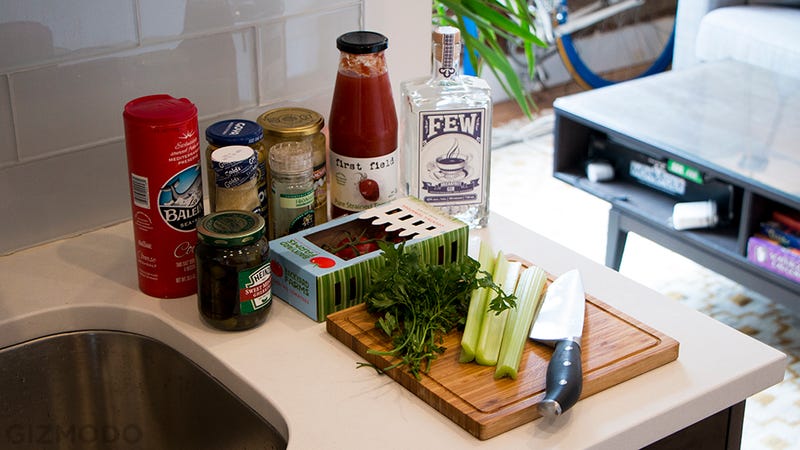 I spent $10 on garnish alone, because I'm an idiot
Gizmodo's own Alissa Walker recommended this recipe for fresh tomato bloody marys. The cost of the ingredients adds up, though. I ended up getting some pre-strained tomato juice from my roommate, and everything else cost $25/£17. The Few Breakfast Gin retails for £46. The distillery gave me a free bottle.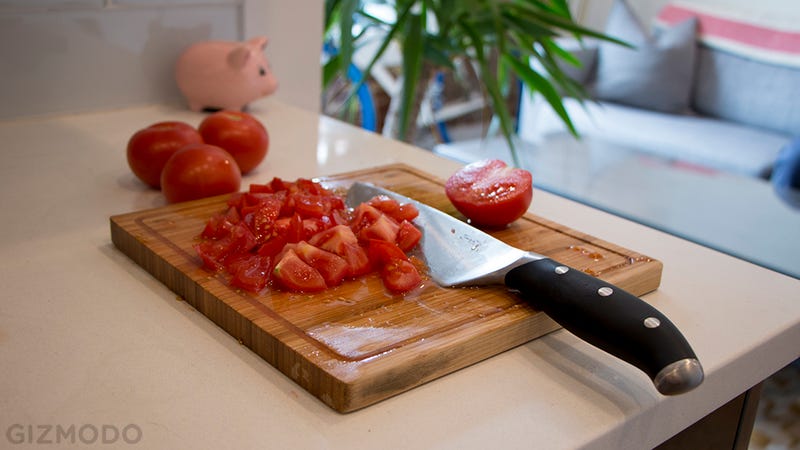 I really need a bigger cutting board.
Chopping a bushel of parsely, six celery stalks, and ten whole tomatoes made me realise I need a knife sharpener. It also took me, like, an hour.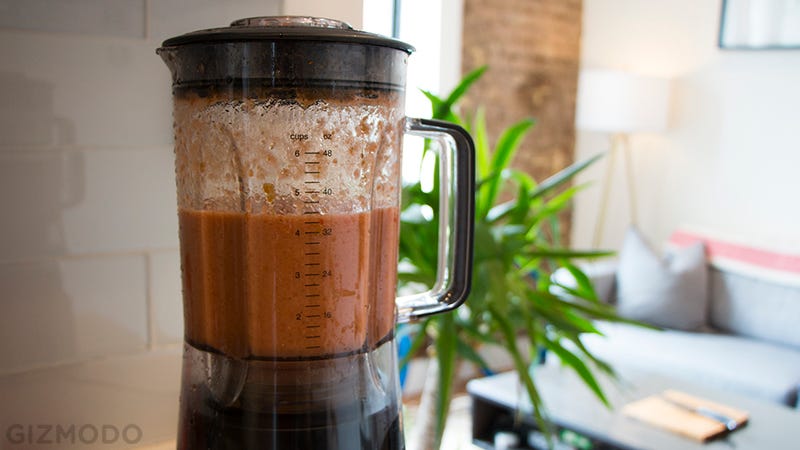 The fresh veggies looked lighter than other bloody mary mixes I've seen.
I added the chopped parsley and celery to the blender along with the pure strained tomatoes. Blending was pretty fun at first!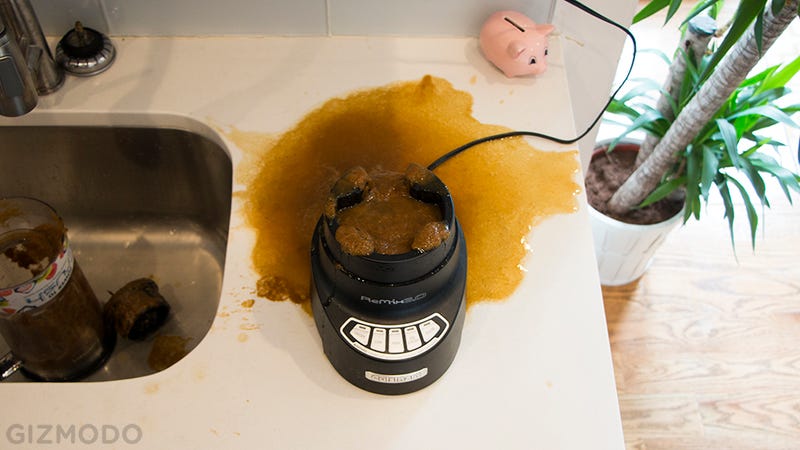 The gross brown colour turned to a light red once I added more tomatoes.
And then this happened. Turns out my blender sucks. Luckily, I was only about halfway done adding ingredients and managed to salvage the mix. Cleaning this up took about 20 minutes.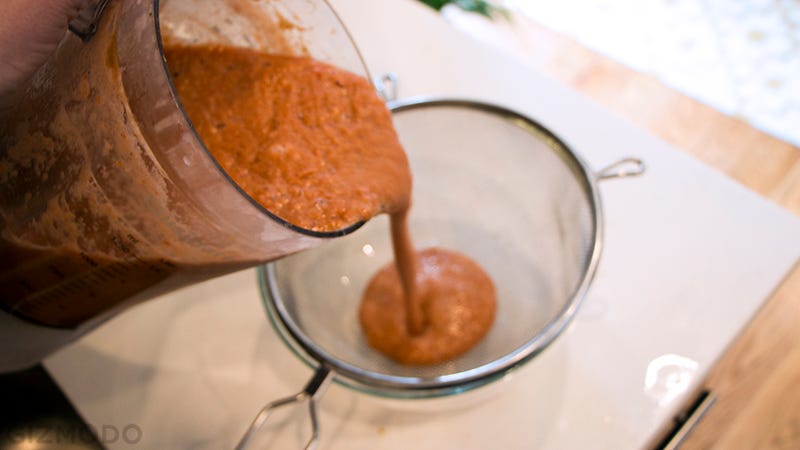 There must be an easier way.
Running the blended mix through a sieve sucked, but otherwise, my bloody marys would've ended up full with tomato seeds. I'd say this was 15 annoying minutes of squishing the gazpacho-coloured liquid through the sieve.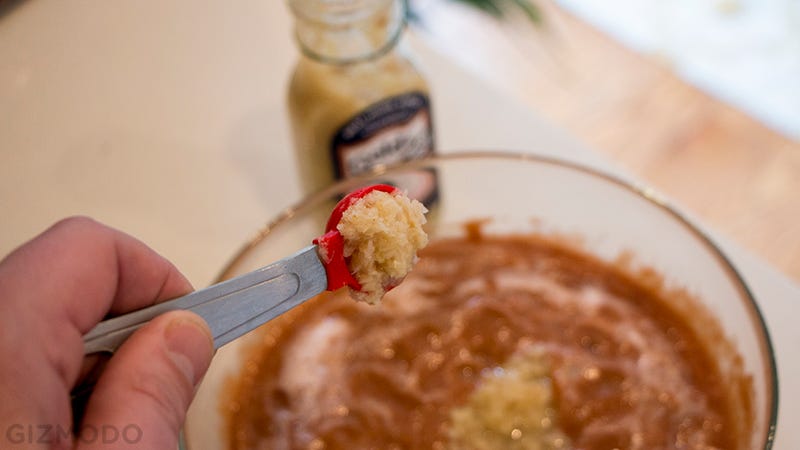 This gross stuff is the key to a good bloody mary, in my opinion.
The horseradish came next. I'm almost positive I added too much, but I love horseradish.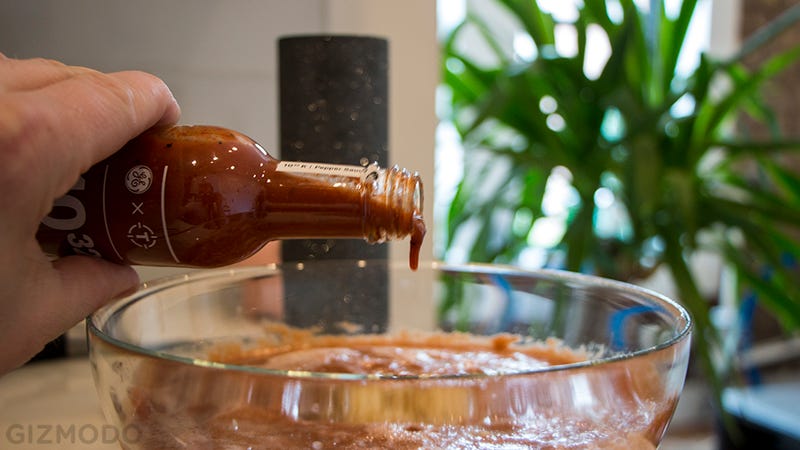 The first time I tasted this hot sauce, I took too much and cried for 30 minutes.
One drop of the crazy hot sauce was enough. Remember, you can always add more.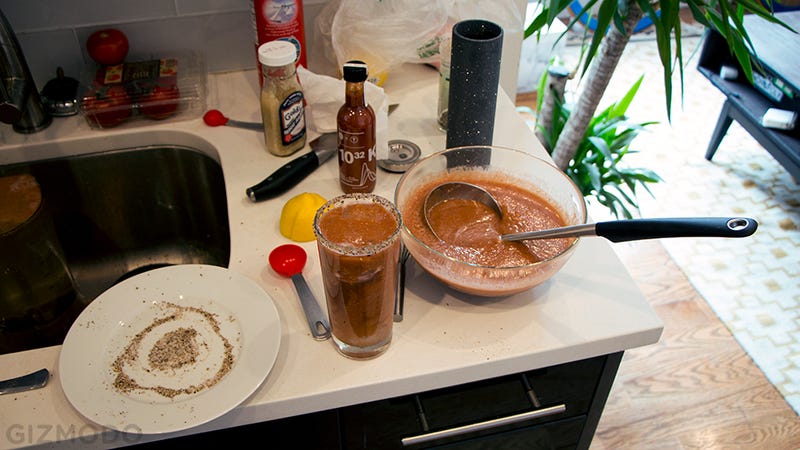 This is the largest countertop in my kitchen. Cooking in New York City is hell.
After mixing some sea salt and cracked pepper for the rim of the glass, I added three ounces of gin and topped it off with the sauce.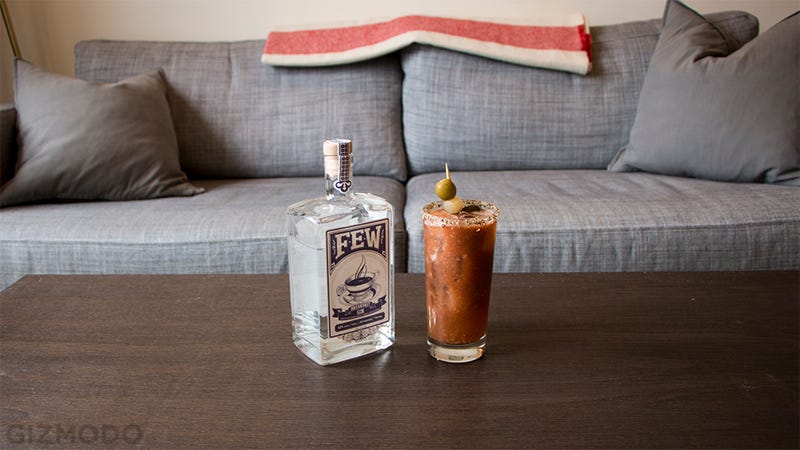 I might've sipped a little of the gin the night before. It's good sipping gin!
The finished product actually looked as good as something I would get at a nice cocktail bar. It tasted a bit better thanks to the fresh veggies and the gin. I maybe should've added more hot sauce, but I was too scared.
Was It All Worth It?
Originally, this post was supposed to be all about why you should always order your bloody marys with gin. I stand by that thesis, but I still can't believe how much work it takes to make this cocktail from scratch. The end result was delicious, I will concede. By the time the cocktail was ready, I didn't even want it. I tried a couple sips and then put it in the fridge for later (which was probably a dumb idea now that I think about it).
I encourage you to try making your own fresh tomato bloody mary. It will be a lot of work. Better yet, ask the local bartender what kinds of ingredients come in the bloody mary mix. Fresh tomatoes are the key—as is gin in my opinion. When you find a good bloody mary bar, just go there. Order a bloody mary. Sit outside if you can. Enjoy the springtime sunshine. It's about damn time!
---
Bloody Breakfast
I just made that name up, but if you want to put yourself through the blender gauntlet and come out with a delicious treat, here's how.
Few Breakfast Gin (or any gin you want)
1 cup roughly chopped parsely
3 stalks of celery, also roughly chopped
10 tomatoes, also roughly copped
1 bottle pure strained tomato juice
bottled horseradish, as much as you want
hot sauce, whatever you like
fresh-squeezed lemon juice, one large lemon should suffice
salt and pepper
overpriced garnish
Once everything is chopped, you just throw it in the blender with a tablespoon of salt until its pureed. Pour the blended vegetables through a sieve. Add horseradish, lemon juice, and hot sauce to the mix. Salt and pepper the rim of the glasses, if you want. Add ice, gin, and mix. Stir, drink, and be merry.