The Olympus Stylus Tough TG-Tracker — terrible name aside — looks like it's built to have rocks thrown at it. Something about the renderings the company just released scream "play with me". Yet despite a solid reputation for rugged point-and-shoot cameras Olympus has never played in the action camera sandbox GoPro built before.
The rugged little camera is purportedly capable of handling immersion in 30 metres of water, temperatures as cold as -10C, and the crushing weight of at least two eight-year-old boys (100 kilos). And that's all without any kind of special housing.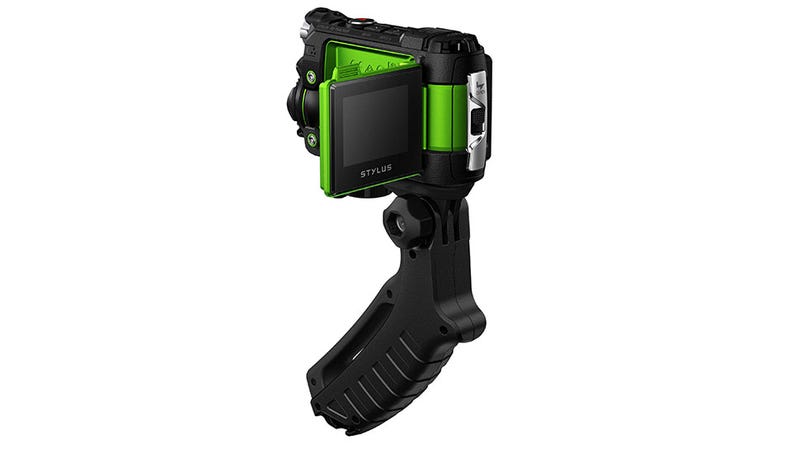 A dorky handle attachment is included with purchase. So you can make like it's 2005 and camcorder the hell out of stuff.
Unlike the GoPro and other action cameras, the rugged housing is built onto the body. It should make it durable, but it also contributes to the Stylus Tough TG-Tracker extreme weight. The spec sheet says it comes in at a hefty 180 grams. The GoPro Silver, the most popular action camera available, is just 145 grams.
But that extra weight pays off in the form of a fold out display for monitoring what you're shooting, and a whole slew of neat sensors, including a GPS radio, thermometer, barometer, and even a manometer (depth sensor). So you won't just be recording the sweet action in 4K at 30 frames per second, but all kinds of extra data, too.
The Olympus Stylus Tough TG-Tracker will retail for £280 and be available in June.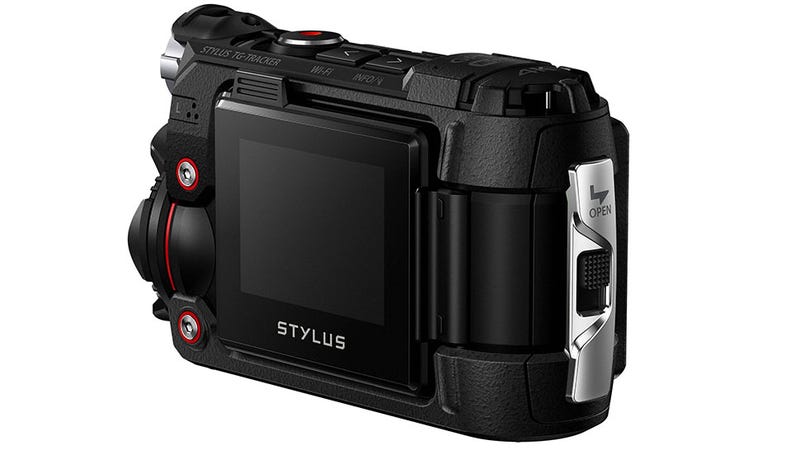 The Olympus Stylus TOUGH TG-Tracker will be available in two colours. The green above, and this more demure black and red affair.