Smartwatches leave a lot to be desired, but Pebble usually brings refreshingly different ideas to the wearable conversation. It's one of the reasons why we've always been such big fans. Pebble continually done wrist notifications and battery life very well. Now, it's adding a third: fitness.
Today, Pebble is launching a new Kickstarter for the Pebble 2, Pebble Time 2, and its new mini computer, the Pebble Core. Pebble's decision to stick with crowdfunding is obvious—it works and it works really well.
The company just never launched three products at once via Kickstarter. (Update: the $1,000,000 crowdfunding target has been reached and surpassed within an hour, showing there's still a lot of love for Pebble on Kickstarter.)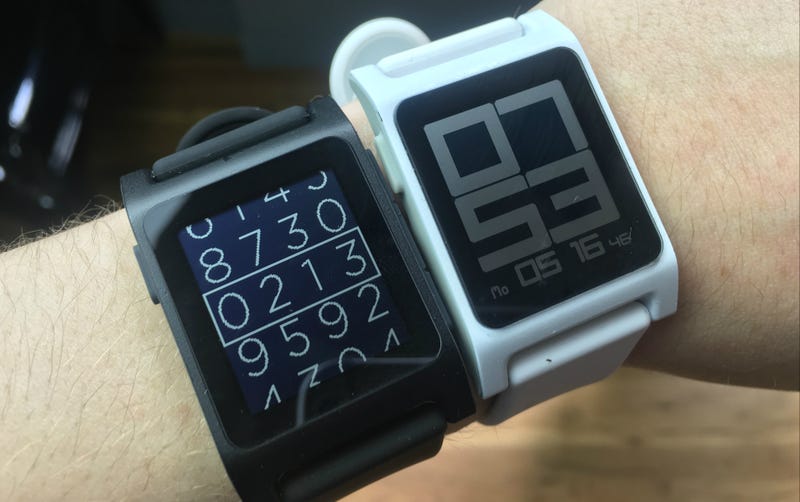 The Pebble 2, white and black
The Pebble 2 is a reinvention of Pebble's original success, which is showing its age after four years. The Pebble 2 doesn't lose the big plastic case, but it does introduce a new black-and-white display now fused with Gorilla glass instead of plastic, and it's been made a little more sleek than the bulky original. But the big addition is an included heart rate sensor to help take advantage of Pebble's new fitness software that its been adding piecemeal over the past several months.
It'll come in five colours: black/black, black/read, teal/white, white/grey, and white/lime green.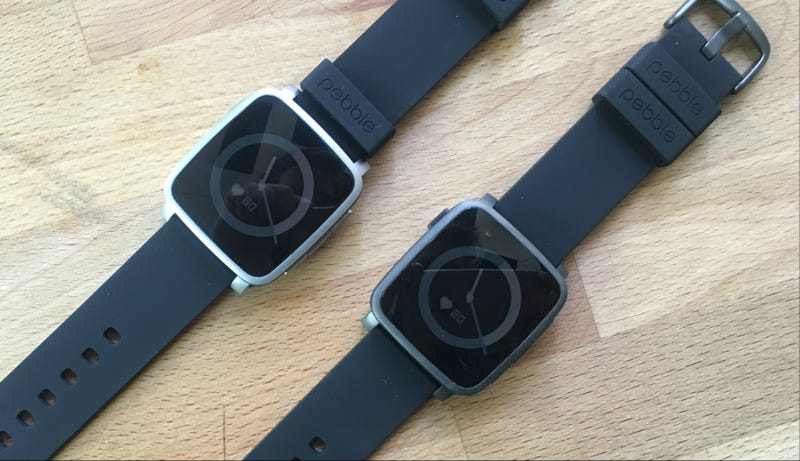 The Pebble Time 2, silver and black
But it's the other major upgrade that people will likely be clamouring for: the Pebble Time 2. Unlike the plastic-y Pebble Times of years past, the new Time 2 is all metal, making it an amalgamation of the Time and Time Steel, the Time's metal-bodied sibling. Pebble claims they've done away with the confusing distinction in order to streamline how many watches the company offers.
Like the Pebble 2, the Time 2 includes a heart rate sensor and three optional metal finishes: black, silver, and gold. However, the big upgrade for the Time 2 is the screen. Pebble has been knocked for making watches with dinky screens surrounded by massive bezels, but the Time 2 screen-to-not-screen ratio is much improved. Even with a 50 per cent larger display, the Time 2 still lasts for 10 days on a single charge, and both it and the Pebble 2 remain waterproof up to 30 metres.
The Pebble 2 and Time 2 continue Pebble's same smartwatch philosophy— energy efficient e-ink displays, a custom timeline-based OS, and platform-agnostic hardware that works just as well on iOS as on Android — and no fussy extras.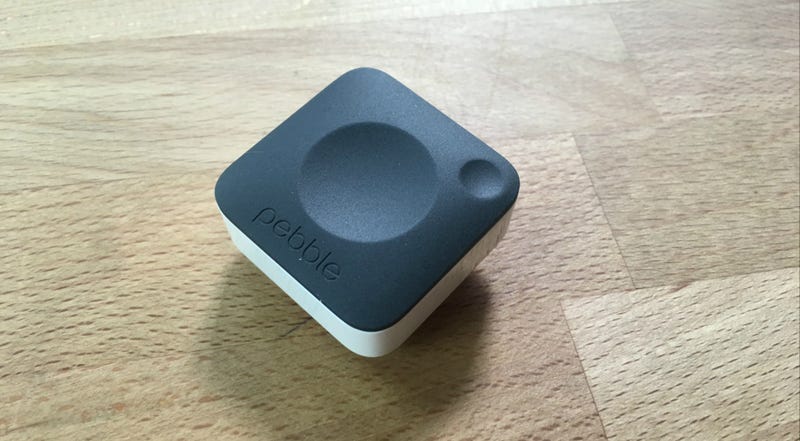 The Pebble Core
But if you were hoping for something a little different, maybe a Pebble outfitted with GPS and 3G connectivity, that's where the new Pebble Core comes in. Instead of making a watch that would cost hundreds, this $70 (£54.04) mini computer acts as a bigger smartwatch brain and packs in all the GPS and 3G you might be missing.
Pebble specifically made this optional $70 (£54.04) little keychain dongle for runners. Allowing users to load up watches with Spotify playlists and 3G connectivity means you can truly leave the phone at home. It can also do simple action with Pebble apps, like summoning an Uber, and Pebble thinks developers will find even more ways to tinker with the internet-connected button. The Core lasts reportedly nine hours running Spotify and GPS and can go for days in low-power mode. It charges with any wireless Qi charger.
The Pebble 2 and Pebble Time 2 are available on Kickstarter for the early bird special of $100 (£68.37) and $170 (£116.28), respectively. After that, they'll jump up $30 (£20.51), which will also be their retail price. The Core stars at $70 (£54.04).
The Pebble 2 will ship in September, and the Time 2 will ship in November. You'll have to wait until January 2017 to get your hands on the Pebble Core.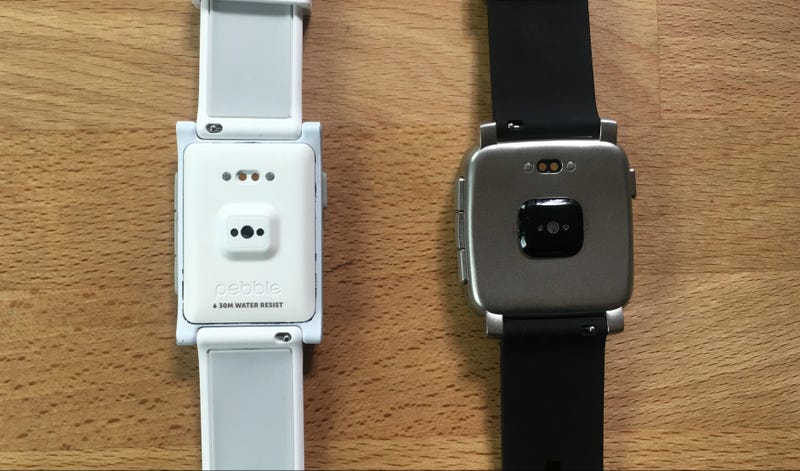 HR sensors on the Pebble 2 (left) and Pebble Time 2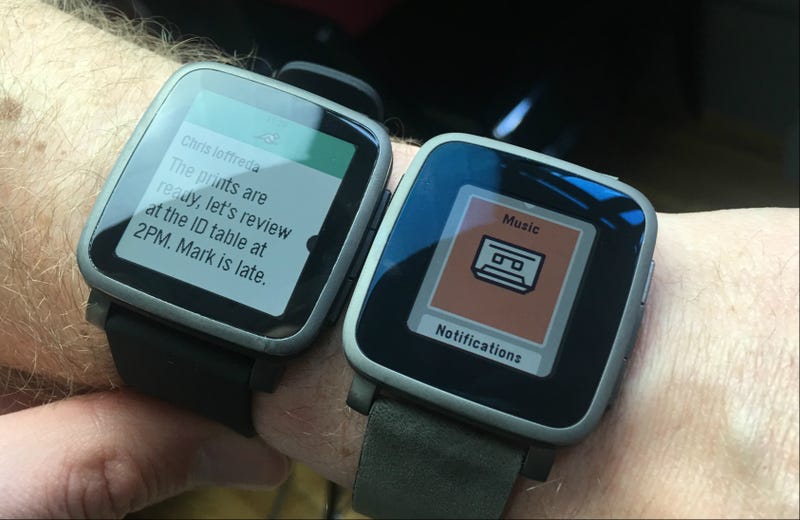 Pebble Time 2 displayed compared to Pebble Time Steel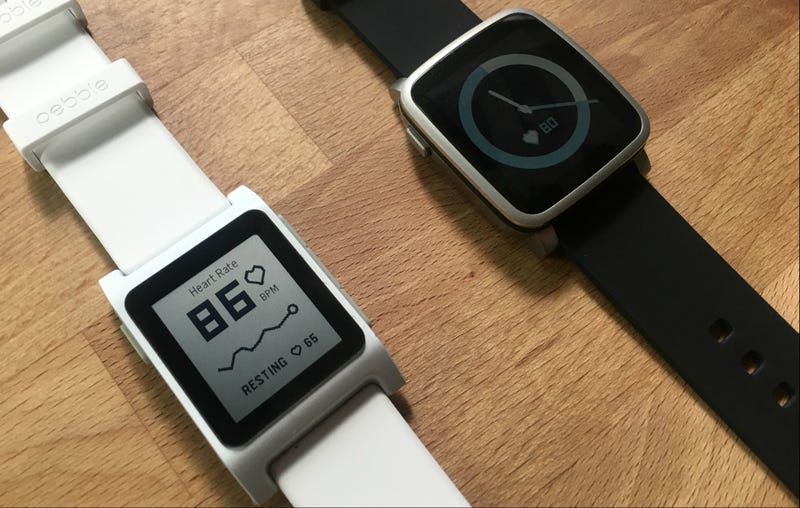 Pebble 2 (left) and Pebble Time 2