Residents of Fort McMurray, Alberta — home to 83,000 people — have been ordered to leave as an out-of-control wildfire swept into the city. It's the largest fire evacuation in the province's history.
Fire officials in Fort McMurray are bracing themselves for what will undoubtedly be another challenging day. Fuelled by record-breaking temperatures that hit 90 degrees F (32 degrees C), the fire swept into the city yesterday around 6:20 pm. A mandatory evacuation order was issued for the entire city, which is located 270 miles (435 km) north of Edmonton and is home to thousands of oil-sands workers.
Fires could be seen burning through suburbs on Tuesday afternoon as the flames made their way towards the downtown area. Walls of flame erupted along a highway out of Fort McMurray as panicked residents plotted their safest routes out of town. Residents could hear the popping noises of exploding fuel tanks as they made their way down Highway 63. Emergency officials say entire neighbourhoods have been wiped out by the wildfire. Exact numbers aren't yet available, and the fire is burning in several areas in the city's south end.
The situation became chaotic as residents took to the roads. Some people were only given 30 minutes notice and were told to leave everything behind. Gridlock was endemic. The speed of the fire's advance left many people — including city officials — completely off guard.
"On the left was a big gas station; the flames jumped over the highway and blew up the gas station. It was torched," noted Fort McMurray resident Cassie White in a Globe & Mail article. "People were driving on the shoulder. There were flames maybe 15 feet high right off the highway. There was a dump truck on fire — I had to swerve around it — and there was a pickup truck on fire as well. The entire trailer park on my right was in flames. Roofs were coming down."
To which White added: "It almost looks like a zombie apocalypse."
Officials have accounted for about 53,000 evacuees from from McMurray, many of them retreating southward towards Anzac and Lac La Biche. Around 18,000 of them fled to Edmonton. Hotels around the region are completely booked as evacuees desperately look for places to stay. Incredibly, no fatalities or serious injuries have been reported at this time.
The fire had been burning near the city since Sunday, covering an area nearly 10 square miles (27 square km), but shifting winds in the early afternoon on Tuesday led to the dramatic turn of events.
The province has asked for military help, and it should receive it soon in the form of assistance from the Army and the RCMP. However, city officials will have to wait for an agonising two days before the military can effectively respond. There are currently only 150 firefighters tackling the blaze, but they're expecting about 70 to 80 reinforcements from Edmonton later today. The fires were so severe on Tuesday that the firefighters had to pull back.
"The wildfire behavior is extremely erratic and it isn't safe for firefighters to be on the ground," noted Laura Stewart, a wildfire information officer, in the Globearticle. "It's a very fluid situation, and things are changing by the moment."
***
As firefighters continue to battle, images are starting to emerge about the tremendous scale of the devastation. City officials fear that the entire city could be lost.
Preliminary estimates suggest that at least 1,600 structures have been destroyed, but the actual figure could be far higher. The CBC reports that as many as 2,000 homes have been damaged or destroyed in the Beacon Hill neighbourhood alone. It's feared that entire subdivisions have been destroyed.
The wildfire now extends across an area measuring 10,000 hectares (38 square miles) and has already claimed significant portions of the city's southern areas. It now threatens Fort McMurray's eastern borders.
Meanwhile, firefighters have stationed themselves around the downtown area (which has largely remained unscathed) and are currently working to protect industrial areas and the airport. Stricken areas look like something right out of a war zone, as charred cars, trucks, and homes continue to smoulder.
Alarmingly, the wildfire remains out of control, and fire officials are preparing for the worst. "This is a nasty, dirty fire," noted Fort McMurray Fire Chief Darby Allen at a press conference earlier today. He warned that the fire will look for new areas to burn, and that residents should refrain from returning until further notice. The windy weather is making the spread of the fire unpredictable. Allen said that firefighters should "expect another terrible day".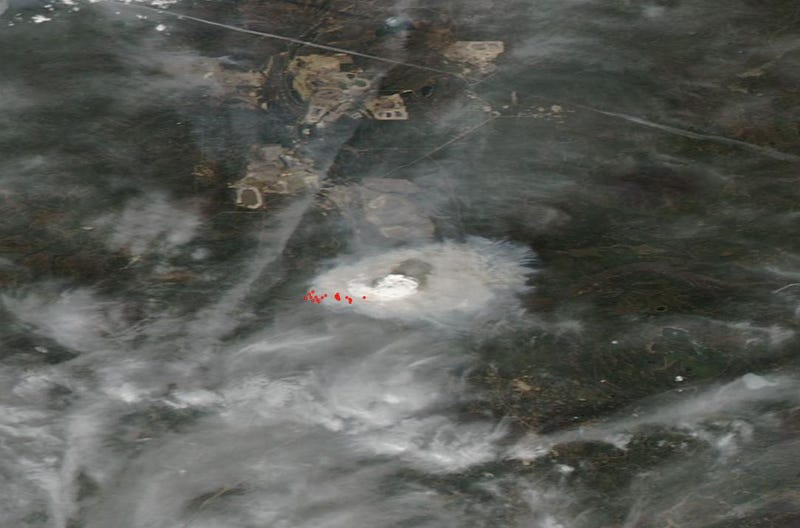 The Fort McMurray fire as seen from space. (Image: NASA Worldview)
Prime Minister Justin Trudeau pledged full government support for residents of the ravaged city. Canadian armed forces are on their way, but it could take them a couple of days to mobilise. It's not clear how, given the delay, the troops will be able to help.
The city's mayor, Melissa Blake, choked-back tears at the press conference, saying it's "worse than we ever imagined". The city, which serves as an important home-base for the Alberta oil-sands, has been suffering from an economic downturn sparked by falling petrol prices. The mayor described the fires as a "catastrophic event for the city" and "a major setback", but she was insistent that the city "will come back". Alberta Premier Rachel Notley spoke at her own press conference, saying, "Our province is strong and we will get through this."
Evacuees have flooded areas to the north and south of the city. Some 10,000 residents have moved north of the city, taking refuge in camps and lodges set up by the oil industry. Many of these camps were left absent on account of recent layoffs, but now they're being put to good use. In addition to offering shelter, oil giants Suncor and Shell are also providing food to evacuees. Tens of thousands of others have fled southwards to Edmonton, Anzac, and Lac La Biche. Camps and lodges have also been set up along the southern highways.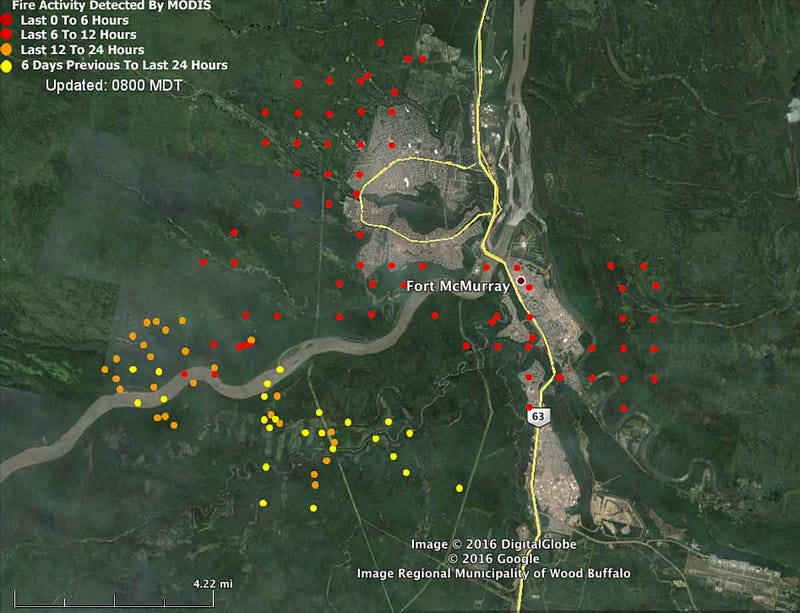 Map of the fire around and within Fort McMurray as of 2:20 AM May 4, 2016. (Image: MODIS).
Virtually everyone has been evacuated from Fort McMurray, though city officials said they continue to find "stragglers" who refuse to leave. Police are now going door-to-door to ensure that everyone is heeding the evacuation orders.
Over 100 patients and high-needs individuals had to be evacuated from the city's Northern Lights Regional Health Center. Remarkably, they were all transported out of the hospital in just two hours. The last of the patients were evacuated early this morning, with airline company West Jet pitching in. Most of the patients have been moved to facilities in Edmonton. Alberta Health Services CEO Verna Yiu said that nine newborn babies were among the evacuees but could not confirm reports that two babies were born in the evacuation camps. "We're really proud of our staff," she proudly noted, adding that "the hospital is still standing".
The next 24 hours are quite critical, and fire crews have their eyes on several problematic hot spots that have appeared outside the major fire perimeter. Some much-needed good news is that the weather forecast is favourable, predicting a cold front that could bring in some rain and humidity — but it could, regrettably, also bring in some lightning.
City officials were reluctant to give exact figures about damages or the total cost of the devastation, but ground and air assessments are currently underway. Recovery plans are also underway, though it's not immediately obvious how or where the thousands of stranded individuals will be accommodated in the coming weeks and months.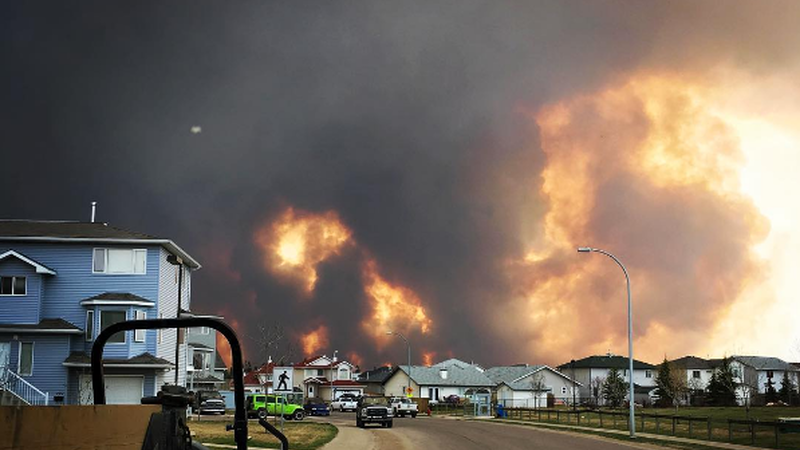 Image: jeff_f / Instagram
Chad Morrison, a senior manager with the Fort McMurray fire department, expects a worse fire day than Tuesday, saying fire crews will be challenged well into the evening. There are currently 100 local firefighters at work, and another 100 from Ontario and elsewhere are expected to join in very shortly.