Apple's hobby TV service has been given another incremental update at WWDC 2016, building on last year's full overhaul of the Apple TV set top box.
Siri can now understand voice command movie searches based on topic, such as "high school comedies from the 80s", taking a cue from Netflix's slightly esoteric movie descriptors. 650,000 movies from the iTunes catalogue can be searched using voice, while commanding Siri to specifically search YouTube will return results from Google's video service too.
US Apple TV owners will also get access to the Sling and Fox Sports Go apps, while French users get the Molotov.tv movie service. A new feature called Single Sign on lets you log into all of your TV accounts with a single log-in, though again that'll serve US users with their many cable options more than it will UK Apple TV viewers.
Those using the Apple TV as a gaming device (anyone?) will benefit from a jump to four controller support for bigger sofa-based multiplayer face-offs. Or you could just switch on the PlayStation.
An updated Remote app for iPhone will also come as a welcome addition. It'll allow for text entry using the iPhone's software keyboard, and will offer improved motion capabilities. And there's Live Tuning, which lets you immediately hop into a live stream on an app (with, we should note, few mentions of compatible apps).
A major change from other set-top boxes is Single Sign On. In a world of multiple authentications, Single Sign On could be a security nightmare, but it could also be a major convenience. Log into all your different accounts via one app, without the need to tap in a million-and-one authentication keycodes to gain access.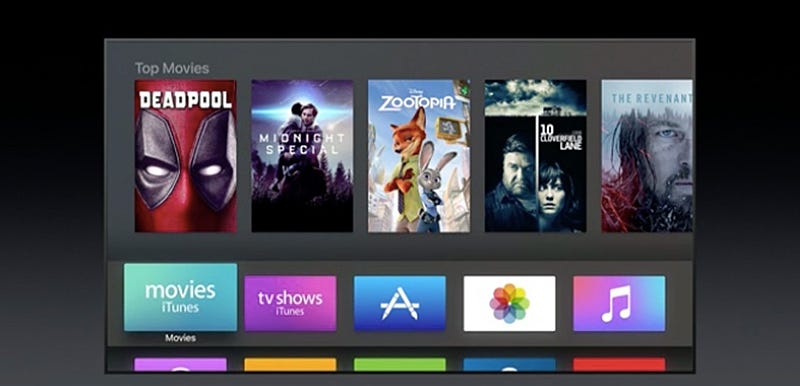 Apple also introduced the ability to automatically download apps to your phone, tablet, and set-top box at once.
These are all, admittedly, tiny changes but together they make Apple TV one of the most fully featured set-top boxes now available.