The 2016 Star Wars Celebration is drawing to a close, and with it came all sorts of news and information about where Star Wars will be going over the next 12 months and beyond. So let's take a look at everything worth knowing about.
Rogue One
The Rogue One panel took place on Friday afternoon, and the biggest news there was the reveal of a brand new poster, a sizzle reel, and a very special exclusive teaser trailer.
Here's that gorgeous poster:
Here's the sizzle reel with a bunch of new footage:
And about that new teaser trailer, which was unfortunately only shown to people who were at the event, and not streamed online. There are some quite shoddily filmed versions on YouTube that miss half of the action, but luckily there are plenty of descriptions online. Here's one from IGN:
The beginning features what appears to be a young version of the film's hero – Jyn Erso – running across a field. It then cuts to a grown-up version of the character racing through a war-torn city, and in voice-over we hear her say...

"There isn't much time – every day we grow weaker while they grow stronger. This is our chance to make a real difference."

It's a speech clearly designed to inspire the rag-tag group of rebels Jyn works with to steal the Death Star plans. Her words play over quick cuts of gun battles, space battles, and characters both human and alien. Lots of aliens.

Then we get the money shot. Vader's first heard – that famous breathing sending a shiver up the spine. Then we see him, in silhouette, what looks like the Death Star; his black figure beautifully set against a red background. It's a brief moment, but one that had the audience on its feet.
We also learnt a lot more about the film's characters. For starters we got official confirmation that Mads Mikkelsen is playing Galen Erso, father of Jyn Erso (Felicity Jones). According to Mikkelsen Galen is a scientist and "he's invented something so beautiful, that it might change the universe." This makes him a person of interest to both the Rebels and the Empire, and somewhat ties into the rumour claiming he plays a major role in the creation of the Death Star. If his work is "beautiful" it sounds like the Empire might have twisted it for nefarious planet-exploding uses.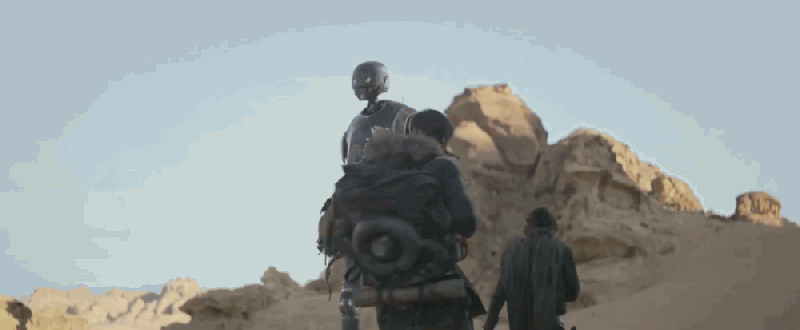 Gif via io9
We also heard more about K-2SO, the former Imperial droid playing by Alan Tudyk. He is best friend of Diego Luna's Captain Cassian. Cassian reprogrammed K-2SO, but something went a little bit wrong in the process. Tudyk described K-2SO as "like an old person", and it seems like he has no filter and gives zero fucks about the rest of the team.
Tudyk also recounted a conversation he had with Anthony Daniels (C-3PO), who asked whether he'd be playing the droid in costume or as a CGI character. Upon being told CGI, Daniels proceeded to call him "a shit". After having to wear golden armour in the Tunisian desert, I'm not sure I blame him.
We've already heard that Riz Ahmed's Bodih is Rogue One's token pilot, but here we learned that he's also a former Imperial. He worked for the Imperial to earn a living, but saw some things that made him question what he was involved with. He said this of Bodhi's allegiances, "Bodhi is a pilot, and he works for the Empire to earn a living. People work at big organisations, they don't agree with everything they do."
It's also been confirmed that Jyn Erso will be getting her own toy, in the more prestigious 'Black Series' of figures. That's the first in what is bound to be many Rogue One toys.
Image via io9
We heard a lot about Baze and Chirrut, played by Jiang Wen and Donnie Yen respectively. A lot of it we've heard before, about the fact that they're friends, partners, and incredibly close. Wen also dropped a huge spoiler, which I won't say here. If you want to know, Google it. All I will say is that I figured something like that would happen.
Concept art shown during the panel
We didn't hear much new information about the film's characters, but we do know that Rogue One is very different simply by how Gareth Edwards chooses to film his work. Apparently his directing style involves having the camera on his shoulder at all times, and that changes the visual style of what we'll see on screen.
He also recounted the tale of filming in Canary Wharf Tube Station. Due to the secrecy of the film, the crew were only able to film while the station was closed. For the record it's only closed between midnight and 4am, which means it was a pretty hectic shoot to get everything sorted.
Also of note is Rogue One's official prequel novel, titled Catalyst. We don't know any plot points yet, but it's being written by James Luceno.
"Move along"
Finally, the Celebration did have an exhibit showing off the costumes from the film. We got to see the entire rebel team, Director Krennic's (Ben Mendhelson) elaborate uniform, the film's Stromtroopers, Shoretroopers, and the elite Deathtroopers. I took a few pictures of them all, and some of Rogue One's new vehicles, which you can view here.
Rebels
We heard an awful lot about the third season of Star Wars Rebels, which is expected to debut before the end of the year. Unfortunately we don't have a set release date just yet. Sometime this Autumn is likely.
Here's a trailer:
The first biggest piece of news is that the third season will feature Grand Admiral Thrawn, a favourite from the Legends canon following the events of Return of the Jedi.
Now Thrawn is in Rebels, he'll be joining the new Disney-led Star Wars canon as what looks like the season's big bad. Thank god for that, I'm really sick of Inquisitors. Thrawn is being voiced by Lars Mikkelsen, who previously starred at Russian President Victor Petrov in House of Cards and Charles Magnussen in Sherlock series 3. Yes, he's related to Mads. They're brothers.
It was also revealed that Thrawn will be the focus of a new book, aptly titled Thrawn. The book is being written by Timothy Zahn, who originally created the character in 1991's Heir to the Empire - the book that really kicked off the post-Jedi expanded universe.
Also in the trailer we get to see more of Darth Maul, implying he'll have a much larger role to play in the upcoming season. It seems like he's trying to train Ezra the power of the dark side, which Ezra thinks will help him take down the Sith. Pretty sure the same thing happened to Anakin, so that's going to be an interesting plot development.
Kanan is now blind from the looks of things, but that's hardly a big deal for a Jedi. Sabine has the darksaber, a black lightsaber used by the Mandalorians in The Clone Wars. There are Mandalorians who serve the Empire, and they have armour fairly reminiscent of the original Boba Fett designs (back when he was supposed to be an elite Stormtrooper).
Oh and there's a certain Imperial cadet who seems to be willing to defect to the rebellion (apparently he's not the only one). His name is Wedge, or something. I wonder if we'll see more of him somewhere else? I'm kidding, of course, we already have done.
Some of the biggest news, though? I mean aside from the inclusion of Thrawn. Former Doctor Who star Tom Baker will be lending his voice to the series as the Bendu. According to the voiceover in the trailer, he's somewhere in the middle of the Jedi and Sith and I can't imagine there won't be a lot of talk of 'balancing the force' from him. It's worth noting that Bendu was coined by George Lucas, and was the name given to what became the Jedi in early drafts of Star Wars.
Finally, Rebels executive producer Dave Filloni revealed that we haven't seen the last of Ahsoka - rebel leader and former apprentice of Anakin Skywalker. She seemingly died at the hands of Darth Vader in the season 2 finale, but Filloni has been very coy about her fate. Originally he said we wouldn't see her again, but now he seems to have changed his mind. Thankfully he doesn't seem a fan of using flashbacks to bring the character back.
Personally I like the idea that she fell against Vader. It cements the idea that Anakin Skywalker is dead, consumed by the dark side in such a way that only Darth Vader remains. But as we all know, dead isn't always the end in Star Wars. Especially when you're a Jedi.
Battlefront
It wouldn't be Star Wars without the games, and especially not Battlefront. EA announced a lot more information about the future of Battlefront, including new modes, DLC, and hero characters. There's no word on any sequels, but let's take a look at what we know so far.
First up is the announcement that the game will receive a brand new offline mode called 'Skirmish'. You can play this with bots, or a friend via local co-op, and it will work with both Walker Assault and Fighter Squadron modes. It's not a fully-fledged campaign mode, but it's ideal if you don't want to play with random people.
Skirmish will be available on 21st July, and only on consoles. (Sorry PC gamers).
There's also more information on the previously announced Death Star expansion pack. The pack will include two new heroes (Chewbacca and bounty hunter Bossk), has a playable trench run sequence, along with other new related maps, weapons, and star cards.
No word on an exact release date, but EA confirmed the Death Star pack will arrive this Autumn.
The final piece of news regarding Batlefront is that the fourth and final expansion pack will be Rogue One themed. It's called Rogue One: Scarif, named after the paradise beach planet that will feature in the film. Jyn Erso and Director Krennic will be the pack's heroes, and it will be released at the end of the year to tie on with the new film (due December 16th).
Future Films
Right now we don't know a great deal about Star Wars beyond Rogue One, other than the fact we definitely have Episode VIII and the still-untitled Han Solo film to come. Here's what was revealed over the weekend.
Unlike every single Star Wars film in the past, Episode VIII will pick up exactly where Episode VII left off. That means we get to see the first interaction between Luke and Rey, rather than jumping in a few weeks or months into their story.
The film will go deeper into the characters we first met during The Force Awakens, similar to what happened during The Empire Strikes Back. Rian Johnson also confirmed that there will be plenty of practical effects, which was something JJ Abrams seemed adamant on doing. That can only be a good thing, after the glossy 99.987659% CGI we got from George Lucas in the prequels.
We also have our first confirmed cameo in the new film. It's Gareth Edwards, director of Rogue One, though we don't know who he'll be playing. Rian Johnson and producer Ram Bergman will also cameo in Rogue One as Death Star gunners. Chris Lord and Phil Miller, directors of the Han Solo movie, tried to cameo in Rogue One as well, but had to leave set before they could do so.
Carrie Fisher also confirmed that we will definitely not be seeing Han Solo's funeral in the new film. Apparently it took place after The Force Awakens. I would assume it's while Rey is off searching for Luke's new home, but you can't have a Han Solo funeral without Chewbacca surely?!
Finally we got official confirmation on casting that we all knew about months ago: That the young Han Solo will be played by Alden Ehrenreich.
The Rest
Let's start off with word on games that aren't Battlefront. There's no new Lego stuff coming right now, but there is plenty of Star Wars to go around.
First up is the announcement of the next Old Republic expansion pack: titled Knights of the Eternal Throne. It's a direct sequel to Knights of the Fallen Empire, but aside from that we don't have much to go on.
We also have some details on the next EA game, made by Visceral Studios. It's a third-person action game, set during the reign of the Empire. There's not much more to go on since the game isn't due until 2018, so we won't hear much else until next year.
Finally on the games front is news on VR Star Wars games. The first, called Trials on Tattooine, will be released for HTC Vive on 18th July. It will be free.
There's also a Darth Vader-centric VR experience coming from writer David Goyer. Details are scarce, but here's what Goyer had to say:
When we looked at all the characters, places, and worlds in the Star Wars universe available to us, we asked ourselves, 'What haven't we seen before? Who are we curious about? Darth Vader is the perfect ambassador to usher us into the Star Wars VR universe.
Last of all we have brand new Star Wars drones/quadcopters coming from Propel. On show were mini replicas of the X-Wing, Advanced TIE Fighter, Millennium Falcon, and Endor Speeder Bike, and they were shown to show guests in action in replica environments of Endor and the Death Star trench.
Unlike the Millennium Falcon drone released last year, these qudcopters are designed to be as close to the original film vehicles as possible. Not only does that mean they're rather detailed and manoeuvre just like their on-screen counterparts, the rotors are separate from the actual model. That means there are no massive holes disrupting the design. They also offer speeds in excess of 35mph, and include onboard lasers so people can actually battle in the skies without having to crash into each other in the process.
Pricing hasn't been announced, but they are expected to ship before Christmas. You can also reserve models for yourself on Propel's website.
---
That's all we have from Star Wars Celebration 2016, though if any more news arrives I'll make sure to update this. In the meantime you can check out all the pictures I took on the show floor. Just be warned, these haven't been sorted through yet so there are plenty of terrible shots that I blame on poor lighting, my refusal to use flash, and the fact that my Dad stole my tripod a while back.