The general consensus is the Samsung S7/S7 Edge/Note 7 are the best damn Android phones you can buy right now. They're also really expensive. Off contract you'll be dropping at least £600 to enjoy a gorgeous device saddled with TouchWiz. But Huawei just went and made the Honor 8, a phone very similar to the S7 lineup, but at half the price.
It joins other super cheap darlings like the One Plus 3, Moto G4, and quirky Nextbit Robin. But it's not a full-fledged flagship.
I've had the chance to tinker with the new device a bit, and the similarities between are actually striking. The Honor 8 is roughly same size (the Honor is 5.7 x 2.8 x 0.3 versus the S7 being 5.6 x 2.7 x 0.3), and it has the same hefty 3000 mAh battery as the S7. It's not quite as fast, owing to the fact that it's running a Kirin 950 SoC chip that would be on par with previous Galaxy phone's Exynos 7420 Octa chip, and the and the 12MP camera isn't as good. This was especially noticeable when I took a quick (and ugly) shot of an overexposed sliver of street with both phones. The S7 found details that were completely washed out on the Honor 8's otherwise very contrasty screen.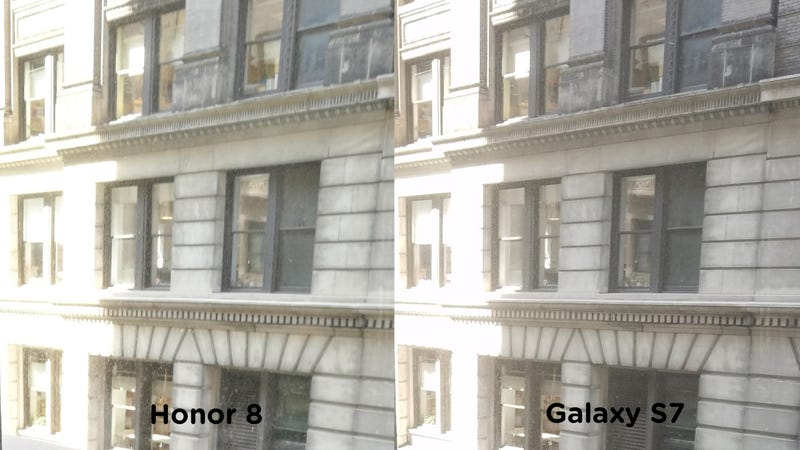 The Honor 8 wins on contrast, but seems to have a blurry sheen on everything, muddies details, and has less natural lighting.
Yet, subpar camera aside, the Honor 8 has something great going for it. It's got Huawei's eMUI version of Android. My colleague hates it because it feels like Apple got mixed into Android. I love it for that same reason (and also because it has loads of fun themes for mixing up the appearance of your entire phone's software). Tired of colourful icons? Go with a demure all black and gold look instead.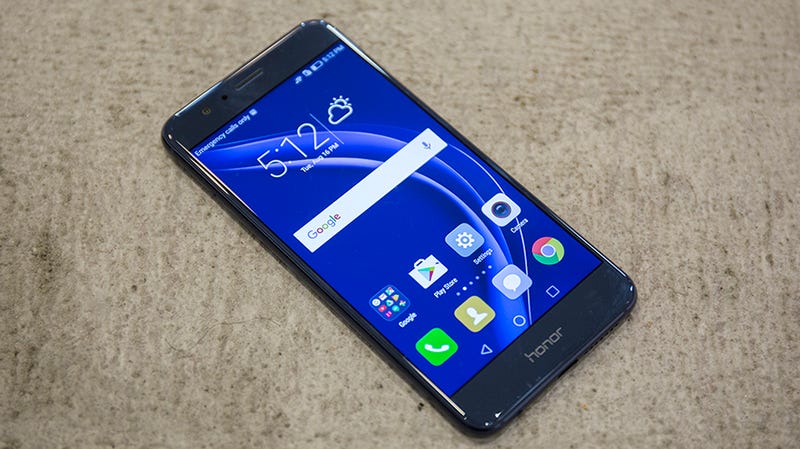 No app drawer in sight.
Like OnePlus, Motorola and others, Huawei embraces gimmicky gestures and shortcuts. You can knock on the screen to interact with it or click the volume button twice to immediately open the camera app and take a photo. The fingerprint reader in the back also doubles as an additional, very slick, programmable button. So you can turn on the torch with a press and take a screenshot with a double press. While the introduction of new button functions for the volume rocker is popular from all the major Android manufacturers, Huawei is the first to turn the fingerprint reader on the back of the phone into a programmable button too.
Not having to furiously engage with the well-designed glass-covered screen to access these features isn't a game-changer, but it's a convenience that is awfully attractive when paired with the Honor 8's price tag of $400 for a 32GB phone and $450 for the 64GB version. Those prices translate to £307 and £345 on a conversion, respectively, though the device's availability beyond the US and China is not yet confirmed