With this much planning, you'd think Americans were putting together a wedding.
But it's actually for something much larger. The next big solar eclipse is exactly a year away, and people stateside are already freaking out over it.
It is kind of a big deal. We normally get a number of partial solar eclipses throughout the year, but we in the United States don't get to see all of them. According to USA Today, it'll be the first total eclipse visible only in the US since we declared independence in 1776. It'll also be the first total solar eclipse to sweep across the entire country in 99 years.
According to the Great American Eclipse website, there are 10 spots that'll be key if you want to journey across the Atlantic and get the best view: Madras, Ore.; Snake River Valley, Idaho; Casper, Wyoming; the Sandhills of Western Nebraska; St. Joseph, Missouri; Carbondale, Illinois; Hopkinsville, Kentucky; Nashville; Great Smoky Mountains National Park; and Columbia, South Carolina. Surrounding cities and areas will also be in the path of the eclipse (which you can check out on this NASA map).
In typical solar eclipse fashion, it'll only last a couple minutes.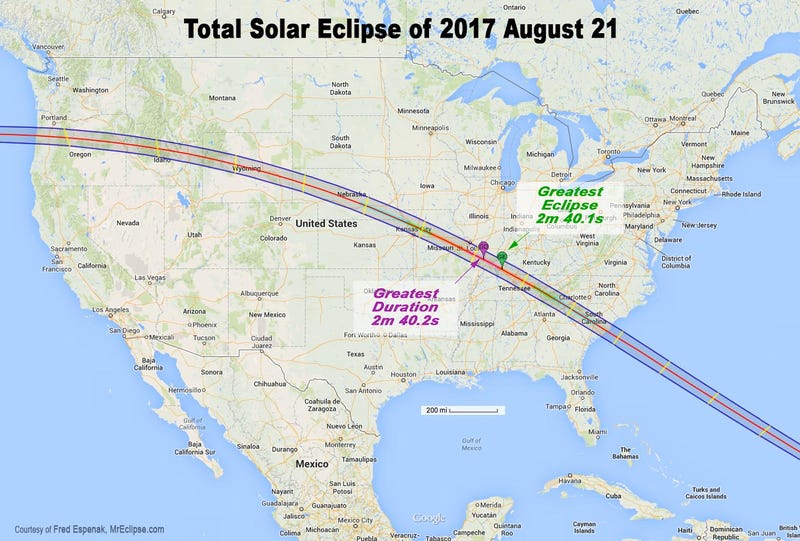 Eclipse Predictions by Fred Espenak, NASA's GSFC
Areas in the direct path are getting ready for a total eclipse of everyone's hearts (I'm sorry).
Nashville, for example, has a festival prepared for what it's calling the Music City Solar Eclipse, with a website that features a countdown clock (52 days away!). Oregon is planning a four-day event called SolarFest, even though the actual eclipse will last less than three minutes.
Even though we're outside the US, don't worry. People across North America, and in parts of South America, western Europe and Africa can still see a partial eclipse.
Here's hoping some of us get superpowers and recreate a much better version of Heroes when the time comes. Also here's hoping that all those parties are worth it. [USA Today, NASA]