There's been an explosion on SpaceX's Cape Canaveral launch complex. Apparently, a Falcon 9 rocket is in flames, and several images of a smoke plume rising above the complex suggest that something is very wrong.
Following a flurry of tweets about the explosion, NASA confirmed that there was indeed a series of explosions. The AP reports:
NASA says SpaceX was conducting a test firing of its unmanned rocket when the blast occurred Thursday morning. The test, considered routine, was in advance of a planned Saturday launch from Cape Canaveral Air Force Station.

Buildings several miles away shook from the blast, and multiple explosions continued for several minutes. A cloud of dark smoke filled the overcast sky.
For now, there are no reported injuries, and unconfirmed reports say that the payload, an Israeli satellite, was not on board when the explosions occurred.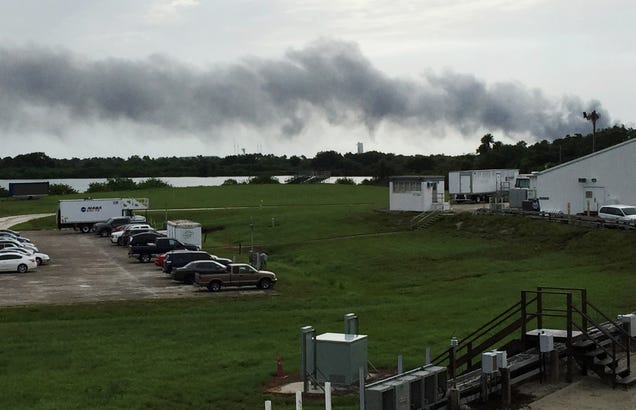 Image: AP.
Nevertheless, images from the scene of the explosions look very bad:
#SpaceX #falcon9 pic.twitter.com/JtCzgPdwj1

— Danielle K (@GirlieToNerdy) September 1, 2016
Wow. Photo shows one of the explosions at #SpaceX: https://t.co/xZvJk9tc1i (Reddit/mtrevor123) pic.twitter.com/bzsy9ATvIy

— Scott Gustin (@ScottGustin) September 1, 2016
Wow, SpaceX rocket just blew up on pad. Shook our whole bldg. pic.twitter.com/PMxZA4v4IV

— SpaceCoastTiger (@TigernBear) September 1, 2016
So unfortunate! Hope all #SpaceX personnel are safe and secure. pic.twitter.com/odPFcEWulr

— Bradley Williams (@NASA_Engr_Brad) September 1, 2016
Here's an image of the strong back, via Skywitness News, showing significant damage to the strong back.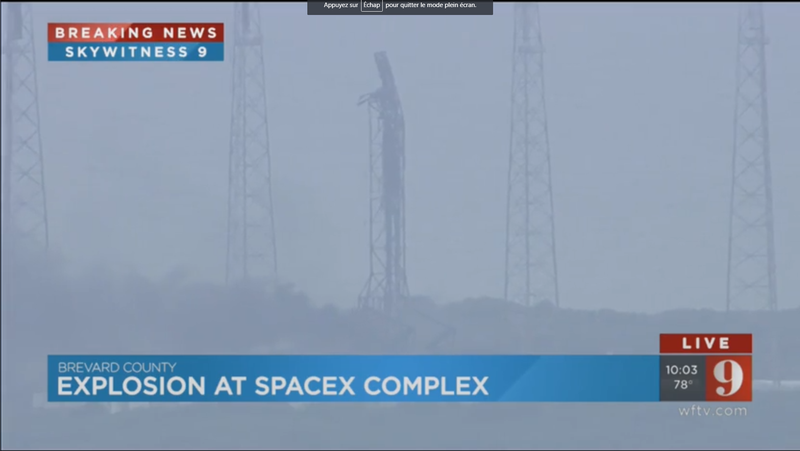 The smoke plume even grew large enough that it was able to be seen on radar:
Significant smoke plume coming from the Cape Canaveral Space X launch pad in Florida, seen on radar. #Spacex pic.twitter.com/43FiZKMIXB

— Brad Panovich (@wxbrad) September 1, 2016
And onlookers were present to film the aftermath:
SpaceX was due to launch an Amos 6 communications satellite for Spacecom of Israel on a Falcon 9 on Saturday. The reused Falcon 9 rocket that was recently scheduled to take off, however, was reportedly not involved in the accident:
Note that the Falcon 9 that just exploded was NOT the reused one - that was scheduled for next month, but of course will be delayed now

— Jonathan McDowell (@planet4589) September 1, 2016
It's unclear whether the satellite was impacted or damaged by the blast. Again, the payload and second stage were reportedly not attached to the rocket at the time of the explosions. We're reaching out to SpaceX to confirm and will update this post when we hear back.
Update 3:25 p.m. It looks like, contrary to earlier reports, the Amos 6 communications satellite had indeed been loaded and was destroyed in the explosion. There were, however, no injuries or casualties from the incident.
Official statement from @SpaceX: pic.twitter.com/GxvH2E8401

— Eric Berger (@SciGuySpace) September 1, 2016
Facebook reportedly had a deal with Spacecom to make use of their Amos 6 as part of their effort to increase worldwide internet connectivity. Reported Computer World:
SpaceX, one of the companies that launches cargo ships to the International Space Station, is set to launch the satellite for Facebook at 3 a.m. ET Saturday from Cape Canaveral Air Force Station in Florida.

Facebook is using space on the Amos 6 communications satellite, owned by Israeli-based Spacecom. The satellite is launching on the SpaceX Falcon 9 rocket.