The Apple Watch was destined for disappointment when it launched in 2015. Many prophesied that it'd usher in a golden age of wearables, much like the iPhone did for smartphones. But that didn't really happen. Maybe the Apple Watch Series 2 can change the narrative.
Apple is mainly selling the device on it being waterproof the 50 metres, packing GPS capabilities, it having a display that's two times brighter than before, and it running WatchOS3.
To kick things off, Tim Cook spent tons of time lauding its original effort at the smartwatch, and Apple's Jeff Williams walked through watchOS 3 updates revealed at WWDC earlier in June, including that dubiously scientific Breathe app.
Next up was app developer Niantic, which announced that its hit game Pokémon Go would be coming to the Apple Watch. However, this isn't just a port of the mobile game to the watch, which would suck horribly. Instead, the watch works with your iPhone to incorporate the step counter seamlessly, so you don't have to keep the app open.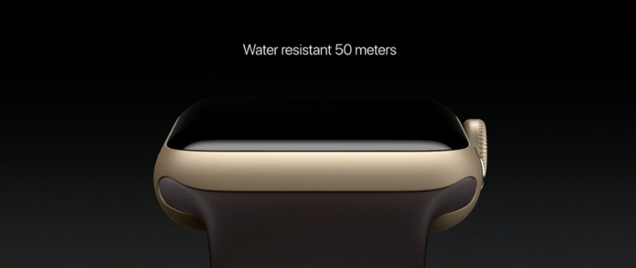 Then, finally, came the new hardware. The Apple Watch Series 2 completely "swimproof" with water resistance up to fifty metres. Apple redesigned the speaker system to help eject water from the watch after you take a plunge.
On the more geeky specs side of things, Apple introduced a 50 per cent faster processor along with better graphics. It also comes with the brightest display Apple has ever made. It's 1000 nits, which is really, really bright. For a comparison, most displays don't go much further than 400 nits.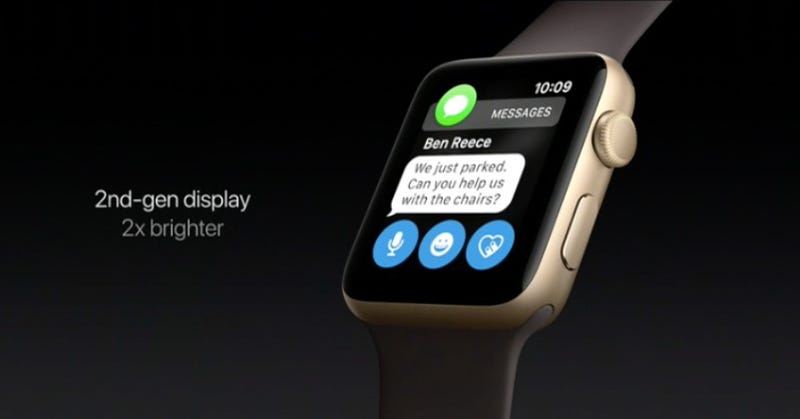 But Apple Watch: Part Deux's marquee feature is GPS, which helps make the Apple Watch somewhat less dependent on your iPhone — at least for maps and fitness apps. During today's presentation, Apple spent quite a bit of time on a new fancy hiking app that's only possible with Apple Watch's new GPS abilities. But all of this is hardly new — many Android Wear smartwatches have GPS already.
With a brighter display and added GPS, Apple hasn't yet made any mention about upgrades to the Apple Watch's battery, though previous rumours have said that the new Watch comes with a 35 per cent bigger battery. However, with GPS added, it may all come out about equal.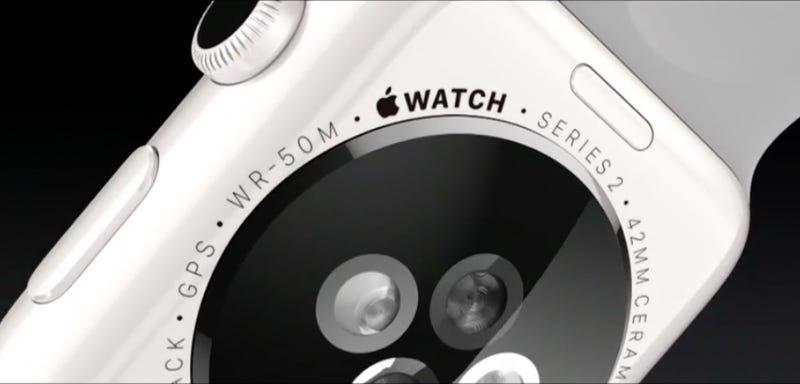 Aside from new sensors, Apple also introduced a new ceramic model — it's most durable model — as well as a Nike specific model that's being marketed for all the runners in the world (of which I am not one).
Pricing and Availability
Apple Watch Series 2 will come in gold, rose gold, silver or space grey aluminium – or silver or space black stainless steel cases paired with a wide variety of bands – and will start at £369. The new fancy ceramic Apple Watch Edition starts at £1,249.
The original Apple Watch (now called Series 1) will be available in gold, rose gold, silver or space grey aluminium cases paired with a Sport Band – and starts at £269. Series 2 goes on sale September 16 (orders open from September 9) while the Nike watch will arrive in "late October".