Racing your Hot Wheels cars usually requires a good imagination, a makeshift track, and a lot of DIY sound effects. But with the new Hot Wheels AI race system, you can finally race your friends, or a computer opponent, on a real track, without needing a smartphone—or a driving license.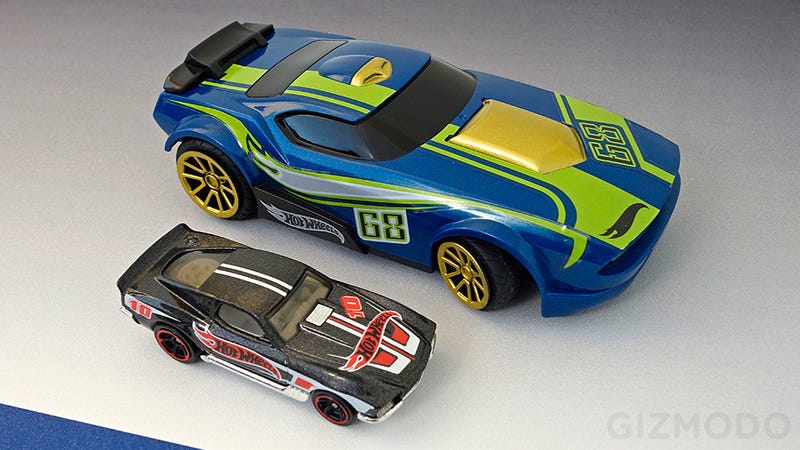 A bit larger than the Hot Wheel cars you grew up with.
You can think of the Hot Wheels AI race system as an updated version of the slot cars many of us grew up with, except it's better in so many ways. The slotted track has been replaced with flat modular track sections that can be conpd in over 40 different race layouts, and the larger racers—measuring in at 1/32-scale—can now be steered back and forth to help overtake an opponent. It's no longer just a drag race.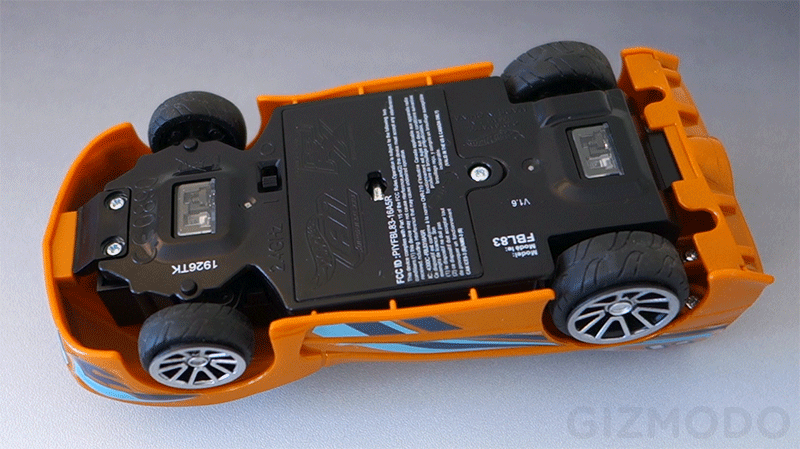 Drivers steer their own vehicles, but track-reading sensors help ensure you always stay in the race.
That said, the advantage of slot cars was that not being able to steer your racer meant it was also impossible to steer off course. Hot Wheels AI works the same way, but instead of a guide pin on the bottom of the two included cars, there's a sensor that reads a coloured pattern printed on the track sections, which ensure your vehicle always stays in the race. But the AI that helps keep your vehicle in competition and on the track can also be idled back to increase the challenge.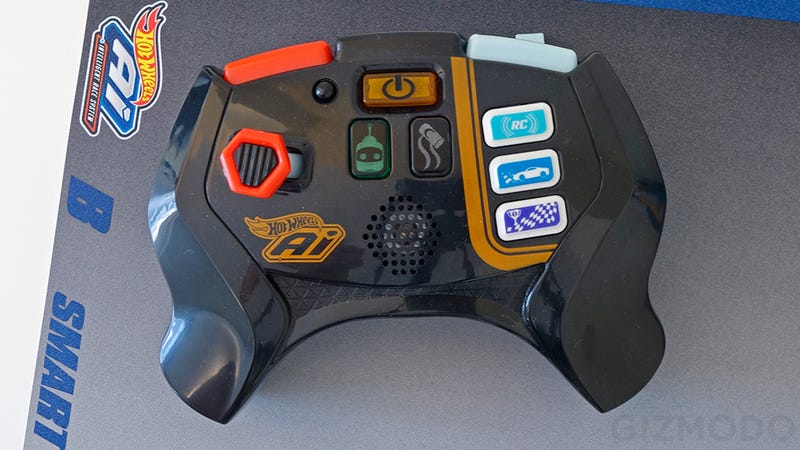 No touchscreen driving here, Hot Wheels AI includes controllers for each vehicle.
Hot Wheels AI is reminiscent of the Anki Overdrive race sets that also use sensor-assisted vehicles to make it easier to stay on track. But instead of having drivers steer with finicky touchscreen controls via a smartphone or tablet app, the Hot Wheels AI set includes two dedicated RC controllers, with analogue joysticks and triggers for precise steering and acceleration. And when you get tired of racing on the track you've built, or don't have room for a huge race layout, the cars can be driven around anywhere, just like regular RC toys.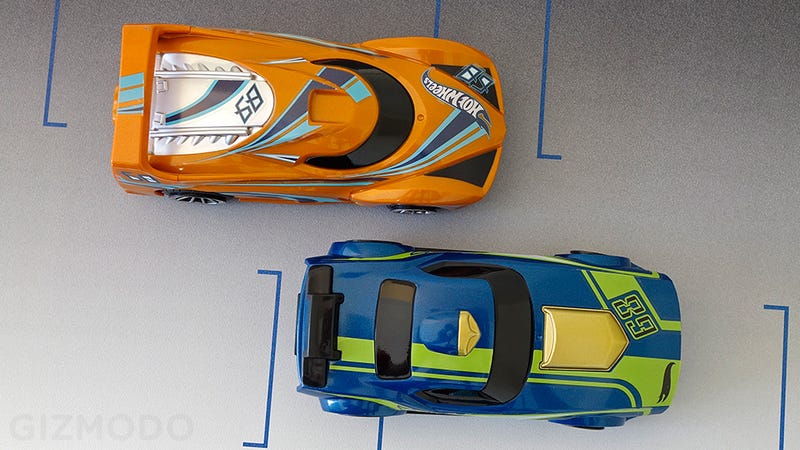 Enrage your friends while racing by triggering rechargeable hazards.
Other race modes include Autodrive where up to four cars can navigate the track all on their own, Practice mode, in which novice drivers can get a feel for a new layout, or attempt to best their previous best time around a track, and Championship mode where you can race up to three other human or computer players. To make things even more interesting in competition, each driver also has access to rechargeable race hazards that can be used to hinder and disable opponents, or send them flying off the track.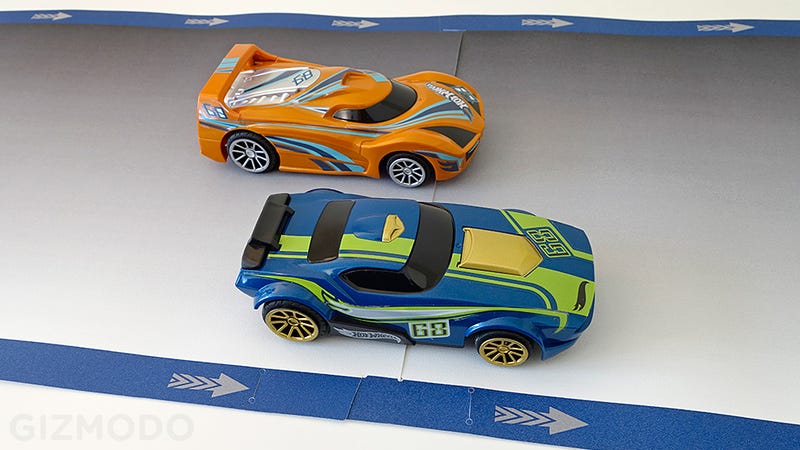 Available closer to Christmas for $100 (£75), Hot Wheels AI comes in cheaper than the Anki Overdrive Starter Kit, and that includes the wireless controllers for both of the bundled vehicles. Racing with physical controls, instead of a touchscreen, feels more natural, and trading paint with your competitor during a race is even more satisfying with these larger racers—and safer than trying the same thing with your people carrier. [Hot Wheels]