It's been a long, long time since we checked in on with Bluetooth speakers, and the market is still flooded with an endless number of near-anonymous companies churning out absolutely awful products. To that end, little has changed.
Thankfully, some of our past favourites have since created sequels to their more successful speakers — and previous contenders have seriously stepped up their game.

These days Bluetooth speakers come with quite a few bells and whistles: voice assistants, single-serving apps, multi-pairing. Cool. For some folks that might be what sways their purchasing decision. But lest we forget, we're talking about speakers, and a speaker's primary function is to make music sound good. If it doesn't accomplish even that, why the hell would you buy it?
To gauge how well these speakers reproduced music I picked songs I knew like the back of my hand from a variety of genres to test specific frequency ranges. Lows were assessed with instrumental hip-hop, dubstep, and other genres that are taxing on subwoofers; chuggy, technical metal put the low mids through their paces; punk for the mids; acoustic singer-songwriters stuff for the highs and high mids; modern pop to check how all the ranges interacted. Cheap speakers have a tendency to under- or over-represent certain portions of the frequency spectrum and distort at higher volumes making familiar tracks sound off. Good ones should sound flat and accurate across a variety of frequencies.
That said, expectations for the purposes of this review also include ability to deal with environmental hazards and human error, loudness, and price point.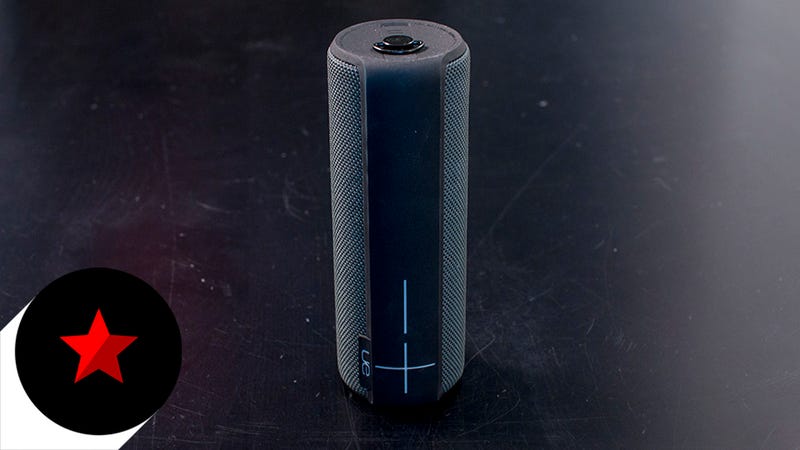 The Best Overall: UE Boom 2
UE won us over last time, and it's taken the top spot once again. The 15-hour battery life is above average and the construction is rugged enough to take a few falls. An IPX7 waterproof rating is more than enough for most potentially damaging situations (in a shower, at the beach, a spilled beer.) There's enough oomph for the Boom 2 (which goes for around £110 right now from most retailers) to be heard over a crowded party, and unlike some other speakers, the sound it produces is reasonably accurate — no chintzy-sounding boosts in the higher frequencies.
Pairing with the Boom 2 on mobile will prompt you to download an app. It's not mandatory, but it will give some EQ options and a readout of current battery levels. Most speakers of this size are light on bass and the Boom 2 is no exception, but UE ticks so many of the right boxes that it's hard to recommend anything better.
However...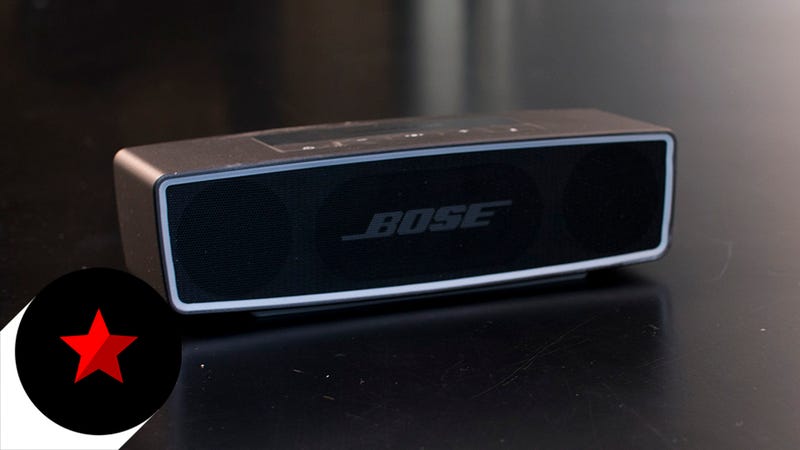 The Best Sound: Bose Soundlink Mini 2
The Mini 2 is heavy. It's expensive. It's shaped like an alarm clock from the '80s. But it sounds incredible, especially for a speaker this small. The Mini 2 is the only of these speakers where songs sounded better than through headphones. I tried every genre of music on this thing to try to find its sonic deficiency and came up totally shorthanded.
It can picked up for about £145 from most online vendors right now, and for that you get great sound, but it suffers in the portability department. "This product must be used indoors," the instructions read. It's not splashproof, shockproof, or dustproof. If portability means carrying a speaker from a bedroom to a living room, sure, this Mini 2 is portable. But it's just not built for the kind of impromptu applications most of these speakers strive to fulfil.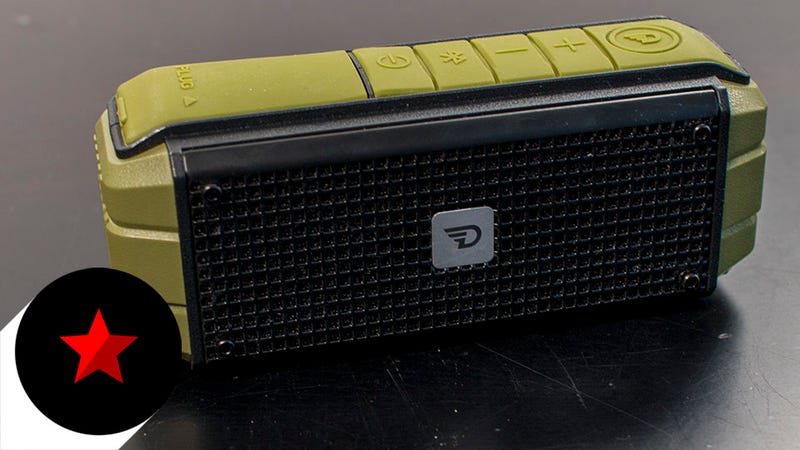 The Best for Cyclists: Dreamwave Explorer
This one's not very easy to buy online in the UK (eBay is probably your best best), but the $150 (that's about £112) Explorer takes the cake for cyclists, and not just because a bike mount is included. (Others did too, but they felt seriously chintzy.) The grenade-looking case can take falls and water damage no problem. Leave it strapped to your bike in a rainstorm? Should be fine. It has better than average response in the bass and low-mids — which is about all you'll be able to hear anyway with the wind rushing past your face.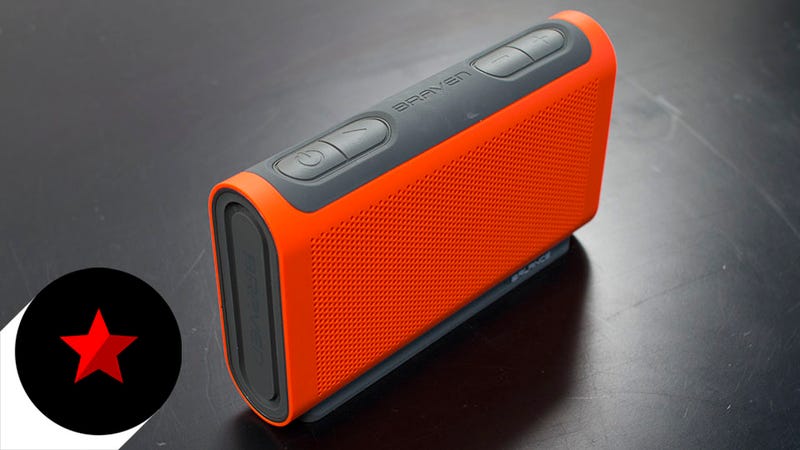 The Best under £100: Braven Balance
Let's get it out of the way first: the Balance doesn't charge off USB, which is annoying as hell. Looking past that, Braven's oblong offering has shockingly accurate sound, a rugged build, 18 hours of play time, and the ability to charge other devices. There are other speakers that offer similar features, but not all of them for a meagre £70 on Amazon right now.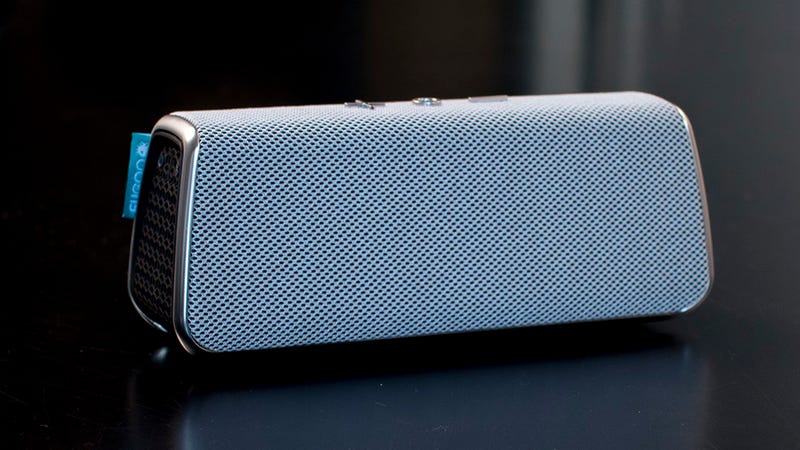 Fugoo Style
The unprecedented 40-hour battery life is only matched by the disappointing sound. Huge peaks and cuts across the frequency spectrum lead to songs sounding "wrong", and bass-heavy songs audibly overload the speaker. Also, why does it come packaged with a microfibre cloth? There's no screen. Selling for around the £200 mark depending on where you look, this is a hard pass.
---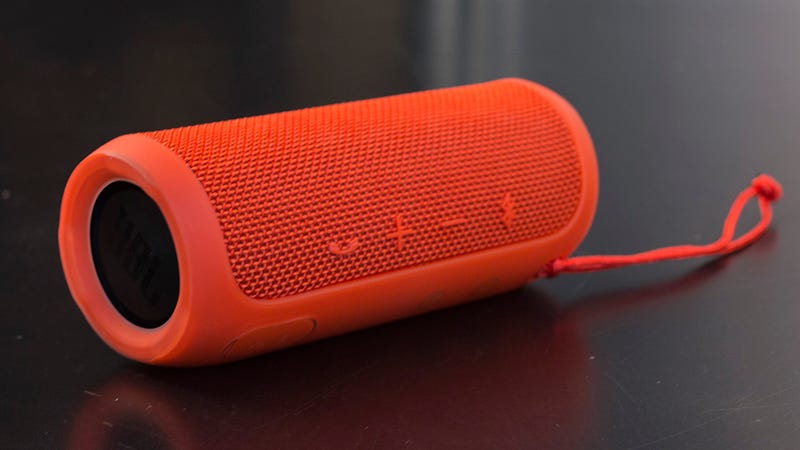 JBL Flip 3
Frankly the Flip 3 is totally adequate! It's barely more balanced than the Fugoo, but quieter too. At £70-£80 online it's a steal, but I truly do not understand the form factor: speakers at either end make it unappealing to prop up vertically; on its side it rests right on top of the buttons that control volume and other functions. At half the price of the Boom it wants to be a bargain, but sadly I can't recommend any sub-£100 speakers as being particularly good.
---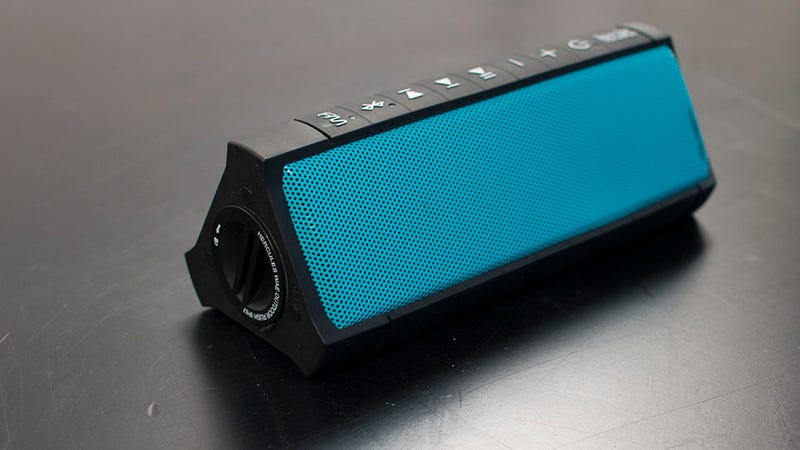 Hercules WAE Outdoor Rush
The name is as clunky as the design — which suggests sound should be coming out of all sides. It's limited to just one. Did I mentioned it sounds terrible? Tinny. Ugly. And not worth the £90-£115 it's being touted for online.
---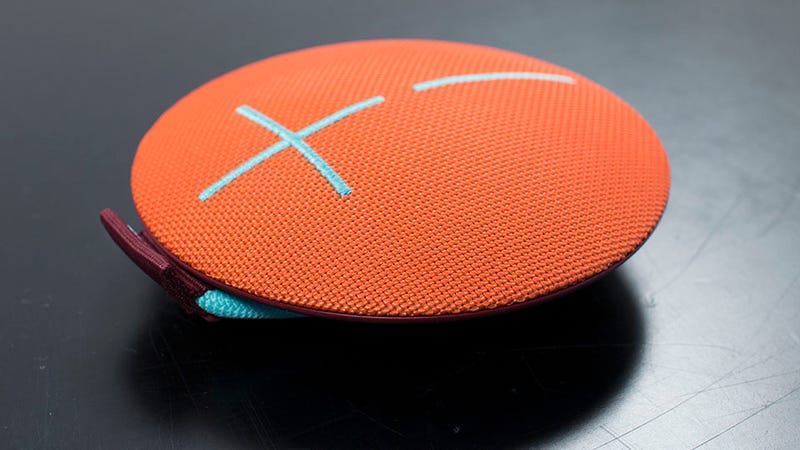 UE Roll 2
UE's little UFO is adorable (it even comes with a pool floatie!) and it sounds great—though not quite as good as the Braven Balance. Still, if you prefer a smaller and more whimsical form factor with fewer features, the Roll 2 is a well worth considering at £80.
---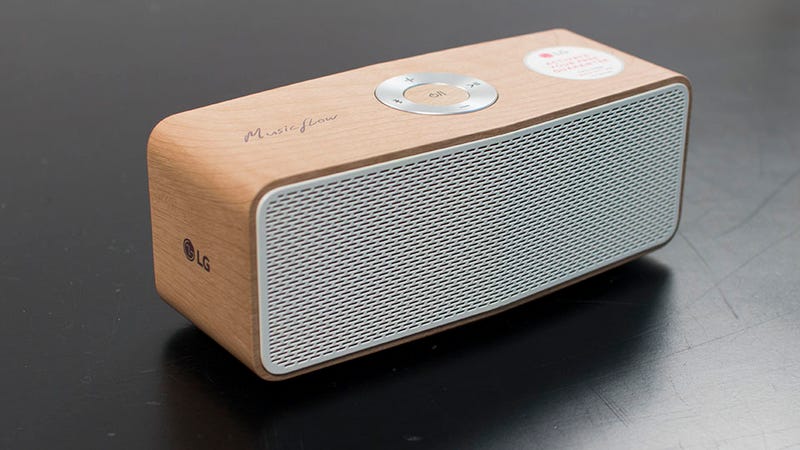 LG P5 Music Flow
It's a beautiful looking speaker, but that's about all it is. The Music Flow is quiet, lacks mids, and insists on installing horrible bloatware app to your phone. However, for its size a 15-hour battery life is impressive.
---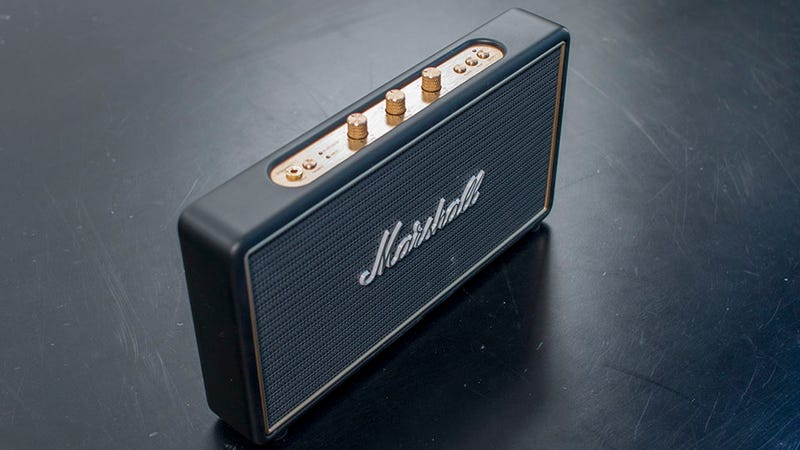 Marshall Stockwell
The build quality on this speaker is just spectacular, and perfectly emulates the design the amps it's based on — complete with a 3.5mm input where the 1/4" would be and pop-out EQ and volume knobs. Unfortunately Bose's smaller, bi-directional Soundlink Mini 2 just barely beats it out in sound quality. Quite pricey at £180.
---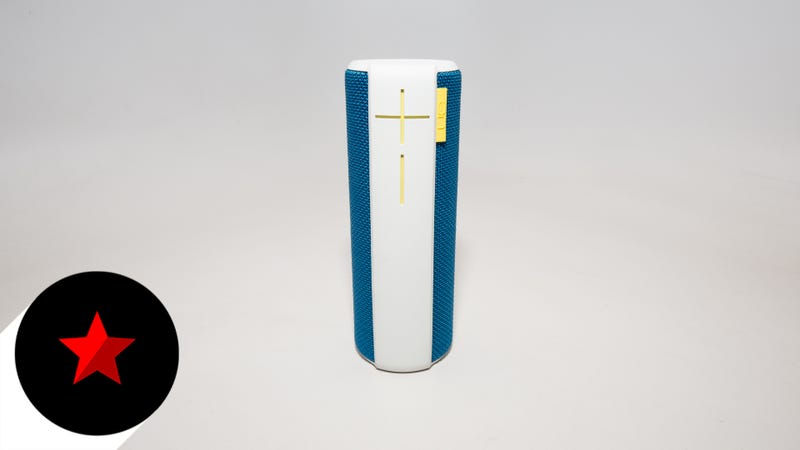 UE Boom
Our previous top choice for best overall speaker. It was good. It's successor, the UE Boom 2, is better.
---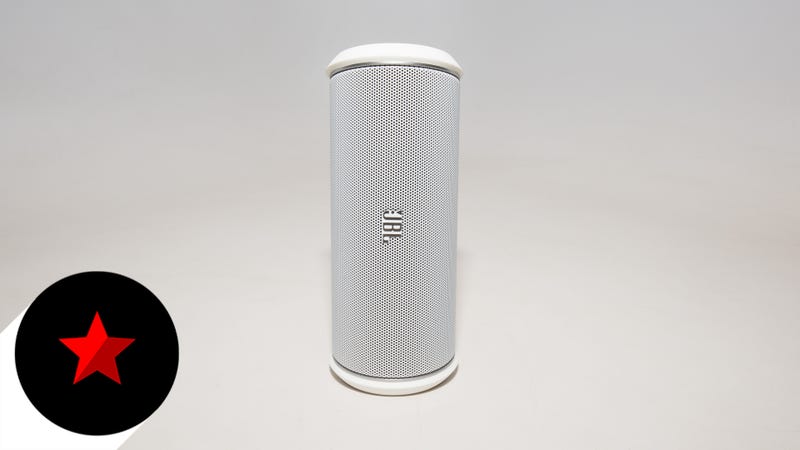 JBL Flip 2
Our former best pick for value was nice, but the Braven Balance was better.
---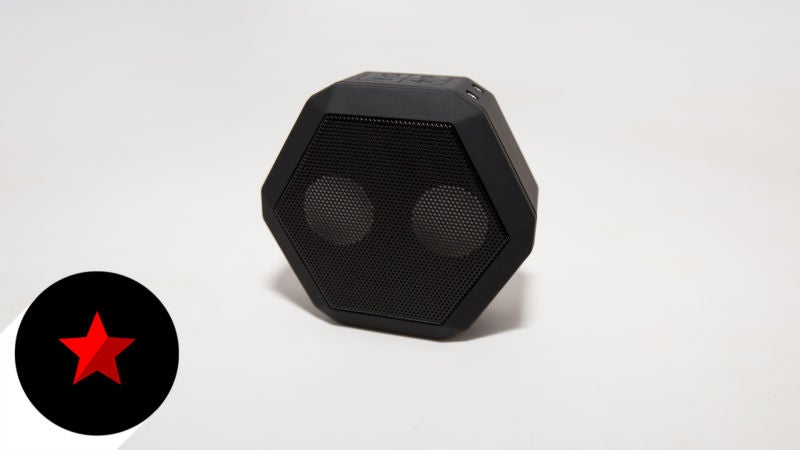 Boombotix Rex
The Boombotix Rex is a one-trick pony, but it performs that one trick so well that I can't help but recommend it. It's basically a speaker for cycling, so you can clip it to your messenger bag and blast tunes while zooming down the street. I see messengers sporting these all the time. It might also double for situations when you don't want to place the speaker on the ground. Like the fence on an outdoor tennis or basketball court.
This tiny speaker packs a lot of power, but it doesn't sound as good as the UE Boom or the Sol Republic Punk. Prices vary online from £30-£60.
---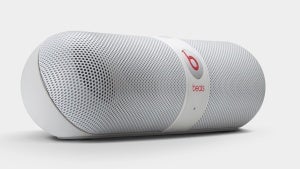 Beats Pill
When the Beats Pill arrived a few years ago it was a better than average option, but even back then I felt the speaker didn't sound amazing. It's far outstripped by some competitors today, and at between £150 and £200 depending on where you look, it costs more than double what it's worth.
---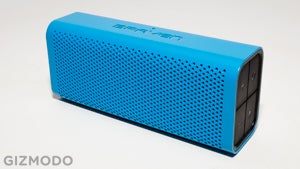 Braven 705
Sounds terrific, and it's handsome and rugged too. Can top off my phone via USB. My quibble is that the ports are underneath a removable plastic door that protects them from the elements. Knowing my disorganisation, I'm probably going to lose it.
---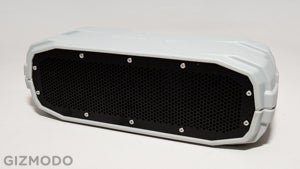 Braven BRV-X
Waterproof and rugged! Doubles as an external battery to charge phones! But so ugly. The screw cap design which keeps the guts dry would be a sad thing to lose, too.
---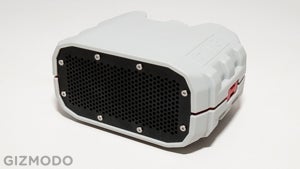 Braven BRV-1
A smaller version of the beast above. Slightly more desirable for a camping trip because of its small size. But ultimately the design still feels too unrefined to wholeheartedly recommend.
---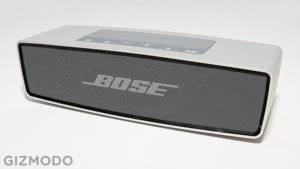 Bose SoundLink Mini
A good-looking little metal-encased speaker, but too expensive – it's mainly sold at £145 right now. It has the good old-fashioned flat sound Bose is known for, but lacks impressive bass. It's also heavy and only charges using a proprietary cable.
---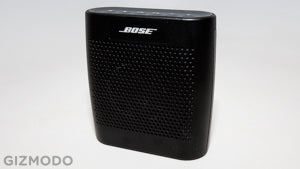 Bose SoundLink Colour
This speaker's design is unusual and sort of fun, especially if you get it in one of a plethora of available colours. The sound, however, isn't good enough for such a chunky beast. Sold for around £100 at present.
---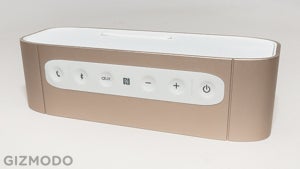 Cambridge G2
A small £80 speaker from a well-regarded British audio company. Doesn't really matter how good it sounds because it uses a proprietary charger when others this size don't. Dealbreaker.
---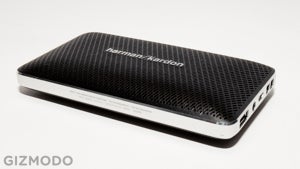 Harman Kardon Esquire Mini
This thing looks like an old-school hard-shell clutch purse. The design didn't do much for me. Beyond the aesthetics, the kickstand on the back is a pain. £120.
---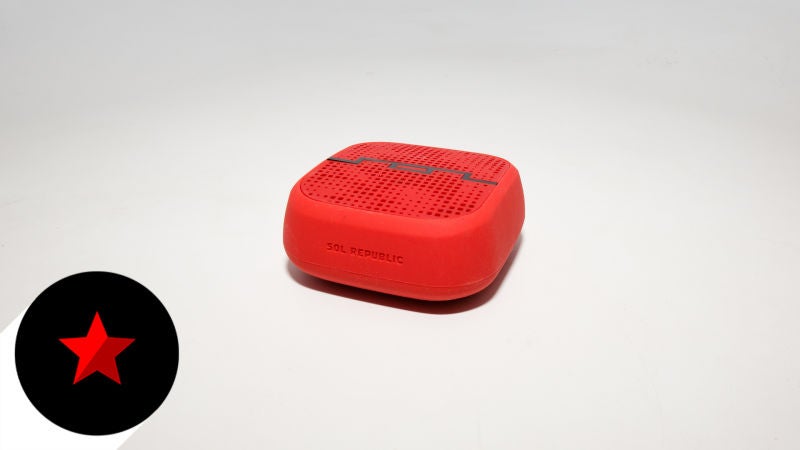 Sol Republic Punk
If you're not carrying a bag, portable means it fits in your pocket. The £60 Sol Republic Punk actually sounds very good for something that has the footprint of a coaster. Its not going to sound as something with multiple drivers and a larger enclosure, but it delivers very convincing bass for such a tiny package. Additionally, the design is water-resistant, and rugged enough so you won't destroy it when you accidentally sit on it.
---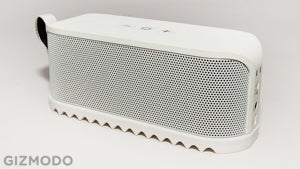 Jabra Solemate
Kitchy design and generally disappointing audio performance weren't the worst part. The worst part is the annoying lounge beat that plays when the speaker is in pairing mode. Cheap-ish at £60.
---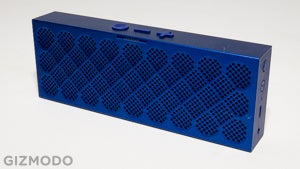 Jawbone Mini Jambox
The more affordable, portable version of the speaker that started it all. The slim design is nice and practical and there are plenty of colors to choose from to make sure it fits your tastes, but the sound lacks clarity.
---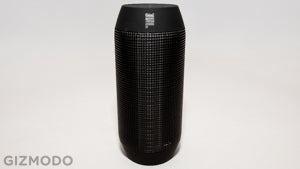 JBL Pulse
The JBL Pulse has fun lights that illuminate with the music on the exterior. (You can turn them off if you're trying to sleep.) I quite like the lights. Unfortunately, the sound is a distorted mess. I expected much better from such a large speaker.
---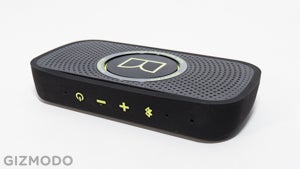 Monster Superstar
This tiny little speaker from the designer behind the original Beats headphone has an interesting floating driver design. But it lost my interest as soon as I tried to play some music because the sound totally lacks any clarity. Very disappointing. £80ish online.
---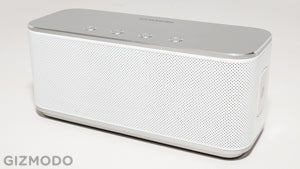 Samsung Box
A speaker rectangle with a classier, more refined design. It's far too expensive for what it is, and I doubt the shiny design will look too good after rattling around in a backpack for a while.
---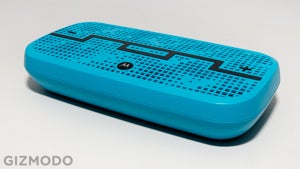 Sol Republic Deck
The Sol Republic Deck lies on its back and projects great sound in 360 degrees. It's got rugged design. I actually quite like this speaker but it may not be long for this world.
---
Sol Republic Deck Ultra
A louder, slightly larger version of the Deck, it has an impressive 22 hours of battery life but only charges using a proprietary cable.
---
Sony SRS-X3/SRS-X5
I'm generally fond of Sony audio products, but these bricks miss the mark. I tested the smaller X3, and at nearly a kilo it was far heavier than speakers that sound far better. The X5 is even bigger.
---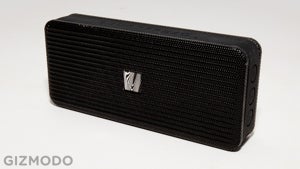 Soundfreaq Pocket Kick
This is a good-looking little speaker, which to its credit doesn't have annoying pairing noises. Unfortunately, it doesn't deliver the impressive audio you get from larger Soundfreaq speakers.
---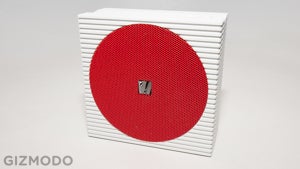 Soundfreaq Sound Spot
A nice sounding, smaller version of the Soundkick, which won our hearts a few years ago. The design is regrettable and it uses a proprietary charger.
---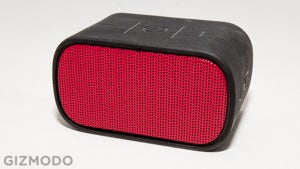 UE Boom Mini
Decent sounding little speaker from the same folks who make my favourite one. But I don't like the uni-directional sound design, which has a narrow field compared to most others.