The Christmas season and time for spending will be soon upon us, and GoPro intends to capitalise on it by finally rolling out the latest version of its popular action cameras: the Hero5.
It's been over a year-and-a-half since the GoPro Hero4 Silver and Black were introduced, partly because the company's recent financial shortcomings led to a decision to delay new product introductions. Historically GoPro has made a huge deal of its new introductions, but it can be hard to keep straight what exactly is new. Here's a clear breakdown of the company's latest iteration.
The Hero4 was available in two versions, the Silver and Black, that were roughly differentiated by their target users. The Hero4 Black was the first GoPro capable of shooting 4K video at a full 30 frames per second, and 1080P hi-def footage at 120 frames per second, making the camera ideal for production companies and other professional users. The Hero4 Silver wasn't quite as capable as the Black when it came to video, topping out at 2K footage at 30 frames per second, but it introduced a touchscreen making it easier for amateur videographers to frame shots and navigate settings.
The Hero5 now incorporates the best features of both of those cameras, capturing 4K footage at up to 30 frames per second, but also incorporating the Hero4 Silver's touchscreen allowing shots to be framed without the use of a wirelessly connected smartphone, and making it much easier to tweak settings and options right on the action cam. And it comes with a dramatic drop in price, to just $399— competition is a good thing.
In addition to its 4K capabilities, the Hero5 shoots 2K at 60 frames per second, 1080P at 120 frames per second, and also incorporates image stabilisation to help smooth out video when there's a lot of vibrations, like when the camera is strapped to the handlebars of a bike.
GoPro has also made some useful improvements to the Hero5's physical hardware. Previous versions of the camera made an external waterproof shell a must-have accessory if you intended to use it outdoors where there was a risk of the hardware getting wet. But like the low-end Hero4 Session, the Hero5 now boasts a waterproof housing, allowing the camera to survive dunks to depths of just over 30 feet without the need for a case.
That touchscreen isn't the only way that GoPro has improved the user interface on the Hero5. Like with Garmin's new VIRB Ultra 30 action cam, the Hero5 can be operated hands-free using simple voice commands. Like with Apple's Siri, you simply need to address your GoPro by name to get its attention, followed by a verbal command. So saying "GoPro start video" starts it capturing footage, while "GoPro take a photo" has it automatically snapping stills instead.
There are also voice commands for powering up and down the camera, starting and stopping timelapses, and for tagging important moments while the Hero5's recording. And they can be called on simultaneously, so while you're recording video, you can still grab still images with a quick shout-out.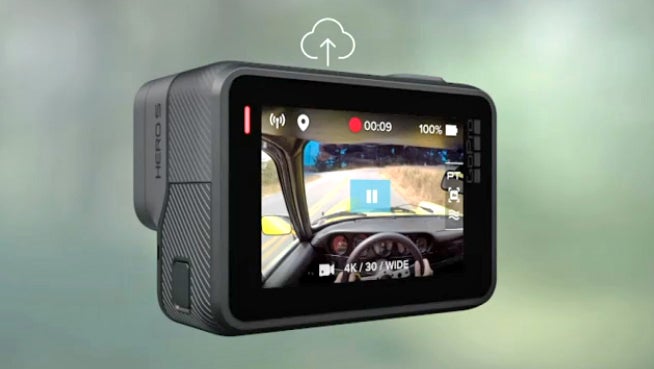 But of all the new hardware and software features, it might be a new off-camera feature that makes the Hero5 worth the upgrade. GoPro is introducing a cloud service called GoPro Plus where users can store all of their footage and access it from any of their mobile devices for editing or sharing.
Once the camera is plugged into a power source to charge it will automatically upload all of its video and photo content over Wi-fi to GoPro Plus servers, making it then available for download through the Quik and Splice editing apps on any mobile device, or desktop, you have connected to your GoPro account. [GoPro]